Online Tools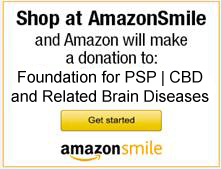 AmazonSmile
Shop at AmazonSmile to support our efforts in helping those affected by these rare neurodegenerative diseases each and every time you buy. It's the same Amazon.com you have always used – same products, same prices – but 0.5% of each purchase price is donated back to CurePSP.
Ziggedy
Ziggedy is an online shopping portal that lets you browse through the offerings of thousands of online vendors such as Walmart, Priceline, Nordstrom, and Best Buy. By signing up and shopping via the Ziggedy service, you can raise funds for CurePSP without absolutely any cost to you - all it takes is one simple click. Sign up today!
GoodSearch
GoodSearch is a site that raises money for a specific charity each time a person uses its search engine. A user can simply go to www.goodsearch.com, select "CurePSP" as the charity, and then search as you normally would. GoodSearch also has a free toolbar that users can download. GoodSearch is powered by Yahoo!, so you'll get high quality results, just as you would with any other search engine. Each time you search with this toolbar, CurePSP receives funds! You can also shop at some of your favorite stores by selecting the GoodShop tab to raise even more money for CurePSP.
Prairie Farms Our Caps Your Cause
We are now participating in Prairie Farms Our Caps Your Cause! It is a simple and easy way for us to raise money to continue our programs/mission. If you live in or around Arkansas, Illinois, Indiana, Iowa, Kansas, Kentucky, Michigan, Mississippi, Missouri, Nebraska, Ohio, Oklahoma, Tennessee, or Wisconsin; just buy a gallon or half gallon of Prairie Farms white or flavored milk, and enter the code under the sticker on each cap. For every cap entered, Prairie Farms donates 5 cents to our program. Visit http://www.prairiefarms.com/our-caps-your-cause.aspx for more info!