Sykes and Cooper Farms Corn Maze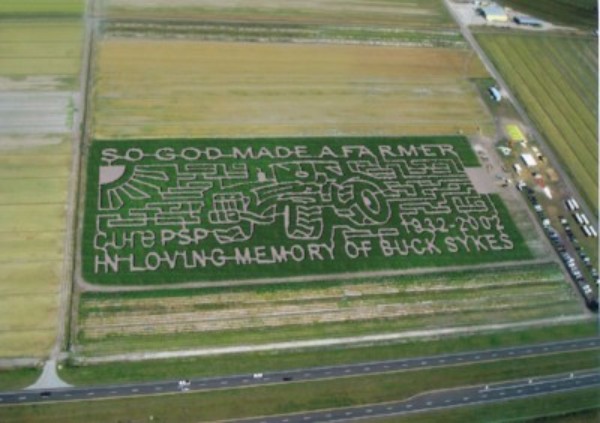 Date: October 16, 2016
Time: 11am - 5pm
Location: Sykes and Cooper Farms, 5995 Brough Rd, Elkton, Florida 32033
Buck Sykes was the definition of an all American man. He served in the Navy, was a third generation farmer, an avid hunter and fisherman. After a six year battle with PSP we said goodbye to a true hero and partiarch of our family. Today, we continue to share his words of wisdom, and carry on his memory. 
To raise awareness and support for care and research into PSP, Bucky Sykes and Cheryle Cooper of Sykes and Cooper Farms are dedicating this years corn maze to the memory of their father Buck Sykes and CurePSP. It is a huge nine-acre field of corn which has been painstakingly planted to grow into a living walk-through maze, in the pattern in the image above. There will also be live music by Matt Buckles and local Florida cuisine fried fish available. 
You can show your support either by directly donating at this page here, or by attending the event and supporting the raffle and shopping at the merchandise stall.