Merchandise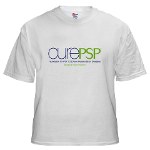 Support our cause and raise awareness by wearing our new CurePSP merchandise! We've got t-shirts, polo shirts, sweatshirts, long-sleeve tees, tote bags, mugs, and caps branded with our logo. Get your CurePSP gear today!
Click here to visit our merchandise store at CafePress.com.
All profits from the sale of our merchandise (approximately $5 per item) go straight to funding our research, education, and support programs.


CurePSP Wristbands
Help create awareness about PSP by wearing our "because hope matters" wristband. You will receive one wristband for every $5 donation. Simply complete our online donation form, or give us a call at 1-800-457-4777, extension 5670.
If you are interested in coordinating a wristband fundraiser, please email Kathy Speca at speca@curepsp.org.