International Research Symposium
CurePSP (Foundation for PSP | CBD and Related Brain Diseases) conducts an annual Research Symposium to facilitate dissemination of advances in the fields of PSP, CBD and related brain diseases. This annual symposium highlights research by CurePSP grantees and will be open to all researchers interested in clinical and basic studies of PSP, CBD, and related tauopathies.
The Symposium also assists the Foundation's Scientific Advisory Board in identifying work of exceptional promise, which may then be considered for additional funding.
The 2012 International Research Symposium

2012's meeting was held in Baltimore, Maryland at the Hyatt Regency Baltimore on November 17. Presentations included:
The Prion Hypothesis and PSP/CBD (keynote)
Michel Goedert, PhD, Head, Division of Neurobiology, Medical Research Council, MRC Molecular Biology Laboratory, Cambridge, UK
CHIP-Mediated Regulation of the HSP90 High-Affinity Complex
Leonard Petrucelli, PhD, Professor of Neuroscience, Mayo Clinic, Jacksonville, FL
Manipulating the Substrate Specificity Program in the Chaperone System to Remove Tau in PSP and CBD
Chad Dickey, PhD, Associate Professor, Department of Molecular Medicine, University of South Florida College of Medicine, Tampa, FL
Molecular Genetics of PSP and CBD in the Era of Whole-Exome Sequencing (keynote)
Andrew Singleton, PhD, Senior Investigator, National Institute of Aging, NINDS, Bethesda, MD
MicroRNA Regulation of MAPT in CBD, FTD and PSP
Naomi Kouri, Graduate Student (Mentor: Rosa Rademakers), Mayo Clinic, Jacksonville, FL
Modeling Haplotype-Specific Gene Function at the MAPT Locus in 4R Tauopathy
Richard Wade-Martins, MA, DPhil, Head, Molecular Neurodegeneration and Gene Therapy Research Group, Department of Physiology, Anatomy and Genetics, Oxford University, Oxford, UK
PSP and CBD Brain Bank
Dennis Dickson, MD, Professor of Laboratory Medicine and Pathology, Mayo Clinic, Jacksonville, FL
Translational Therapeutics of PSP and CBD (keynote)
Michael Gold, MD, Vice President for Clinical Development and Chief Medical Officer, Allon Therapeutics, Inc., Vancouver, BC, Canada
Longitudinal Prospective Study of PSP
Irene Litvan, MD, Professor, Department of Neurology, University of California San Diego, San Diego, CA
Evaluating Reduced Tau Levels as Therapy for PSP and CBD
Timothy Miller, MD, PhD, Assistant Professor, Department of Neurology, Washington University School of Medicine, St. Louis, MO
In Vivo Identification of Pharmacological Treatments for Tauopathy
Mel Feany, MD, PhD, Professor, Department of Pathology, Harvard Medical School, Brigham and Women's Hospital, Boston, MA


2011 International Research Symposium

2011's meeting was held in Arlington, Virginia at the Crystal City Marriott on November 17. Click here to download and read the abstracts. Presentations included:
Overview of the CurePSP Grants Program
Lawrence I. Golbe, MD, Director, Research & Clinical Affairs, CurePSP, UMDNJ-Robert Wood Johnson University Medical School
Update on the CurePSP Brain Bank
Dennis W. Dickson, MD, Mayo Clinic Jacksonville
Specific Triage Decisions for Distinct Neurodegenerative Disease-Associated Proteins that are Facilitated by DnaJ Proteins
Chad Dickey, PhD, University of South Florida
Autophagic Modulation and Clearance of Tau Aggregates
W. Haung (Ho) Yu, PhD, Columbia University
HSP-Peptide Complex-Mediated Immunization in a Mouse Model of Tauopathy
Michael DeTure, PhD, Mayo Clinic Jacksonville
Development of Activators of Puromycin-Sensitive Aminopeptidase to Treat CBD
Stanislav L. Karsten, PhD, Los Angeles Biomedical Research Institute, NeuroInDx, Inc.
Tau-Mediated Effects on Microtubule Structure and Kinesin Translocation
Stuart C. Feinstein, PhD, University of California Santa Barbara
Tau and its Pathology in Neurons Derived from Induced Pluripotent Stem Cells of FTDP-17T Patients with PSP- Like Tau Pathology
Maria Grazia Spillantini, PhD, University of Cambridge
Identification of Biomarkers via Comparative Proteomics of CBD and PSP Brains
Dennis W. Dickson, MD, Mayo Clinic Jacksonville
The Role of the MAPT Locus in Progressive Supranuclear Palsy and Parkinson's Disease
Nadine M. Melhem, PhD, University of Pittsburgh
PSP Genetics: Progress, Plans, and Comparison to Other Neurodegenerative Disorders
Gerard Schellenberg, PhD, University of Pennsylvania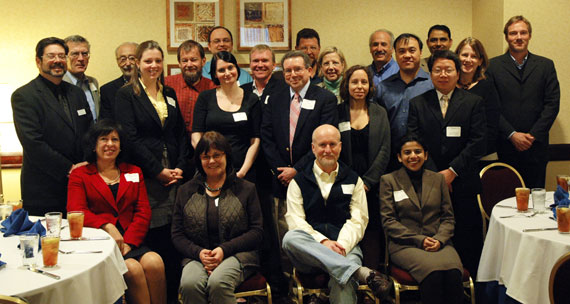 Pictured above: 2011 Symposium researchers and attendees