October 7, 2013
FOR IMMEDIATE RELEASE
Contact: Bruce Janele, 800-457-4777
janele@curepsp.org
CurePSP Fundraiser Surpasses All-Time NBA Scoring Record
TIMONIUM, Maryland, October 7, 2013 - Comedian Sam Adams successfully surpassed NBA Hall-of-Famer Kareem Abdul-Jabbar's all-time scoring record of 38,387 points on September 7, 2013 in Denver, Colorado during his fundraiser for CurePSP. Mr. Adams played Pop-A-Shot basketball for 18 consecutive hours and finished with a grand total of 38,404 points.
His event, Poppin4PSP, was not only a personal challenge to surpass the NBA scoring record, but also a platform for Mr. Adams to raise awareness of progressive supranuclear palsy (PSP), a rare brain disease which took the life of Sally Gandy, the mother of a friend. Poppin4PSP raised over $3,300 for the programs and services of CurePSP, which support patients and families struggling with PSP and other rare brain disorders, as well as better education for healthcare providers and worldwide research efforts to find a treatment and cure.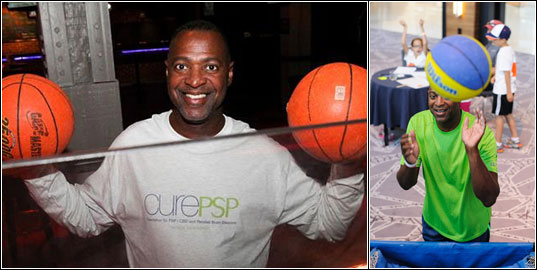 "I was glad to surpass Kareem Abdul-Jabbar's NBA scoring record, and surprised that I did so in less than 19 hours," said Sam Adams. "My shooting eye was pretty sharp all day long and I scored 38,404 points, but I'm most happy about raising funds to support CurePSP's mission. People came out to watch me - some made a donation to challenge me to a game, including former NBA great Walter Davis, who ranks among the league's top 50 all-time scorers. Poppin4PSP was held in memory of Sally Gandy, who died from complications caused by PSP in April of this year. Every shot I took was made with her in mind."

# # #
CurePSP is the foremost non-profit organization dedicated to increasing awareness of progressive supranuclear palsy (PSP), corticobasal degeneration (CBD), and other atypical Parkinsonian disorders; funding research toward treatment, cure and prevention; educating healthcare professionals; and providing support, information and hope for affected persons and their families.