August 28, 2013
FOR IMMEDIATE RELEASE
Contact: Bruce Janele, 800-457-4777
janele@curepsp.org
CurePSP Fundraiser to Challenge All-Time NBA Scoring Record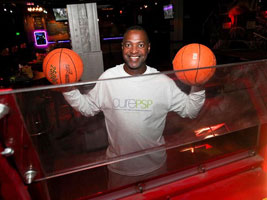 TIMONIUM, Maryland, August 28, 2013 – Comedian Sam Adams is holding a unique fundraising event in an effort to raise awareness about progressive supranuclear palsy (PSP), a rare neurodegenerative brain disease with no known cause or cure. Mr. Adams will play Pop-A-Shot basketball for 24 consecutive hours in an attempt to surpass NBA Hall of Famer Kareem Abdul-Jabbar's all-time career scoring record of 38,387 points.
"It's a test of will and accuracy," said Sam Adams. "I need to average 55 points a game while shooting an average of 30 games per hour and averaging more than 1,400 shot attempts per hour for 24 hours straight on the Pop-A-Shot machine."
Mr. Adams aims to raise at least $1.00 for every point he scores during the Poppin4PSP marathon. "I'll give my left arm to shoot baskets for 24 hours," he said. "It won't be easy, but I know my motivation will be drawn from the desire to help the thousands of people who are affected by PSP, while remembering those whose lives have been taken by the disease." The mother of a friend to Mr. Adams was diagnosed with PSP in 2011 and passed away two years later.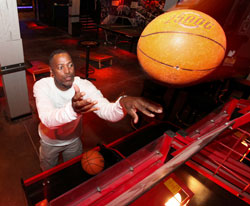 Mr. Adams recently authored his first book, If You Don't Believe Me: Lessons Learned from Listening to the Greats. In a tribute written for the book, NFL Hall of Famer John Elway penned, "Whether as a reporter, columnist, TV/radio host, author or comedian, Sam's talent and wit are evident in all he does. Heck, he's even a legendary Pop-A-Shot basketball player!"
Poppin4PSP will be held at the Hyatt Denver Tech Center in Denver, Colorado on Saturday, September 7, 2013 at 7:00am and will last until 7:00am on September 8, 2013. For more information, please visit the Poppin4PSP event page.





# # #
CurePSP is the foremost non-profit organization dedicated to increasing awareness of progressive supranuclear palsy (PSP), corticobasal degeneration (CBD), and other atypical Parkinsonian disorders; funding research toward treatment, cure and prevention; educating healthcare professionals; and providing support, information and hope for affected persons and their families.