August 2, 2013
FOR IMMEDIATE RELEASE
Contact: Bruce Janele, 800-457-4777
janele@curepsp.org
New Urso Summer Student Program Awards First Fellowship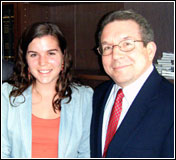 TIMONIUM, Maryland, August 2, 2013 – CurePSP is pleased to announce the initiation of its new Urso Summer Student Program, which has awarded its first fellowship to Bucknell University undergraduate candidate Emily Beisser. Ms. Beisser is majoring in neuroscience and will assist Dr. Lawrence I. Golbe, Professor of Neurology at Rutgers Robert Wood Johnson Medical School and CurePSP's Director of Research and Clinical Affairs, in formulating and validating a quick, convenient clinical staging system for progressive supranuclear palsy (PSP) using existing data from the PSP Rating Scale.
The Urso Summer Student Program has been made possible by the generosity of Ruth T. Urso, who established a perpetual endowment to encourage students at all post-secondary levels to pursue PSP-related research in the hope of finding a cure or remedy for the disease.
"We are grateful to the Urso family for supporting Emily's PSP research. She spent her summer analyzing data from my patients' PSP Rating Scale scores over the past 18 years in order to construct the first PSP staging system," said Dr. Golbe. "Neurologists need a way to quantify the state of disability of a patient with PSP that takes only a few seconds to determine and can be easily tabulated and communicated to others. We plan to present this work at CurePSP's 2013 Research Symposium in Baltimore in November and to submit it for publication. This project should give Emily a nice start in her intended career as a neuroscience researcher or neurologist."
The Urso Summer Student Program awards three fellowships annually and is part of CurePSP's $15 million Strategic Research Roadmap.
# # #
CurePSP is the foremost non-profit organization dedicated to increasing awareness of progressive supranuclear palsy (PSP), corticobasal degeneration (CBD), and other atypical Parkinsonian disorders; funding research toward treatment, cure and prevention; educating healthcare professionals; and providing support, information and hope for affected persons and their families.