With $100 million from Rainwater family, brain research hits stride
BY STEVE KASKOVICH, Star-Telegram, January 26
More than a year after Fort Worth billionaire Richard Rainwater lost his battle with a degenerative brain disease, his quest to find a cure is making progress.
A group of top doctors and neuroscientists assembled by Rainwater to develop a drug for his condition, called progressive supranuclear palsy (PSP), has moved four potential treatments into human clinical trials. Scientists believe that any treatment developed for PSP could also be used to fight other degenerative brain diseases including Alzheimer's and chronic traumatic encephalopathy, or CTE, which afflicts former professional football players.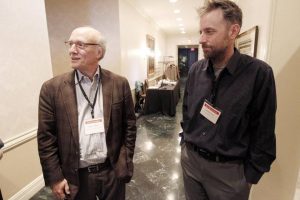 "We are very much on an accelerated pathway, with a sense of urgency," said Dr. Bruce Miller, a leading neurologist from the University of California at San Francisco and co-director of the group called the Tau Consortium. "We really believe it's important we get one good therapy for neurodegenerative diseases. Once we get one, all of the diseases will start to fall."
Rainwater, a former investment adviser for Sid Bass who went on to become a billionaire investor,
died in September 2015
at the age of 71. The
Fort Worth native founded the Tau Consortium
after he was diagnosed in 2009 with PSP, a rare, incurable neurological disease that first impairs a person's balance and personality, and eventually impedes their ability to speak and swallow. Rainwater, whose net worth was estimated at $2.7 billion by
Forbes
magazine in 2014, pumped millions into the research, and when he died some wondered about the future of the consortium. But Rainwater's family quickly confirmed that it would continue to support the research effort, said Patrick Brannelly, its program director.
The consortium's work has continued with annual funding of about $15 million from the Rainwater Charitable Foundation. To date, the family and its foundation have committed more than $100 million to the effort, Brannelly said, with about 90 percent of the money going directly to research grants. "The family remains 110 percent committed to the mission that Richard gave us," Brannelly said. "They didn't waiver for a second." Todd Rainwater, one of Richard Rainwater's sons who works with the consortium, said it would have been a shame to shut down the "amazing organization" his father established, which has gained momentum.
"Having gone through what I did with him and seeing him suffer and seeing other patients afflicted with PSP and other diseases like Alzheimer's, it really inspires me to want to continue to fight," Rainwater said. "We weren't able to save Dad, but hopefully can save others from going through such pain and suffering," he said. "I feel like there's nothing better to do with my life than to use everything he made to find a cure."
The consortium, which coordinates the work of about 35 leading doctors and scientists, gathered earlier this month in Irving for a semiannual meeting. The group provides both funding for research and a network so the doctors and scientists can share ideas and make valuable connections. Its goal has been to expedite drug development with its collaborative approach. At semiannual meetings, members provide updates on their work, and other organizations are invited to participate, such as the National Institutes of Health and CurePSP, a group dedicated to research and support for patients and families. The consortium has also helped expand sites for clinical trials, including at UT Southwestern in Dallas.
In addition to developing new compounds, Brannelly said the group is open to other approaches. Among the four treatments being tested on PSP patients are a blood transfusion therapy and a generic drug that has been used primarily for arthritis. Also, an antibody created by consortium researchers and licensed by Abbvie is moving into Phase Two clinical trials on patients with PSP and early Alzheimer's disease, the pharmaceutical company said this week. Another half-dozen compounds are in the pipeline and headed toward testing. One potential treatment has recently shown promising results in animals, according to an article published this week in the journal Science Translational Medicine. Researchers tested a compound with a synthetic molecule, known as an antisense oligonucleotide, on mice and monkeys and found that it reduced tau in the brain and the Alzheimer-type damage it can cause.
Dr. Tim Miller, a professor of neurology at Washington University in St. Louis who was a senior author on the article, said similar compounds have been approved for neuromuscular diseases and are being tested in human trials for some neurological diseases. Human clinical trials on PSP patients are expected to begin later this year. "The fact that this kind of compound is in human clinical trials is reason to be optimistic," he said. Miller, who has been involved with the Tau Consortium for several years, presented results of the study at the recent meeting in Irving. He said the consortium, which provided funding for the oligonucleotide research on animals, has helped spur advances in the field.
The international consortium continues to hold one of its meetings each year in Dallas-Fort Worth, as Richard Rainwater wanted, with a nod to his spirit. Last week's gathering featured a mechanical bull for participants one evening and a cake in the shape of a longhorn. "Nothing good from the Rainwater family ever surprises me. They have eternal good spirit and energy," Bruce Miller said. "There is no meeting I go to where I think scientists are treated quite the same way. And the enthusiasm they generate for this research is just huge."