Ali Clagett
by Rita Clagett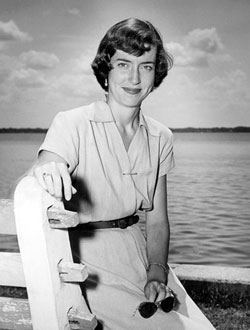 My mother, Ali Clagett, was my best friend, and I was hers. Six years after she died of PSP at the age of seventy-six, I still miss her every day. My home is filled with her art, drawings of cats, pastels of landscapes where we traveled together, portraits of her great aunt Gretchen and of my cats Magic and Dia, oil paintings of flowers. For a time, she threw pots. I am lucky to have a kitchen filled with bowls she made by hand, and to fill her vases with flowers from my garden in summer.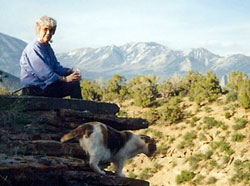 She was a prolific artist until her last few years when her double vision and some other symptoms, including, I think, an inability to focus, distracted her from doing much creatively. Three years before she was correctly diagnosed with PSP, Ali was misdiagnosed with Parkinson's. That summer, we took a trip to Alaska, to fulfill her dream of a cruise down the Inside Passage. We had already taken several trips together, a road trip through the canyon country of southern Utah, a trip to Yellowstone. We loved seeing the world together, she through my adventurous eyes, and I through her artistic perspective.
She'd already fallen once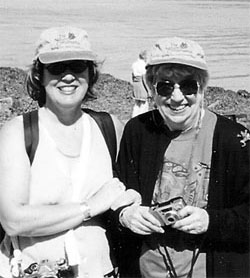 or twice by the Alaska trip, but nobody thought anything of it: You get old, you fall. She fell on a shore walk in Ketchikan. She was bruised and sore afterwards, yet undaunted. In the end, we were so glad we'd gone to Alaska when we did. She knew at the time it would be her last trip. She began to fall more often. On one of my visits, she terrified me by driving the car with one eye closed. "Double vision," she explained. If I close one eye, I only see one." I took the wheel the next time we went out.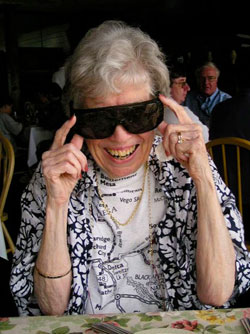 Eventually, she was correctly diagnosed with PSP at Johns Hopkins University Hospital, and shortly after that I moved back east to take care of her the last eight months of her life. As a family, we were fortunate that my disabled father had the means to hire part-time aides, and to support me while I left my home and job to help. She never needed to spend a moment alone if she didn't want to, once we knew the name of her disease and her prognosis. Ali was an extraordinarily beautiful woman, a talented artist, and a devoted mother and wife. Until the very end, she kept caring for her beautiful skin, she kept her witty sense of humor, and she kept a ferocious will to live.
She is deeply mis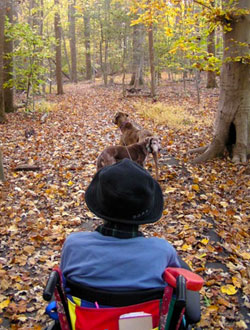 sed by me, by her sister, her husband, and her brother. Discussions on the PSP forum, a friend I met there whose mother also had PSP, and Hospice, helped us to give her the best possible life until she chose to leave it. Accepting the concept of "the new normal" helped us adjust to each decline and plateau as it arrived. Spending those last months with my mother Ali were an incredible gift for me, and I promised I would tell her story so that her suffering would not have been in vain.