Jackie Myers
by Phillip Myers
She was born Jacqueline Raelene Araujo in Honolulu, Hawaii, in 1938. A true "island girl" and an artist from a young age, Jackie enjoyed painting, with much of her work in oils and pastels, drawing inspiration from Hawaii's beautiful flowers, beaches and seascapes.
She attended the University of Hawaii and embarked on a career as a medical secretary/artist during which she sketched and colorized surgical procedures with intricate detail that could not be captured by the color photography of the time.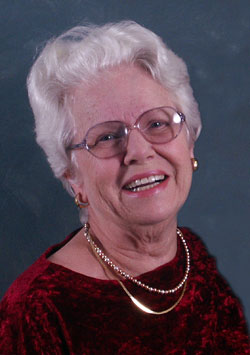 While working as an executive secretary in the early days of the computer industry, she met Phil, her "Midwestern sweetheart." We fell in love, married, and raised our young family on Oahu until a job relocation prompted us to move to California's Silicon Valley in 1974.
A loving wife and mother, Jackie devoted herself to her husband, her children, and her church, where she actively contributed her time, energy, and creative talents at Saint Anthony's Parish in Kailua, Hawaii; Saint Victor's Parish in San Jose, California; and Saint Thomas More Catholic Community in Paradise, California.
Jackie continually nurtured her creative spirit as an avid crafter and Cub Scout den mother, as well as in her love of baking and her passion for travel. Together we visited many historic and religious sites around the world.
Once the children were of school age, Jackie returned to the workforce and enjoyed 12 years as office manager at Vinci Park School in San Jose. We retired in 2002, moving to Paradise, California, and subsequently, Lakeport, California.
Her involvement with progressive supranuclear palsy (PSP) began in late 2003 / early 2004. It started with fidgeting, frustration, balance problems, and falls, but we had no indication that it was serious. However, a major fall later in 2004 brought our attention to what we began to realize was a significant issue. During 2004 and 2005, we worked with our primary care physician and neurologist, but become increasingly frustrated with negative test results that piled up without a real diagnosis. Jackie's fine motor movements were affected, but despite this, she continued her artistic endeavors by making an Easter banner for church, among other things. Her eyesight deteriorated (fuzzy and some double vision) although we had not yet connected that to her disease. Double cataract surgery did not solve the problem and, in retrospect, was unnecessary as PSP was the true cause.
The local neurologist finally indicated an inability to diagnose her and referred us to a major clinic (Mayo, Scottsdale). Several visits and many more tests throughout 2007 resulted in no firm diagnosis, while her symptoms continued to worsen. We pushed for another opinion from a nationally recognized expert. In the fall of 2007, Dr. Jay Nutt, Director of the Movement Disorders Department of the Oregon Health and Science University (OHSU), finally gave us the firm diagnosis of PSP. While it was "bad" news, for the first time, we really knew what we were dealing with.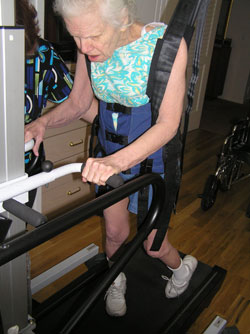 During the next few years, Jackie progressed from a cane to a walker (never worked well) to a wheelchair. Since exercise was important, we obtained a body weight support treadmill. Her physical therapist was able to get her on it multiple times a week, therefore keeping her heart and blood flow very active. We have been told by Dr. Nutt and others that this extended her life another year.
Throughout all of this, she continued attending church at Saint Mary Immaculate Parish in Lakeport, California, showing her strength and commitment to her God.
She wanted to (and we continued to) try to keep life as normal as possible, going to concerts, having family get togethers, getting out on the lake, traveling to see family and friends as well as the visits to doctors. This included a big family trip to Los Angeles in October 2010 to see our youngest daughter perform in "Singin' in the Rain" and another to Oregon to see the OHSU doctors in December 2010.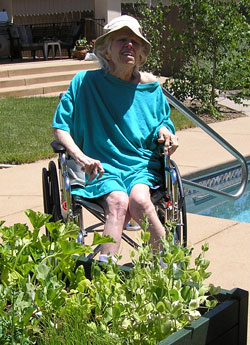 In early January 2011, the muscles that allowed her to swallow quit working but, per her documented wish, she did not want to be maintained with a feeding tube or respiratory equipment. As a longtime fan of the Green Bay Packers, she listened to them win the NFC Championship and secure a place in the Super Bowl, and then left us 10 minutes afterward. On January 23, 2011 at home with her family around, she passed over to be with her God.
We did opt for brain donation to the Mayo Clinic in Jacksonville, Florida. We had kept copies of all the medical records from the various doctors we saw and provided them to Mayo. A month later, we received the confirmation that it was PSP with Argyrophilic Grain Disease (AGD). According to the Mayo Clinic, AGD co-occurs with PSP in about 30% of PSP cases.
Support from our family, our church, the Bay Area PSP/CBD/MSA Support Group, the Lake County Hospice organization, friends, neighbors, OHSU, her physical therapist, her health aides, and the CurePSP organization all helped us make it through the rough patches. Thank you! We couldn't imagine going through this without this constant love and support. Their warmth kept Jackie's determination going, as well as our family's. We extend our deepest gratitude.
Memorial contributions may be made to CurePSP, in order to fund research for a cure for progressive supranuclear palsy (PSP), as well as physician education and caregiver support, by visiting give.curepsp.org and identifying the donation "in memory of The Jackie Myers Family Fund."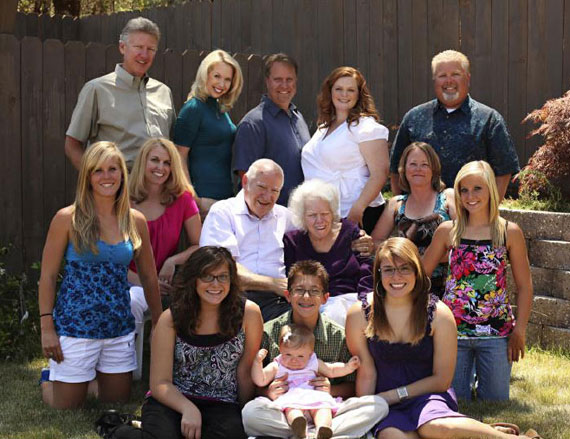 Our family learned many important things from this experience that we want to share, in hope that it will help others.
1. Get second (or third) opinions early, especially for unexplained symptoms.
2. Push to get to a top neurologist and don't accept an unconfirmed or non-specific diagnosis. We did for over a year and I regret it now.
3. Make decisions early, while it can be a fully conscious and in-depth discussion on feeding tubes (Jackie did not want one), Do-Not-Resuscitate orders (she wanted DNR), hospitalization or die-at-home (she wanted to die at home), and discuss these with the whole family and the doctors, so everybody knows the plan. Also, reduce the plan to writing.
4. Continue exercise as long as possible, as it extends life.
5. Work with doctors, hospice, and others to try to make life as normal as possible. This should include travel and visiting others as much as possible. Keeping the mind active delays the disease's progression.
6. Check out available clinical trials. Jackie participated in one and I know it helped her. One of them will eventually work and it would be better to be a participant than learn about it afterward. I believe science will be able to stop the advancement of the disease shortly.
7. As the caregiver or patient, be proactive, participate in support groups, go to presentations on the disease, and perform online research. The disease you know is better than the one you don't know. Yes, the future can be bad and disappointing, but knowing what to expect does make it easier.
8. Keep a "binder" or file with notes on each medical visit and copies of all test results from the various doctors / hospitals. You (the caregiver) are responsible for making sure that each doctor knows what the others are doing and coordinating all of the care. This is invaluable.