Karen Bordo's Story
My dad enjoyed life to the fullest. He was the sharp dressed man – when he was going somewhere special, he always presented himself in the best light – nice suit, cufflinks, cologne, etc. Dad was a handsome man with a full head of curly hair, and a pleasure to be around. He'd often be told that he looked like Tony Bennett.
Dad worked hard manual labor as a cement mason for his entire life. He built the house that my parents call home, although Dad is now in a nursing home, where he has resided for almost three years.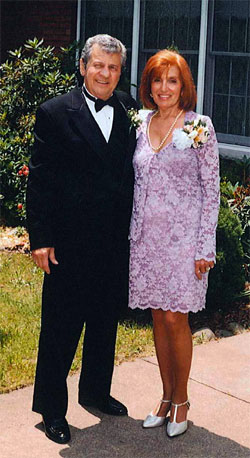 Dad enjoyed Italian food, wine, and beer. He loved my mom's cooking, especially her Italian spaghetti sauce and meatballs. He loved to go to Atlantic City and play blackjack; he went so often that he got great treatment by the casinos. He also always enjoyed watching all of the mafia movies, such as The Godfather, Goodfellas, and A Bronx Tale. Dad loved all kinds of animals and would feed strays when he was living at home – he took in several stray cats and would even feed hungry skunks. He also misses his dog, Snoopie, dearly.
Dad's problems started with falls. At first, they were rare. He'd take Snoopie for walks and fall a couple times. They were totally unexplained – he couldn't say what had made him fall or why. Then, the falls became more frequent. He started falling around the house and even when getting out of bed. Bruises began showing up on his face. The doctors could not explain the falls. They thought maybe it was neuropathy in his feet, secondary to adjunct chemotherapy, which he endured for colon cancer years before. The real irony is that my dad beat both colon and prostate cancer, which can be far more sinister and immediate, but he won't be able to beat PSP.
Dad and I were extremely close all of my life. He'd call me every morning when I was at work and we would also talk several times throughout the day. The calls started to become less frequent, and then nonexistent, as this mysterious disease starting taking over. Even when I would go to my parent's house to visit, he would say little and always seemed to just sort of repeat himself. He'd ask how my dogs were doing. Then he'd get nervous and yell for my mother to return to the room. He could not explain what was going on, and when he was prodded, he would get agitated and sometimes yell or even be mean. We later realized that this was attributed to the behavioral changes that come from PSP.
We would always refer to Dad jokingly as having OCD. "A place for everything, and everything in its place," is one of the things he always said. He kept everything organized and clean, and kept every check he'd ever written neatly filed away. His desk in the spare bedroom, where he kept all of the bills, was arranged meticulously. I will never forget that day when I walked into that room and saw all of the bills strewn about in haphazard piles on the desk. Dad's immaculate desk was in disarray for the first time in history. It hit me hard. My eyes welled up with tears.
Dad began having trouble writing. In the beginning, we didn't know that some of these things were happening, or why. We thought maybe he was depressed. He had stopped showering and grooming himself. This was not the father I knew. Looking back, he was probably afraid that he'd fall trying to do some of these things, or that he wouldn't be able to do them at all. He let everything go to hell, which was in direct contrast to the organized person he used to be.
Once, he even fell outside in the snow and was out there for almost four hours, before my mother found him on the side of the house. He was hospitalized with hypothermia. The falling was so mysterious to us then. I have e-mails dating back six or seven years that were sent to his primary care physician at the time asking about these falls.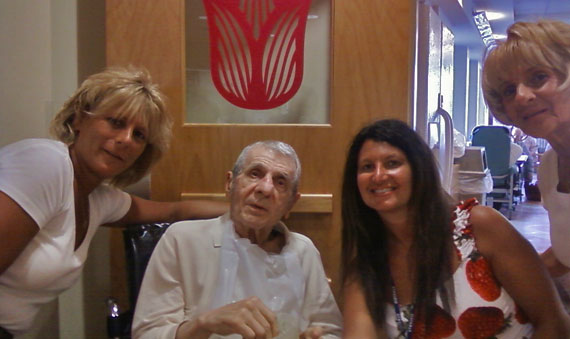 Everything came full circle in February 2011, when he was diagnosed by a neurologist at a nearby medical center. When I heard this diagnosis, I immediately started doing research and learned the truth about this rare and debilitating disease. It was terrible to learn of what this disease had in store for us, but we were also relieved to finally know what had transformed my father.
The more I read about PSP, the more all the puzzle pieces fit together.I printed out information from the CurePSP website for all of our family to read. I also gave the information to Dad's caregivers, as not everyone has heard of PSP.
It is so incredibly hard to see my father this way. The title of this story, Behind the Mask, comes from Dad's current appearance. His face has such a mask-like appearance – it shows no expression. His eyes don't focus. The most difficult thing is to know that Dad is still just as sharp mentally as he was before the illness. He still knows and remembers everything. It must be so incredibly frustrating to him to be trapped in that shell of a body and not be able to even feed himself or say what he wants. He is confined to a wheelchair, as well. Never did I envision myself having to feed my dad, but now I do. The first time was so hard. He knows what he wants to say but cannot get it out. It is absolutely heartbreaking. I do take some comfort in knowing that he is not in pain – whenever asked he gives a "no". However, PSP ensures one's demise in many other ways. Dad is no doubt in mental anguish.
I treasure the time I have with him and, once in a while, something will happen that will trigger laughter from both of us, like old times, the way we would laugh at something that others may not find funny. So, once in a while, we still get to have those special moments.
I am so glad that I found CurePSP's website and was able to read all the other stories of others going through the same ordeal. I would like to try to spread the word about PSP as much as possible. God bless you all and thank you all for sharing your stories, as well.