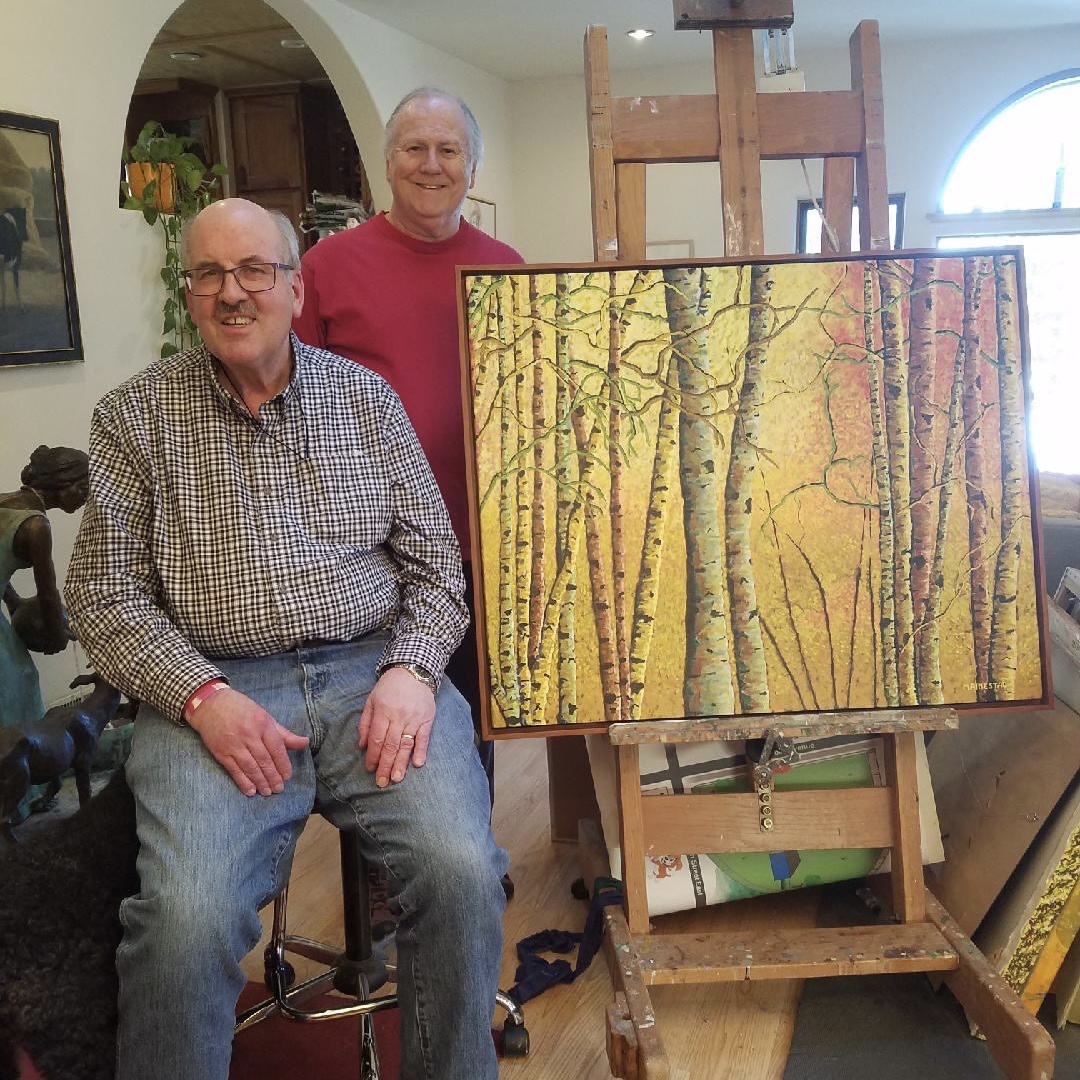 If Marty and Wanda Rimestad could be anywhere, they would probably be perched in the breakfast nook of their old home in the countryside of Amery, Wisconsin, overlooking the serene view of the Balsam Branch river while Marty plans a fishing trip in the estuary. They may have moved closer to town following Marty's progressive supranuclear palsy (PSP) diagnosis eight years ago, but Marty has brought ten memories of their old home with them, sharing the paintings with their community on February 27 at Our Savior's Lutheran Church. Wanda, who oversaw the planning of the art show to ensure that it felt authentic, says that she was impressed by how the paintings looked together, evoking a grand scene that felt comforting and familiar. Marty says that he hopes his paintings inspire "hope" and "kindness" in others, which was on display through the flowers he received as well as a "message box" full of notes of gratitude and support. Dozens of people have bought canvases and prints of his paintings, and $5000 in proceeds were donated to CurePSP.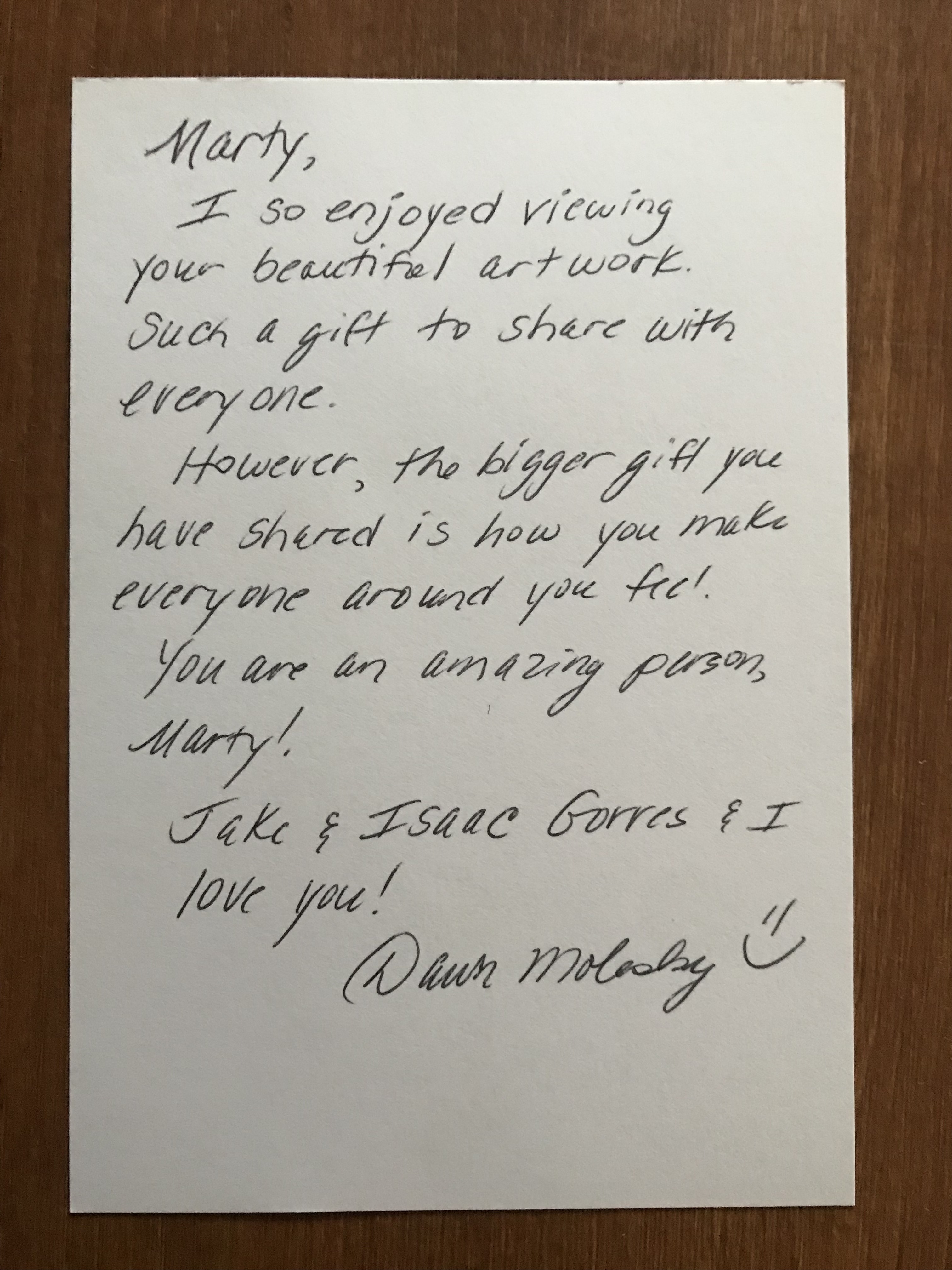 When the Rimestads received news of Marty's diagnosis eight years ago, they were told that he had two years to live, forcing him to retire early from his job as a physician and Wanda to eventually retire from her job as a high school French teacher in order to be with Marty. Some seven years ago, while Wanda was still teaching, local artist Gregg Rochester reached out to spend time with Marty while she focused on her work. That gesture blossomed into a friendship that included weekly lunches and trips to Marty's appointments. It was during one of those outings that Gregg offered Marty some art lessons as a way to preserve his relationship to nature, specifically fishing and hunting, as his condition began limiting those activities. Soon enough painting became a staple of their routine, with Gregg driving Marty to his home/studio for lunch followed by a painting session with Marty's favorite music, classic rock. The sessions have since moved to Marty's home as it is no longer safe for him to walk, but they still occur every Wednesday afternoon with rock music filling the house while Wanda runs errands. 
"Grace, faith, family, friends, and art. That's what keeps me going," Marty said. 
Wanda was unsure if Marty's passion could continue as the condition worsened, yet his work continues to defy the odds. 
"He has a tremor but when his hand hits the canvas he's able to paint," Wanda said. "It's amazing."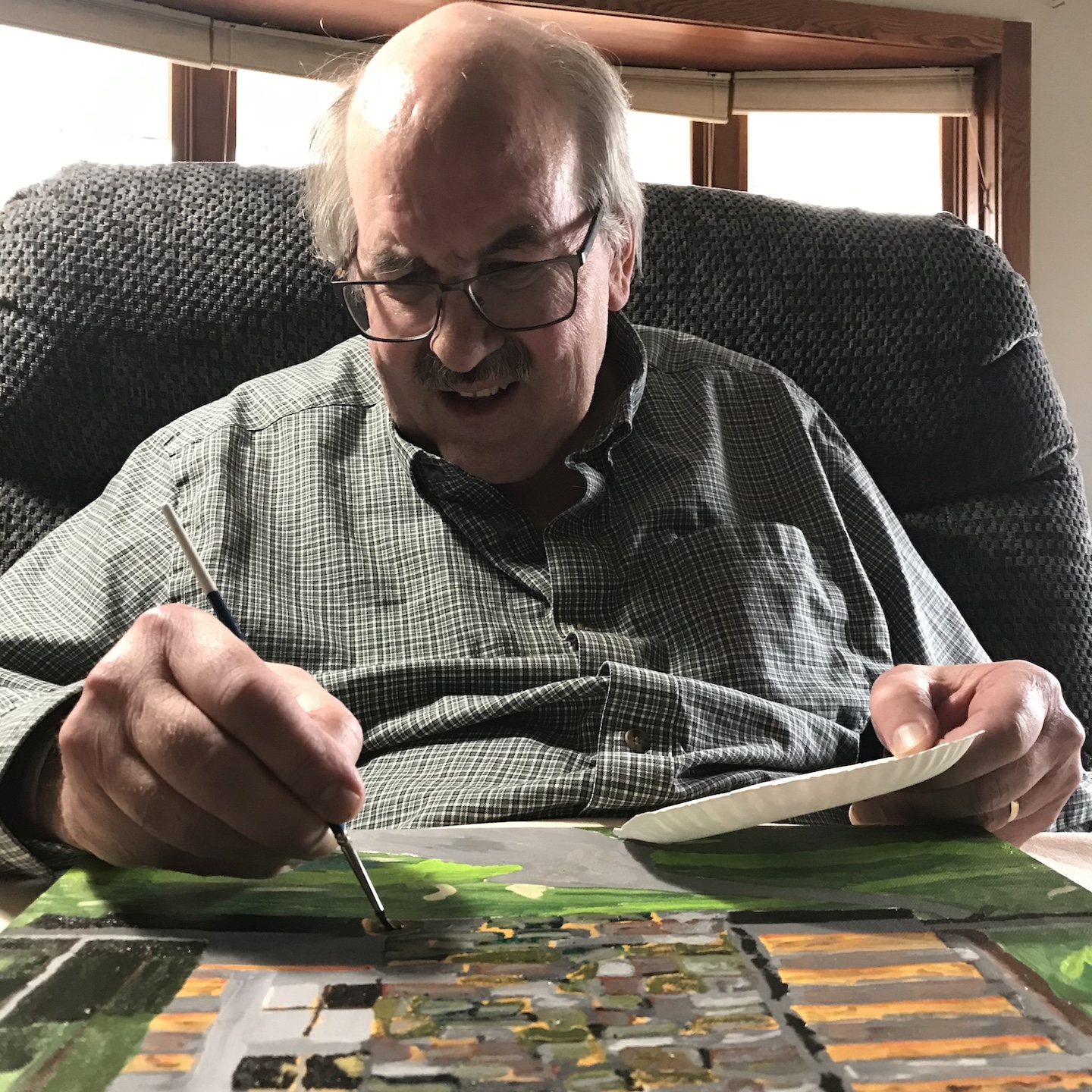 Marty says that the biggest challenges to painting with PSP are endurance, as he can't paint for much longer than two hours, and keeping his lines straight. However, the unorthodox techniques often surprise even Marty himself, leading to some happy accidents.  
"The errors don't look so bad after it's done," Marty said. 
Marty has come a long way to get here. After his diagnosis he immediately committed to physically intensive therapies such as the Lee Silverman Voice Treatment (LVST BIG and LOUD therapy) which required daily exercises and speech therapies. Today, he has hospice care that includes a massage therapist who comes at least three times a week to manage his soreness and maximize his physical capabilities. Wanda believes that Marty's unwavering determination alleviated some of the natural stressors of the last eight years. 
She also remains grateful for Gregg's unsolicited acts of kindness. She could not have expected this when he first reached out, and she encourages others to be generous, as the results can be surprising. 
"It doesn't have to be someone you know, it can be uncomfortable and you don't know what's going to happen, but you're helping someone," Wanda said. "You never know how meaningful it can be."