This article, the 20th by John Royer, our friend who has sadly passed form PSP in September, 2017, is a brief recounting of his life. John wanted us to know what it's like trying to communicate while being affected by strokes and PSP, so this article is unedited. This is how John spoke. 
August 10, 2017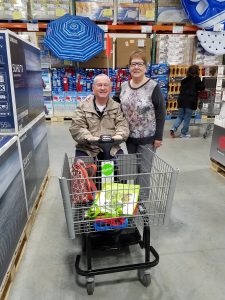 In keeping with my previous promises, I am writing this without correction so that you can see what a stroke does to someone even when he is using a word processor. PSP plus stroke, of course.
Yesterday and this morning my walking has been very bad. I have an evaluation appointment with the doctor for at 2 o'clock today to see whether or not I can go to a evaluation center in order to be advised about wheelchair options. I don't know if he will approve this or not because I don't know if you have to be completely paralyzed with your legs or not. In any that I will soon find out in a few hours. Normally I can manage to walk by grabbing from one thing to another if I'm bad but today and yesterday was exceptionally bad I felt like I was going to walk into something breakable other than myself. I tried the walker and wishes doesn't study feeling like I was going to fall over the top of it. I went to the transport wheelchair and Betty to pull myself alive by using my sneakers on the hardwood floor. But that is really scary because I know I'm one step further down the ladder of PSP.
I just looked at that paragraph and it is awful. Oh well, as I said many times before, "funny is good."
PSP is a very strange element because it is a variable. One day here good and the next day your bad. Some of my alteration of speech is caused by the stroke as part by the fact that I have a cold. Have course it goes without saying that PSP is raising its ugly face in the background. That's three strikes against me today.
I cannot complain too much because I had an interesting background throughout my life. Besides my medical ailments I had a lot of good things.
I started my evening college career in February 1964 as well as my apprentice program in drafting at Bethlehem Steel. The same day I started a correspondence course in drafting.
It was an eventful day and it was a very full day.
At the end of four years I finished my drafting education. My college education was ongoing. Because of taking off summers and a semester now and then for family reasons it took until 1978 for me to graduate.
14 years for a four-year degree. At a special commencement for night school graduates I thought it would get to record her longevity. Instead a guy who had taken 15 years got the diploma.
Now that is funny!
In 1968, I met the girl of my dreams after many mistakes on my part. This was a one. She was in intensive care registered nurse with red hair and a beautiful face and disposition.
Her body wasn't bad either.
I especially liked her sense of humor and her intelligence. We had such a whirlwind romance that we got married in June 1968. We do we matched perfectly.
Boy, was that a beauty of a paragraph.
Did I mention that I really hate strokes?
It's from our marriage to 1975 we got our family.
Somewhere during that period, I got involved in a defense project at Bethlehem Steel along with a few other guys. It's the only time I ever saw plant guards with weapons. I guess they were serious about I was always very respectful whenever I saw them. Only the details alone.
Also during that period, I became a member of MENSA. It is a 98 percentile IQ society. It actually is a meaningless test criterion because the only thing it means is that you can get a high test on an IQ test. It doesn't guarantee successful in life or in social life. After a while I get tired of it and retired from its meetings. Never be impressed by IQ test. They do not mean a thing.
I even had to brief periods of assistance to three separate government agencies which was glad a gratifying to me and shall remain unknown to you.
So in some ways my life was boring and in some ways it was interesting and of course it loved with my family.
Eventually, after a few numbers of drafting jobs I got my degree and entered employment at Ingersoll-Rand and became a project engineer. After that I decided to try my hand at teaching and joined the staff of the local technical school teaching drafting and engineering. That led to retirement which led to the present day.
On a funny note, the same year that I got married I got hemorrhoids and had them taken out. Now that is a really embarrassing thing to go through. Especially on my wedding year. Luckily my wife was a nurse and able to handle any problems that arose.
Enough said about that.
This is from my high school graduation in 1963 to 2014.  My health was fine. Then PSP and two strokes struck in life changed.
I had started out life very sickly and I was going to and up the same way unless God decided to end my spark on this planet quickly and mercilessly. But then a new dimension would start and a new adventure after the fear of dying was over once and for all.