The Carepartner Guidebook
This section, from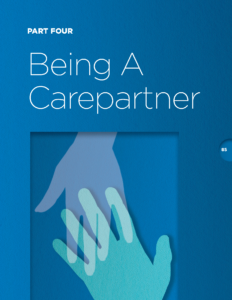 our 2017 CurePSP Guidebook, covers all things Carepartners should know. Chapters include: Making Meaning to Stay Positive, Caregiver Stress and Burnout, Keeping Families Strong, The 7 Deadly Emotions of Caregiving, among others. Please read online, or download and print as
The full Guidebook is a 150-page text on PSP, CBD, and MSA that is an indespensible resource for patients, families, carepartners, and healthcare professionals. Available for a suggested donation of $20, email saunders@curepsp.org to get your copy. 
Carepartner Resources
The Happy H
ours, by CurePSP spokesperson, Kathryn Leigh Scott, is a great source of guidance on how to maintain a social existence in the face of isolation due to a prime of life brain disease. 
Available at a very affordable price on Amazon Kindle.
"With the health of her husband, Geoff, rapidly deteriorating, Kathryn Leigh Scott couldn't help but notice how small and isolated their world had become. Between caregiver and patient, medical equipment and medicines, they began to lose contact with friends, the outside world, and even each other. The road to goodbye had become a lonely one.
Kathryn transformed their home from a place of illness into a place of healthy goodwill where their friends could stop by. For a few hours every day, their master bedroom became an intimate, lively space filled with drinks, food, laughter, and music. These precious moments enlightened their home and their hearts, and ultimately, led Kathryn and Geoff back to each other.
Filled with warmth, reflection, and authenticity, Kathryn's story is as much a guide to gracious hosting as it is compassionate support for caregivers. For no journey is ever so bright as the one willed with friends, memories, and—above all—love."