2023 Fall Family Conference – Orlando, FL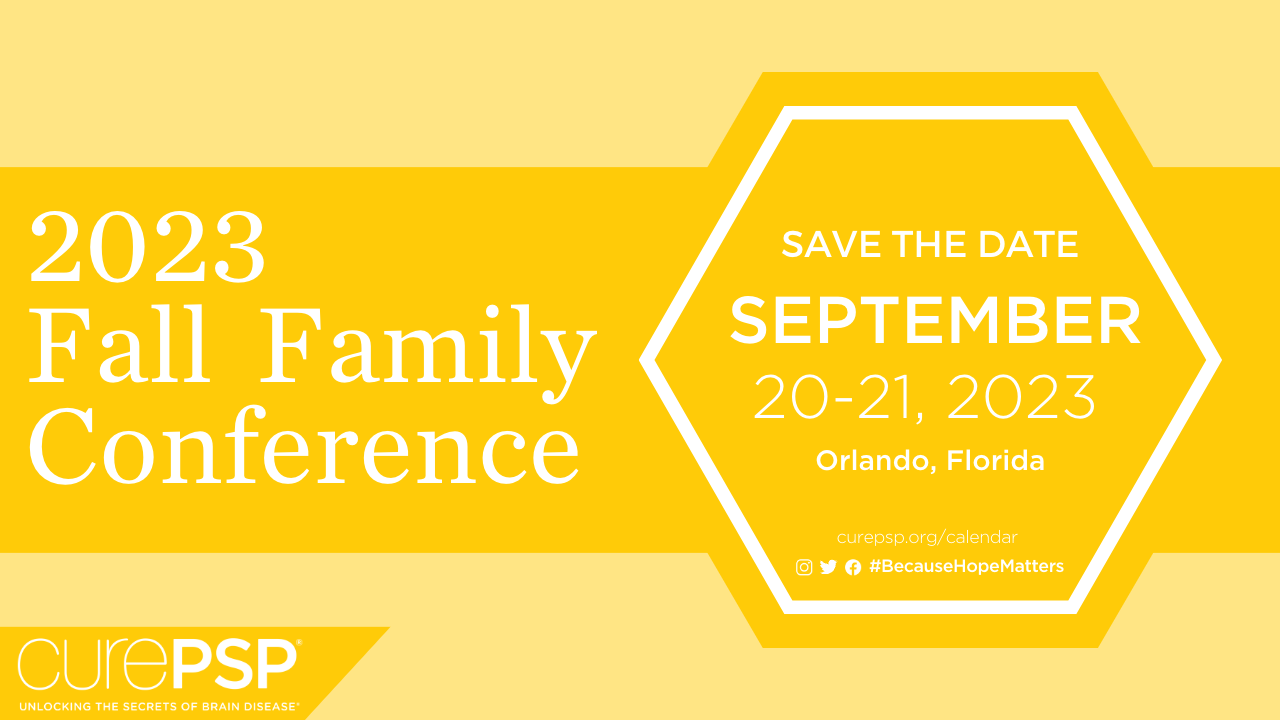 Join

CurePSP

for the 202

3

Fall Family Conference

in sunny Orlando, Florida

! 

 
Among its various educational activities, CurePSP sponsors and organizes family conferences, providing people with the opportunity to learn more about PSP, CBD and MSA and to develop a sense of community.  
We will be hosting our 2023 Fall Family Conference at the Marriott Orlando Airport Lakeside in Orlando, Florida on Wednesday, September 20th – Thursday, September 21st, 2023. We partnered with the University of Florida and the University of South Florida to provide interactive discussion groups and informative presentations on research updates, navigating care, managing dysphagia, enhancing accessibility in the home, nutrition and more!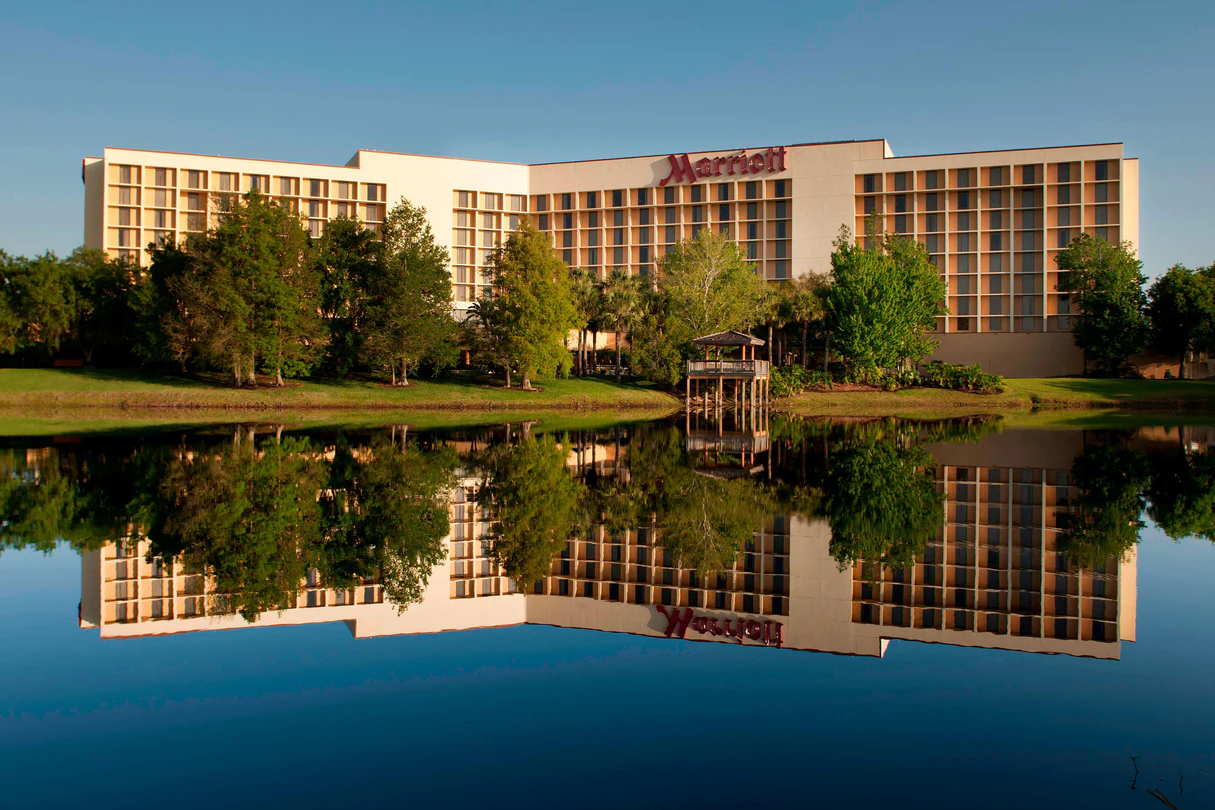 Limited hotel rooms are available to reserve at the Marriott Orlando Airport Lakeside for $149 per night plus tax & fees. You can find out more by clicking on the link below. 
The registration cost is $30. If you would like to attend the event, though unable to afford a ticket, please use promo code BECAUSEHOPEMATTERS and come as a donor-sponsored guest.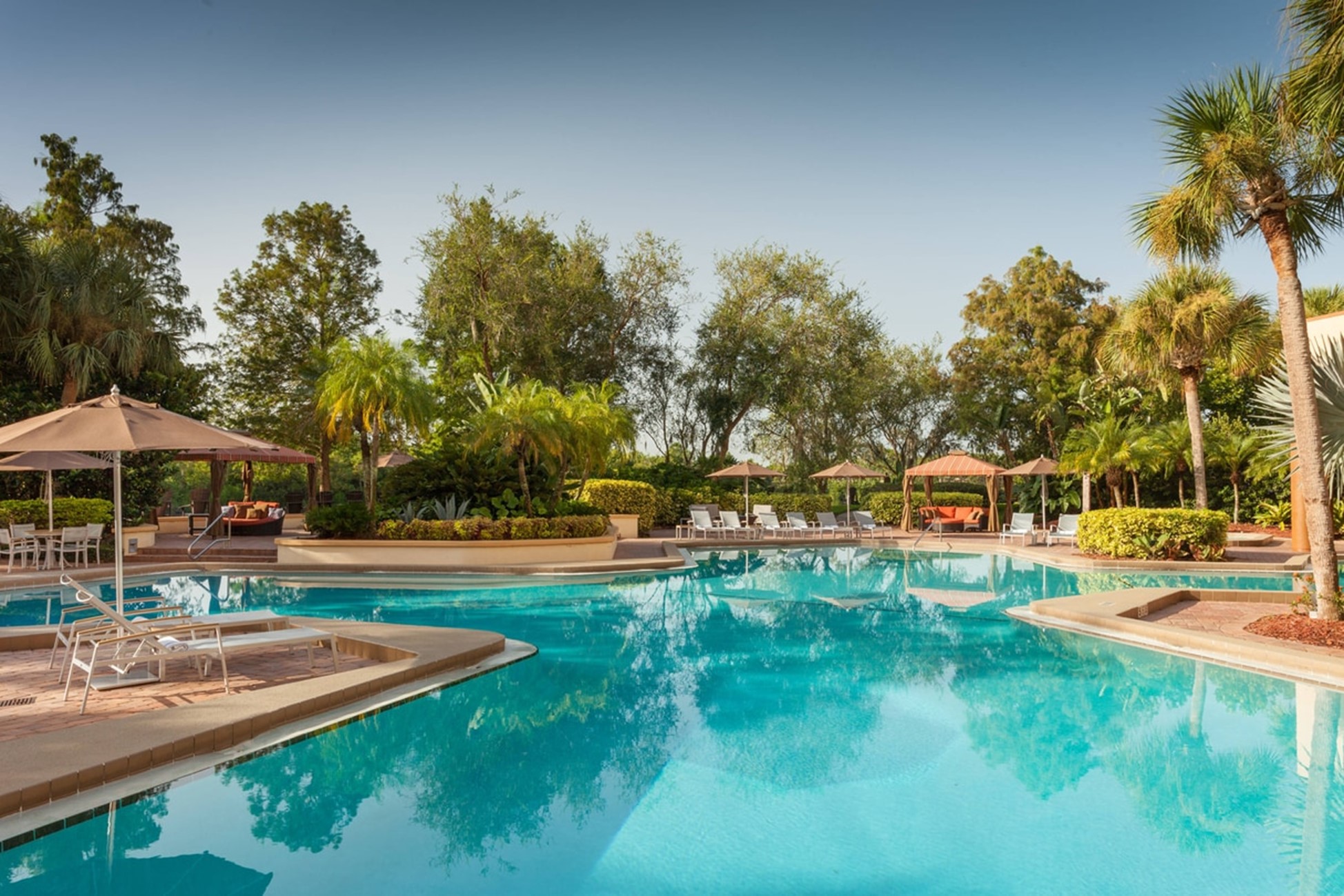 For those that can't join us in person, we will be hosting our 2023 Virtual Fall Family Conference on Tuesday, October 31st and Thursday, November 2nd.  This will be split between two half days and include the recorded presentations from our in-person conference in Philadelphia as well as other live sessions.  Click here to learn more.  
We hope you can join us!  For any questions, please email events@curepsp.org. 
AGENDA*  
Day 1: Wednesday, September 20th 
All sessions will take place at the Marriott Orlando Airport Lakeside.  
1:00 – 3:00 PM: Registration, Snacks & Mingle 
Settle in before the first session by picking up your conference materials, enjoying refreshments and mingling with fellow attendees. 
3:00 – 5:00 PM: Support Groups & Educational Sessions 
Support Groups – 
Building connections with others who can relate to the journey with PSP, CBD or MSA can offer immense support. Led by experienced support group facilitators, these open discussion sessions will foster community through offering practical advice and a space to process your experiences. 
Managing Dysphagia: Tools and Tips for Success –  
Speaker: Alexandra Brandimore, PhD, CCC-SLP 
Dysphagia, or difficulty with swallowing, is a common symptom of PSP, CBD and MSA, and can present eating and safety complications. In this interactive session, Dr. Alexandra Brandimore will provide valuable guidance and strategies to help you monitor and adapt to changes to swallow function over the course of the diagnosis. 
Navigating Care Across the Diagnosis Journey –  
Speaker: Jessica Shurer, MSW, LCSW 
Planning for future needs and making necessary decisions around care can feel overwhelming at times and it can be hard to know where to start. In this interactive session, Jessica Shurer will discuss resources that PSP, CBD and MSA patients and families often turn to as they navigate their diagnosis journey and participants will have an opportunity to ask questions and learn tips from one another. 
5:00 – 7:00 PM: Welcome Reception 
Socialize with other attendees, meet CurePSP staff and enjoy a selection of beverages and heavy hors d'oeuvres. 
Day 2: Thursday, September 21st 
All sessions will take place at the Marriott Orlando Airport Lakeside.
8:00 – 9:00 AM: Registration, Breakfast & Mingle 
A light breakfast will be served in the event space. If you did not pick up your conference materials on Day One, you may do so during this time.
9:00 – 9:15 AM: Welcome & Opening Remarks 
9:15 – 10:00 AM: Update on Current Research 
Speaker: Kristophe Diaz, PhD 
During this session, Dr. Kristophe Diaz will present updates on the state of research for PSP, CBD and MSA. You'll gain a deeper understanding of ongoing efforts towards finding treatments and cures and learn about what scientific advancements can mean for individuals affected by these diseases. 
10:00 – 10:45 AM: Updates on Progressive Supranuclear Palsy (PSP) & Corticobasal Degeneration (CBD): Tale of Two Cousins  
PSP and CBD share common symptoms and pathology, two "cousins" in the frontotemporal lobar dementia family. Dr. McFarland will discuss features of each disease, commonalities and differences. He will present advances in new diagnostic criteria, imaging biomarkers and pathology, as well as discuss treatment options and strategies for patients and carepartners. 
10:45 – 11:15 AM: Coffee Break
Snacks, coffee and tea will be served. 
11:15 AM – 12:00 PM: Multiple System Atrophy (MSA): Diagnosis, Treatment and Future Research
Speaker: Theresa Zesiewicz, MD 
This session will shed light on the signs and symptoms, guidelines for diagnosis, and strategies for treating symptoms and future research for MSA. Dr. Zesiewicz will offer helpful insights to individuals seeking a deeper understanding of the complexities of MSA.
12:00 – 12:20 PM: Q&A Panel – PSP, CBD and MSA 
Speakers: Nikolaus McFarland, MD, PhD and Theresa Zesiewicz, MD 
Join Dr. McFarland and Dr. Zesiewicz as they answer your questions about PSP, CBD and MSA using their deep understanding and years of expertise in the field of neurodegenerative diseases. 
12:20 – 1:15 PM: Lunch Break
Lunch will be served in the event space.   
1:15 – 1:45 PM: Enhancing Accessibility and Independence in the Home
Speaker: Rachael Dorsey, MOT, OTR/L
During this session, Rachael Dorsey will explore creative solutions for modifying living spaces to ensure accessibility. Rachael will also discuss techniques to empower people living with PSP, CBD and MSA, enabling a more fulfilling and self-reliant lifestyle.
1:45 – 2:15 PM: Practical Strategies for Nutritional Health 
Speaker: Matt Beke, MS, RDN, LDN 
PSP, CBD and MSA can pose unique challenges when it comes to maintaining optimal nutritional health. Matt Beke will educate on innovative approaches, evidence-based strategies and beneficial resources aimed at enhancing your overall well-being and achieving necessary nutritional goals.
2:15 – 2:20 PM: Closing Remarks 
2:20 – 3:00 PM: Snacks & Mingle
Snacks and drinks will be served. 
*agenda is subject to change