Merchandise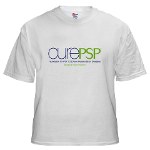 CafePress Apparel
Support our cause and raise awareness by wearing our new CurePSP merchandise! We've got t-shirts, polo shirts, sweatshirts, long-sleeve tees, tote bags, mugs, and caps branded with our logo. Get your CurePSP gear today by visiting our merchandise store at CafePress.com.
All profits from the sale of our merchandise (approximately $5 per item) go straight to funding our research, education, and support programs.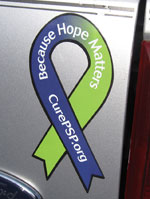 CurePSP Awareness Ribbon Magnets
We're very excited about our awareness ribbon magnets! You can attach them to anything metal - vehicles, desks, refrigerators, mailboxes, you name it. Putting one of these ribbon magnets on your vehicle is a fantastic way of helping us raise awareness about these awful diseases.
You can order one of these magnets today for a small donation of $10. Simply complete our online donation form, or give us a call at 1-800-457-4777, extension 5670.




CurePSP Wristbands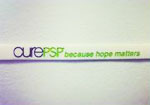 Help create awareness about PSP by wearing our "because hope matters" wristband. You will receive one wristband for every $5 donation. Simply complete our online donation form, or give us a call at 1-800-457-4777, extension 5670.
If you are interested in coordinating a wristband fundraiser, please email Kathy Speca at speca@curepsp.org.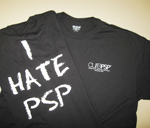 CurePSP Custom "I Hate PSP" T-Shirts
Help raise awareness about PSP by sporting one of our custom "I HATE PSP" t-shirts. These immensely popular t-shirts feature a large "I HATE PSP" white imprint on the back and the CurePSP logo in white on the front across the left breast. The black, lightweight t-shirts are 100% cotton and available in extra large (XL).
You can order one or more of these shirts today for a donation of $25 per shirt ($35 outside the US and Canada). To place your order, simply complete our online t-shirt form.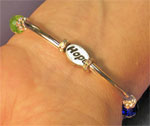 CurePSP "HOPE" Bracelets
For a donation of $50.00, CurePSP will send you a CurePSP "HOPE" Bracelet. These bracelets are handmade and custom designed with the CurePSP colors of green and blue. Each bracelet is beautifully packaged in an organza bag.
The bracelets make lovely gifts for your friends and family. Plus, don't forget special occasions such as Mother's Day, birthdays, graduations, and more.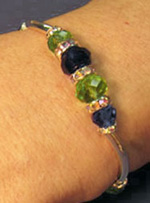 "HOPE" bracelets are available while supplies last. Please note that donations made after current inventory is depleted will receive the bracelet(s) within 4-6 weeks. You will be notified via email if this occurs. Otherwise, your bracelet(s) will be mailed within 10 business days or less.
To get your bracelet today, simply complete the Hope Bracelet Donation Form. If you would like to increase your gift to receive multiple bracelets, please enter the appropriate gift amount and specify the quantity of bracelets in the comment section. Thank you.