Tribute Gifts
A tribute gift is a special donation to honor or remember your loved one(s). You can choose a special occasion, such as Mother's Day, Father's Day, Memorial Day, birthday, anniversary, and more. With each tribute gift, CurePSP will send an acknowledgment to the family of your choice.
To make a tribute gift, please click on the Give Now button in the top right corner of this page. The bottom of the donation form provides a designated section to complete for your special tribute gift.
In addition to a tribute gift, CurePSP offers special plaques for display on our Recognition Wall. For a donation of $100, a special plaque will be posted in honor or in memory of your loved one(s). Here are six examples: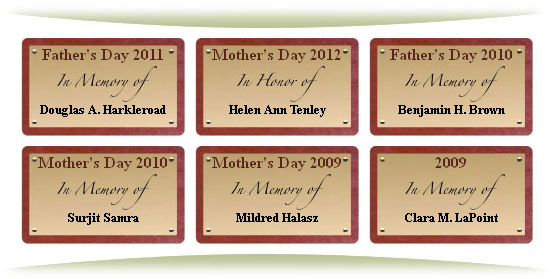 To obtain one of these plaques, please click on Give Now. On our donation form In the comments section, enter the name of the person to appear on the plaque, such as Plaque for Jane Doe. Then, when you get to the occasion section, make your selection, complete the remaining areas on the form, and CurePSP will take care of the rest.