Patricia Richardson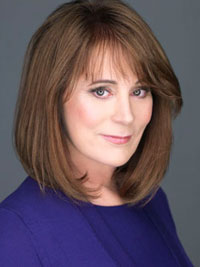 My Father, Laurence
My father was an unusually intelligent, proud, funny, robust, active, and athletic person with many other sorts of osteoarthritic injuries and health issues that disguised what was really happening to him with the onslaught of PSP. We thought of him as being an unstoppable force - a tiger. In his later years, Dad went on to play golf, piano, (he took lessons for the first time at 65!), and bridge. He lived a vital and curious life, telling everyone what to do, and was always right.
My father died of PSP on December 14, 2005, three years after my mother passed away. He hadn't had any of that "extra" time we had expected. He had already joined my mother before she died in assisted living and was falling down a lot. At that point, we thought that mom was pulling him down when she fell. Later, we realized that he was probably pulling her down with him. None of my three sisters or I lived near my parents – upon retirement, my parents refused to move closer to any of us because they did not want to be a burden. As retired military, they wanted to be near a base and chose to move closer to dad's brother. So, we took turns going there in tandem each time there was a surgery, or for holidays, or for a crisis, of which there were many between the two of them. In addition to mom's surgeries, dad had back surgery, hip surgery, open heart surgery, and knee replacement surgery.
Upon reflection, I think that the open heart surgery was the thing that most disguised his PSP-driven decline. Dad was unable to do proper physical therapy afterwards because of his bad knee and he didn't walk or work out enough. We attributed his stiffness to his osteoarthritis, knee problem, and lack of exercise. Dad began to speak less and less, and we began to notice that he was saying "that's right" in lieu of using a more complicated response. At the time, we thought the manor of his reply was due to lack of thought process, but in reality, he was becoming physically unable to form the words. We had to stop dad from being the one to distribute the medications for both him and mom, as he was making dangerous mistakes. The four of us had to confront dad about that, and he was furious. He realized it was the beginning (for both of them) of losing their independence, and it must have been so painful for him to have his competence challenged by his children. Now the medications would have to be brought to them by the nursing staff from the community health center.
Dad was having more and more minor car accidents, mostly on the grounds of the retirement community. Because we had started paying for a private nursing assistant to be there during the day with my mother, we began to get reports from her about my dad. He wasn't telling us about these things, and it was difficult for her to tell us because dad was very intimidating to her. He couldn't turn his head to look around behind him when he drove, he was going through stop signs, and that it was terrifying to ride in the car with him during errands. Virginia law permitted his doctor to contact the motor vehicle authority and recommend that dad be tested. My father flunked the test and lost his license. He was very angry about this, and we found out that he was still driving on the grounds of the retirement community. We then had to take away the car, donating it to a local women's shelter charity, which welcomed the donation.
Though dad's previous doctor was very helpful in dealing with the car issue, we weren't getting anywhere with a proper diagnosis. It wasn't until we decided to take dad to a new doctor - a younger and very kind physician who worked at the clinic at the retirement home - that we really got some help. He had a small geriatric practice and was one of those doctors you pray to come across in your life; the kind that go above and beyond to help their patients. He took care of perhaps 25-30 of the patients at the facility. Dad was originally diagnosed with Parkinson's Disease, but after noting that dad's medication didn't seem to be helping, this new doctor did some additional research (along with noting dad's other symptoms) and figured out that dad actually had PSP. His new doctor sent dad to a neurologist, who confirmed the PSP diagnosis through eye movement observation, among other things. Later, we were shocked to realize that we hadn't gotten the correct diagnosis of PSP from a neurologist until less than 2 years before his death. Hindsight tells us that he probably had the disease for somewhere between 5 to 6 years.
I never, in a million years, would have imagined that my father would put up with the life that he lived in those last years. Yet he did put up with it, in bed or a wheel chair or the recliner that we got for him that lifted him to a standing position. That recliner became his "cockpit". I highly recommend it to other families, as he was able to spend much of his day in it by pushing the button to move him move about. It gave dad a sense of power and control and allowed him to get up so that he could get into the wheelchair or into a standing position to be changed. He also had earphones linked to the TV which helped him watch it without blaring the sound. Toward the end, he seemed to lose interest in watching anything. We had pictures of his entire family across from his bed, where he could see them every day. Dad depended on his beloved caregiver, Alice, to bathe and dress him, and he, who LOVED good food and wine, seemed fine with less-than-appealing, ground-up food, thickened juice, water, or tea. He couldn't read, and he watched TV without his glasses some of the time, grimacing in pain from spasms rocked his arms and legs. At some point, we all assumed that dad had lost his mind, either due to the medications or his disease. In fact, he wasn't very cognitively impaired at all - just trapped and mummified in a body that had once been handsome and more than competent in every way.
Although dad was blessed with a level of care that most do not have, he still didn't have an easy time. I have often wondered how many times he had to endure the shows on TV that one of his caregivers wanted to watch instead of the football games he enjoyed. Although dad was in a private institution, he endured a few things that did not represent good quality care. My father was fortunate that Alice, his caregiver, noticed a few incidents and reported them to me, so I could ensure they wouldn't happen again. I wonder how many other elderly individuals have no one to fight for or protect them when they are helpless in bed.
Our dad served as the president of major corporations, and now he was frozen and helpless in a bed, at the mercy of someone in a bad mood or in a hurry. It was a terrible thing to see him looking frightened. For a while, we didn't know how much dad was "with us" or not, because he got blacker moods and would glare at us sometimes, refuse to engage in conversation, or just sleep. When I would visit with him, he was barely awake. When he was, dad would peer at me. Sometime it was so hard to tell, did he know me? What was dad thinking? Sometimes he just stared at you. Sometimes he really laughed while listening to us talk. Or sometimes he would cry at the mention of my children. Sometimes you just couldn't tell whether dad was laughing or crying. The way it came out - laughing or crying sounded so much the same.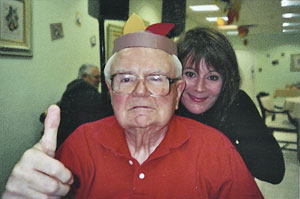 For a while during dad's illness, he was still able to use one hand, despite the fact that most of his body was plagued with crippling muscle spasms. Sometimes muscle relaxers kept the spasms at bay, and we treasured that one hand that seemed to work fairly consistently. We tried to keep it open and useable by giving him a stuffed Scottish terrier that I found one Christmas, which was just the right size and shape for his big hand to hold onto. (We had a photograph of dad's mother holding her pet Scottie, and I thought he would like it.) When dad could no longer speak at all, he would give us thumbs up or down with that one good hand to tell us yes or no to the vital questions, such as "do you want a vanilla milkshake?" Dad was a Navy fighter pilot and test pilot, and was accustomed as pilots do, to giving the thumbs up when everything is okay for takeoff. Dad was also famous in the health clinic for his firm, sometimes even painfully firm, handshake. I can't tell you what a loss it was when dad no longer had the strength or ability to shake hands or even to command that thumb to go up or down. I tried to get him to blink yes or no, but dad would just stare in the way that PSP patients do; helplessly trapped inside the prisons that their bodies become.
I was in the middle of shooting an important episode of The West Wing when dad had a minor stroke. I flew to Virginia, where I learned that dad wasn't going to be able to swallow anymore. My sisters and I decided not to insert a feeding tube - although dad was awake and could look at us, and we could see that he understood everything we were saying, as well as everything that was happening to him. He couldn't speak or indicate in any way what he wanted us to do. Our decision had to be based on dad's medical directives and the fact that his health had so deteriorated in the last month that he had lost 15 – 20 pounds. The doctor said it was clear that he was near the end. Dad had reached that lethargic part of the disease where he slept all the time and was no longer eating much. We knew that we would be prolonging his death - not his life. Dad could no longer get meds since he couldn't swallow them. We gave him an IV to make him comfortable and hydrated, but that soon led to lung problems. I will spare you too many further details.
My sisters and I ended up sleeping in his room and staying with him around the clock for four nights. We slept with one eye open to watch him and listened to his breathing. We petted his brow and held his hand, played guitar music as he had played the guitar for us as children, talked to him, gave him permission to go, laughed and cried, prayed and waited. Dad gradually slipped into a coma but seemed to always be aware of our presence comforting him.
We had many blessings in having each other – Alice, his caregiver, and the nurses who came explained to us what to expect in the process of death. I believe that, in general, people are afraid to talk about death. After having endured this experience, I think that we shouldn't be afraid to talk frankly and openly about it. The more the nurses talked to us about what was going to happen, the less frightened we were.
We donated our father's brain for research to CurePSP, which confirmed the PSP diagnosis. As I had thought by the end, the areas that were affected had to do with his physical self, not as much the cognitive self. I found this so sad, and the questions that arose were tough ones: might it have been better to have been unaware of the suffering he endured? What did dad do to deserve this kind of death? Why did he have to have such a tragic final chapter? But more importantly now, what can I do to help prevent others from having to suffer from PSP? What can we all do?
I hope that you will join me in the fight against PSP. CurePSP provides research, educational materials, family conferences and support groups to PSP families, as well as international scientific symposiums for physicians and other healthcare professionals to share their research. It was the Foundation's website where I gained additional knowledge about my father's disease. The Foundation devotes the majority of its annual funds to research efforts, education, and support. They receive no government funding and are solely dependent on gifts from people just like you. Please send in your gift today to help the Foundation's vital programs and services.
On behalf of all those affected by PSP, and in memory of my father, Laurence Richardson, I thank you for your support.