Personal Stories
My Mom, Linda Henry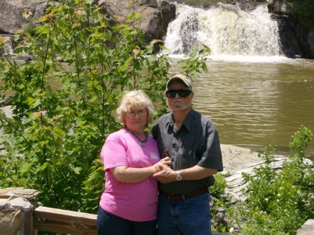 My Mom, Linda Henry was born on March 8, 1941 at her home in Birmingham, Alabama. When she arrived into this world she was black from head to toe. The doctor wrapped her in a blanket, laid her on a table and told my grandmother she was dead. A few seconds later they heard a cry coming from that wrapped blanket. My Mom came into this world the same way she left, as a fighter.
As far back as I can remember my Mom was active, independent, and spunky. She and my Dad had gone to school together and known one another since she was nine and he was eleven. Daddy fell in love with Momma when she was 15 years old. He called her his spunky little cheerleader. They married on August 8, 1958 when my Mom was 17 and my Dad was 20. Just a couple weeks before my Mom's 23rd birthday she was the mother of a newborn, 1-year old, 2-year old, and a 3-year old. My Dad worked as a photographer and my Mom stayed home and raised us kids. We spent our childhood camping, mountain climbing, canoeing, swimming in creeks and lakes and just enjoying life. My parents were always outdoor people and as a result the four of us love the outdoors.
In 1983, after all of us kids were grown; my parents decided to sale their home in Alabama and move to East Tennessee. They would call Tennessee home for the next 34 years. They both worked but they also adopted the mountain tradition of crafting. My Dad did woodworking, making all kinds of clocks, wall hangings, arrowhead boards, and wooden baskets. Up until around June of 2014 my Mom was a vibrant, active person. She loved working in the yard, mowing the grass, tending her flower beds, and landscaping. She had a business making jewelry which she sold at the Smoky Mountain Knife Works in Sevierville, Tennessee where she and my Dad worked. She did all sorts of crafts, a gift I wish I had inherited from her but didn't. Momma had lunch once a month with girlfriends and loved to go shopping. In addition to taking care of the yard, my Mom took care of everything in the house. She kept the house cleaned, clothes washed, meals cooked, groceries bought, bills paid, and took care of their three cats, Doc, L.D., and Noel. I'm telling you all of this because I want you to know the woman my Mom was rather than the shell of a person she became after PSP took everything from her.
In February 2011, while my Dad was in the hospital with Congestive Heart Failure, I drove over from North Carolina where we lived to be with him and my Mom. When I arrived at the hospital I found out that my Mom's neighbor had to drive my Mom to the hospital because she had developed double vision and was unable to drive. I really didn't think much about it at the time; I just figured it was associated with aging. Momma had been to the eye doctor and was waiting for her new glasses (with prisms) to get ready. I had no idea that this was one of the first signs of PSP. Of course at that time I had never even heard of PSP. In retrospect, there were a lot of signs that, had I known to look for them, I would have noticed much earlier.
In November of 2011, the day after Thanksgiving, Momma got a call from her doctor with the results of a biopsy. She'd had a mammogram and they found a spot which concerned the doctor. The results of the biopsy were positive, my Mom had breast cancer. Her surgery was scheduled for December so I drove back from North Carolina and spent 2 weeks with her while she recovered. Momma was so brave through it all, even the radiation treatments. After all was said and done, my Mom just didn't seem the same. I assumed it was because of the cancer, the surgery, and everything she'd been through. She just seemed to be depressed and distant; not herself at all.
In January 2012 my husband Brad and I moved back to Tennessee. He had accepted a job as a Forester for the State of Tennessee. I began working part-time which was nice because I was able to spend some time with my Mom on my days off. It seemed like each time I went over to see her she was more and more distant. My Mom had always enjoyed shopping and going out to eat, but I couldn't get her to do either. I was worried that she was getting depressed. It was about this time that my Mom starting having falls around the house. When I would ask her if she got dizzy she would say "no, I just fell". She even thought it was strange because she didn't stumble, just fell and always backwards. None of the falls were bad, but it was disturbing none the less.
By June of 2013 my Mom was using a cane to get around. She'd had gallbladder surgery and was convinced that the surgeon had done something to her that affected her balance. The doctor's office kept telling her that nothing they did would have any effect on her balance, but she didn't believe them. Christmas of 2013 my Mom and Dad came to our house for Christmas dinner. I could tell that day that something wasn't right. My Mom who usually loved Christmas and family get-togethers was like a different person. She would stare off somewhere else when I was talking to her and didn't have any interest in helping me in the kitchen.
In January of 2014 my brother-in-law passed away from complications with Dementia. My Mom and Dad were on their way to the hospice facility, which was relatively easy to find, but they called and said they were lost. My Mom had always been my Dad's navigator when they travelled but this time she didn't seem to be able to understand the directions. The day after the funeral service, my Mom was stooped down in the kitchen getting something out of the cabinet and fell backwards cracking a disc. She had surgery the following week.
In June of 2014 my Mom fell down the stairs on the deck when they were coming home from Church. It seemed like the falling was getting more frequent. Daddy finally made an appointment for Momma to see a Neurologist. After doing a brain scan, he told them that the only thing he saw was normal shrinkage of her brain, nothing to worry about. After the appointment my Mom told me that something was wrong, that she didn't feel right and needed to find out what was happening to her. I could tell she was scared and it broke my heart.
In July of 2014 I made an appointment for my sister and me to talk to my Mom's doctor. I knew something was going on with her and was determined to get to the bottom of it. At the doctor's office we were told that my Mom had Dementia. The doctor said that the Neurologist had put that in his report and should have told my Mom and Dad when they talked to him. It seemed to make sense and at the same time it was devastating news. I remember walking out of the doctor's office and the sunny day that had been when we entered had suddenly turned dark and dreary, the same way I felt. I told Daddy what the doctor had said and that night he told Momma. He said she didn't say anything, just looked at him in silence.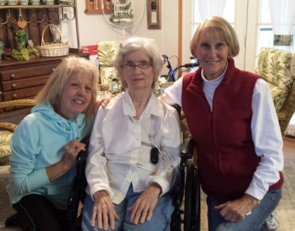 My Mom's ability to walk became more and more of a problem as time passed. By September she was using a walker to get around. She also had trouble getting started; I would have to put my hand on her leg to get her to start moving it. It was like her brain had stopped telling her legs what to do. And when she did start walking she would run into furniture or walls.
By November of 2015 my Mom was no longer able to walk more than a couple steps assisted. We decided to get a wheelchair and build a ramp on the front of the house. We hired someone to stay with her for 10 hours a day, 5 days a week while my Dad was at work. We were blessed to find a wonderful Christian young lady named Shanna to sit with her. We lived 100 miles away so I came over every other weekend and helped out as much as I could. It was at this point that she began to have trouble with her right arm (her left arm had been immobile for some time) and she could no longer feed herself.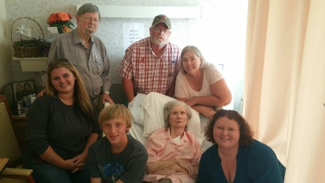 On July 6, 2016, after a visit from the home health nurse, I got a call telling me that the nurse believed something else was going on with my Mom. She said that Momma had declined too much in the week since she had seen her last and recommended we take her to UT Medical Center and have her seen by their Neurologist. Momma was admitted on July 6th and we were told on July 8th that she didn't have Dementia, she had something much worse, and something we had never heard of before. My Mom had Progressive Supranuclear Palsy. My heart broke as I sat there listening to the doctor tell us there was no cure, no treatment, no medication, nothing will stop this and it is always fatal. My heart broke again when Daddy and I had to tell my Mom that she would never get better and because of her condition now would never be able to come home again; she would need care 24 hours a day which neither of us could afford. Her worst fear was being put in a nursing home and now that fear would be her reality.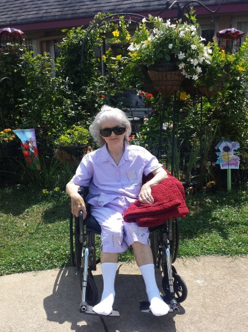 When my Mom was placed in the nursing facility she had just about lost the ability to speak. We could still make out most words, but it was difficult. It was only a couple months before she could no longer speak at all, just making groaning sounds. She communicated to us through blinking; once for yes and twice for no. Of course none of the staff at the nursing home had ever heard of PSP so we educated everyone who would listen to us. I even made up a pamphlet with PSP information and left copies in her room so anyone who was interested could read about it. The staff at the nursing home was wonderful and fell in love with my Mom and Dad. We admitted Momma to Hospice in August of 2016. I can't say enough good things about the Hospice staff. They were so helpful and supportive during my Mom's illness.
Years ago my Dad took my Mom to Acapulco for a week. During that time the song "I Love You Just the Way You Are" was very popular. Daddy said everywhere they went that song was playing and it kind of became their song. One time at the nursing home he asked me to play it on my phone. He started singing along and then Momma joined in. It was the most precious thing I'd ever heard.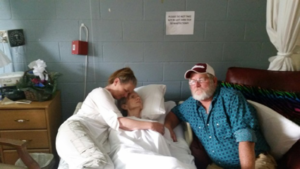 When we left the hospital on July 13, 2016 the doctor told us that my Mom may last another three months. Like I said earlier, my Mom was a fighter. My husband and I spent every weekend with my parents after my Mom went to the nursing home. My Dad would go every morning before work and stay with her until he had to leave. Then he would come back after work to feed her dinner, brush her teeth, wash her face and say a prayer with her before going home. I would get there on Friday evening and stay until Sunday evening. My Dad and I were like a tag team, him taking care of Momma during the week and both of us taking care of her on the weekends. On June 20, 2017 my Dad passed away unexpectedly from heart failure; my Mom, the fighter, was still with us. The hardest thing I ever had to do was to tell my Mom that my Dad was gone. The second hardest thing was telling her it was okay to go be with Daddy when everything in me was screaming "don't go".
On July 21, 2017, exactly one month and a day after my Dad passed away; my Mom lost her battle with PSP and went to be with him and Jesus. She was finally whole again and reunited with the love of her life. My husband Brad and I along with my sister Penny, my brother David and his wife Sherri, and her dear friend Mary were all by her side as that precious little woman took her last breath in this world and went into the arms of Jesus. There is a hole in my heart now but it gives me peace knowing that Momma and Daddy are together and with their Savior and we'll all be together again one day. August 8, 2017 would have been their 59th anniversary. I feel pretty sure that they celebrated this year like they've never done before. Our family has suffered a great loss, but out Faith in Christ has continued to get us through tough times.
There are not enough words in the English language to describe how devastating PSP is, not only to the person who has PSP, but to everyone who cares for them. At both of my parents' memorial services we asked that in lieu of flowers, donations be made to CurePSP. We hope and pray that one day there will be no PSP, and that other families won't have to endure the pain and suffering of losing a loved one to this awful disease. In the meantime, we pray for all those who are still suffering from PSP and for strength for their families.
Prateechee Shukla
Our father, Dr. Ajit Shukla, was a pathologist in the Indian Navy. Our earliest memory of him is as a very disciplined person, but also someone who doted on his family. He was extremely independent and liked doing things on his own – from polishing his shoes to getting his clothes ready for work. Our father did everything for his daughters, such as tying plaits in our hair or preparing dishes.
He always wanted his wife (Shailja) and daughters (Prateechee and Prachee) to be independent. I remember him saying, "I may not have a lot of money to pass on to you, but I can always give you a solid education that will support you throughout your lives."
Our father retired from the defense services, but then struggled to establish himself in the private sector. I think this was also because he was so used to a regimented life in the Navy. Some of the happiest times for our family occurred while he was working in a senior post in a diagnostic lab. He was extremely meticulous in writing reports and keeping track of activities, but we started to see a change in his behavior. In early 2005, he took a job away from his family in Delhi, where he was tested to determine what was happening. The neurologist diagnosed him with Parkinson's. I remember him telling us over the phone in a broken voice. He was our pillar of strength, and we had only heard him cry once before. In retrospect, for someone like him, just the idea of not being independent was disheartening.
His manager at the time told us he would be sending our father to work out of the Mumbai location so that he would be closer to family. Once he was back, small incidences started to occur – he withdrew money, but forgot his ATM card in the machine; often lost a lot of money; and banged the car against the parking lot while reversing. And then he would keep falling and even hurt himself seriously a few times. He started losing his balance while walking. One day he fell on the stairs at work and that time we took him to a different hospital. The doctor and even a psychiatrist there did not see any serious issues. The doctor changed his cholesterol, blood pressure, and other medications thinking this would help.
It was at this time we were referred to a neurologist who immediately diagnosed his illness as progressive supranuclear palsy, or PSP. In India there is absolutely no awareness of this disease, and there was only one specialist in the entire city who knew about it. We started looking up information on PSP. The neurologist told us there was no cure, but he did outline the progression. We searched on the Internet to see if there was anything about a cure in the United States or in Europe, but nothing came up.
Eventually our father started working half days, but due to his frequent falls, he was asked to leave the job. We soon realized that he could not be left alone and hired a caregiver who would be with him throughout the day. We also rallied around our father to care for him. My mother, my sister and I were all employed and saw the need to continue to work due to financial implications. Even at this point, we did not anticipate what this illness could do. We saw a complete change in his personality – he started being very stubborn and wanted to do everything on his own, which was getting increasingly difficult.
Next, he lost facial expressions and gradually lost mobility. There were times his gaze was fixed at a particular place. It looked like he was staring, but that was because his eye muscles were weak and he couldn't move his eyes immediately. He lost the ability to chew food, and we had to grind his food and try to feed him. Many times he asked me to call my older sister who was married, and then asked her about his granddaughter. My sister did not have a baby then, but he still insisted on speaking to his granddaughter. Surprisingly, my sister had a baby girl after he passed away. We all feel she is gift from our late dad.
When we met with the neurologist, he confirmed that my father would probably not survive through the end of the year. He even let my sister know that there was no point in bringing him in for check-ups anymore. He then lost his ability to eat, and we had to insert a tube in his stomach. Every visit to the hospital was difficult because most doctors did not know about PSP. His other senses also degenerated, and he could hardly understand anything. It was the most difficult phase to see our dad like this. There were many times when he had to be rushed to the hospital. PSP changed him completely in three years.
In August 2008, he came down with a high fever, and we took him to the hospital where he was admitted to intensive care. He had now developed aspirational pneumonia and, because he had difficulty in coughing, a tube was inserted in his throat to help his breathing. During this time, I remember how he would lie in his bed, and we would sit with him and read the newspaper. I don't know if he heard anything, but I just wanted him to know what was going on around him. On October 24, 2008, our father passed away after a lot of suffering.
We keep hoping that a cure will soon be found and that no family has to see a loved one suffer from this disease. We miss you dad.
Bill Bednarczyk
I will never forget a particular day in February, just a week after my wife turned 59. Colette and I recently had an extensive visit to the Mayo Clinic. We were anxiously waiting for the results when we got the call on this day. It was the neurologist who was leading the diagnostic team to determine the cause of Colette's bizarre behavior and physical changes over the last few years. Within minutes we got the answer – Progressive Supranuclear Palsy (PSP), an extremely rare neurological disease. He apologized and said there was no easy way to tell us how our lives would be changed forever.
The best way the neurologist could describe PSP was to say it is similar to a combination of MS, ALS, and Parkinson's without the tremors. Colette interrupted with, "Oh good, the Trifecta." You had to know her to appreciate the timing of her humor. The neurologist proceeded to tell us the expected life span and thought Colette was at about year six. He ended the diagnostic discussion by saying that this is "some really ugly stuff," and then talked to us more personally.
The neurologist told us what to expect, the progressive nature of the disease, and even prepared us for the possibility of Colette entering a care facility. He finished by encouraging Colette to find the courage to give me permission to keep living life during this journey. "Bill, you must allow yourself to get a life and assure Colette you will not abandon her", he said very directly. We talked about the financial, emotional, physical, relational, and family burden that would immediately impact us. He told us the job of care provider is stressful and is 24/7. It is not unusual, he emphasized, for the care provider to develop their own health issues, to withdraw, retreat from social interaction, and to lose a sense of self.
The silence was deafening as tears rolled down our checks. The unknown was frightening. We hugged like we never hugged before. The warmth, hope, and love we experienced for each other at that moment would not be felt with that intensity again.
The uncertainty was gone. It had a name – PSP. I now knew I was not crazy, was not going through a mid-life crisis, and that Colette's apathy over the years was not intentional or spiteful.  In fact, I learned later that she was petrified and felt out of control about what was happening to her. This gracious, fun loving, quick-witted, bright, gourmet cook and terrific mom was totally oblivious about how the changes in her the last few years had alienated those to whom she was closest.
As we worked through our emotions, we came to realize we needed a plan. We decided to sell our home in Florida and drive back to our hometown of Minnesota. The drive was filled with laughs and chatter about the great memories and friends we were leaving behind. I didn't realize it then, but my wife was starting a transformation to an acceptance of the disease. What a gift she was about to bestow upon me.
During the next few months, Colette's symptoms quickly accelerated. She experienced difficulty in walking, her choking increased, and her speech was barely understandable. It was as if she had given herself permission to let go and allow the disease to take over.  Through all this and with Colette's encouragement, I started on the next phase of our plan, which involved my own health and attitude.  I continually reminded myself that Colette's care and safety were at risk if I didn't take care of myself.
The highlight of that year was our last trip together – a spiritual pilgrimage to Medugorje, located in Bosnia and Herzegovina. Her attitude and physical and spiritual strength were remarkable and amazed our fellow travelers. It was during this period that I believe her transformation to accepting the disease was complete – truly the miracle of the trip.
After our son's wedding the following year, Colette began a downward spiral. Increased stiffness, bouts of aspiration, eye sight deterioration, more falls, wheelchair bound, and she became more agitated. It was becoming more difficult for me to give her proper care, and she was becoming more fearful.
I asked if she felt safe at home, she shook her head to indicate no. Mustering up the courage I asked, "Colette, do you want to find a care facility?" With her eyes welling up, she nodded yes. After much searching, we found a residential group home that specialized in neurological diseases. As the move-in date approached, the feelings of permanent loss weighed heavily on our hearts. For me, this was the moment when my mourning began. Due to the disease, Colette lost the ability to verbally express herself. The eyes, the touches, the hugs, and the tears told the story. The void is overwhelming to this day.
Nearly two years to the day she after she left our home, I lost my heroine, my confident, and my teacher. Those two years were filled with attempts at alternative therapies, including a stem cell transplant, hours of hyperbaric treatment, supplement regimes, and chair exercise routines.
Yes, there is life after this horrific disease. The five years since Colette's passing have gone quickly. Mostly because I have totally embraced the lessons she taught me and the gift she gave me during her battle with PSP. She released me to go on living, treasure the memories, and begin a new journey. She taught me that it is my choice if I choose to live life. The lessons about gratitude, patience, acceptance, selflessness, and understanding where well taught. She never blamed or became the victim.  Most of all, I will always remember her wonderful sense of humor. As we all gathered in her room during her final hospice hours, Colette was able to grasp a Stoli Martini in her hand and raise the glass ever so slightly to celebrate her life.
Ed Knutson
Living With PSP
I never dreamed I would know so much about Progressive Supranuclear Palsy (PSP). The chronic neurodegenerative disease now plays a significant role in my family's life. PSP is more progressive than Parkinson's disease, but far less well-known. A number of people in the Thunder Bay area of Ontario, Canada are currently suffering from this disease, to which there is no known cause or cure. My wife is one of them.
About five years ago my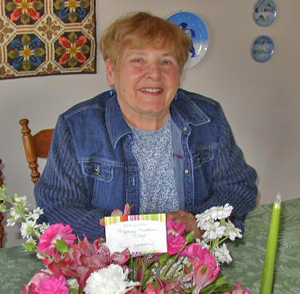 wife Marlene began to have problems with her balance. She would fall down and not understand what caused her to stumble. She soon had to rely on a cane for balance, and as the problem got worse she would require a walker and eventually, a wheelchair.
Other symptoms she experienced in the early stages were slowed speech and a monotone voice. In 2007, our family doctor suspected that Marlene could potentially have Parkinson's disease and referred her to Dr. Sher, a neurologist at the Thunder Bay Regional Health Sciences Centre, for further examination.
He watched her walk and examined her vision – by now Marlene could only follow slow movements. He also discussed the issue of choking, which had now become a problem for Marlene because the muscles that control swallowing and prevent food, fluid and saliva from going down her windpipe had weakened, and could no longer do their job.
These symptoms, along with her impaired movement, led Dr. Sher to the clinical diagnosis of PSP – a neurologically based movement disorder in the Parkinson's family. Marlene later had a consultation with another physician, Dr. Jog of the University of Western Ontario School of Medicine, who sees Parkinson's and PSP patients locally. He confirmed Dr. Sher's diagnosis as classical Richardon's type PSP.
Marlene continues to see Dr. Jog every six months now. What does the future hold for Marlene? The disease is progressive and will continue to slowly worsen. It seems that many of the important reactions in her body have slowed down. She is showing changes in her mood and behavior, causing her to suffer from depression. It is also said that eventually, she will likely ingest food or drink into her lungs which would cause pneumonia.
Rita – My Soul Mate
Eugene Grabinski, Sr.
I've been sitting here on the balcony of my 5th floor condo. I can see hundreds of trees from my vantage point – three of which I have picked out for my wife, Rita. Every night I throw a kiss to each one of these trees as I say goodnight to her. To pay tribute to Rita for all of the trials, tribulations, and suffering that she underwent with PSP,
I wrote a book about her entitled, My Soul Mate. The term "soul mate" means that we complete each other. We were deeply in love and we tried to make each other as happy as possible. Rita and I were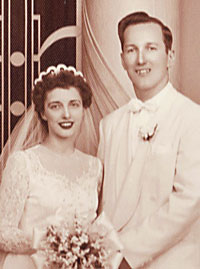 in first grade together in the city of Chicago and had known each other a little over 70 years. She died at age 76. There is an interesting story about when we were in the third grade – Rita turned around to me and asked, "What's one half of 30?" I looked to see if the nun was watching because that would mean trouble. The nun had her back turned, so I said, "15." Rita then said to herself, "Gee, I want to marry a smart guy when I grow up. He's pretty smart. Maybe, I'll marry him?" Little did she know how true that was going to be. Rita had PSP for about 6 years. In 2001, I saw a small tremor in her left hand, so we went to the neurologist, and he diagnosed her with Parkinson's.
We were quite upset about that, so we took her to another doctor who said the same thing. After about 2 years, we made an appointment with a neurologist at Loyola University Medical Center. Since Rita didn't have a downward gaze, he suggested that we see an ophthalmologist who confirmed that she had PSP.
We knew nothing about this particular disease and he explained to us that it was rare and had no known cause or cure. To make sure of the diagnosis, we took a trip to Mayo Clinic, and they too confirmed that she did have PSP. During the 2 years before we received the correct diagnosis, she fell six or seven times, twice quite seriously and hurt the orbit of her eye, and one time I had to take her to the emergency room. Most of her falls, when I reflect back, were due to the fact that she could not see what was below her, like a curb or a step.
About 4 years into the disease, Rita began having trouble dressing, undressing, washing, and she also needed help going to the bathroom. She was also having trouble with balance, and I needed to walk with her in order to get her from one setting to another. I took care of Rita during those years, putting her to bed every night and getting her ready in the morning. I didn't mind this because she would do the same for me, and she was such a beautiful person.
One time she told me, "I want to dance." It was quite sad to hear this coming from a woman who loved both music and dance, but now had extreme difficulty doing the simple two step. It didn't stop her from trying. Rita was also a very accomplished piano player but could no longer play due to PSP.
My Husband, Samuel
My husband, Samuel, was diagnosed with Progressive Supranuclear Palsy in the summer of 2003 at the age of 49. Thatwas the beginning of a family journey into the unknown, or what my son referred to as, "our new normal." As a family, we sought to thrive – not just survive.
Sam was an attorney, avid golfer, devoted husband and a wonderful father. After diagnosis, he was forced to give up his career and the ability to play golf, but his role as a husband and father remained intact. We have two sons and at the time of Sam's diagnosis, Joshua was 15 and Jonathan was 13. Our roles as parents gradually changed, but our boys continued to seek out their father's advice throughout his illness. If the boys came to me to share their sadness, I made sure that Sam was included. I always felt that his life – a central part of our family – did not need to end until it was taken.
After my husband was diagnosed, I never dwelled on the thought of his eventual death. Instead, I concentrated on how I could enhance his quality of life. Sam lived at home for two years after his diagnosis before moving into a nursing home. Every weekend for those first two years, we had company over to the house because it became harder for Sam to get out. We hosted dinner parties, dessert parties, and movie nights. These events preserved our connection to the outside world. I never wanted the illness to define Sam's life, so we adjusted our home life to suit his changing needs.
I later invited a hospice team into our home to evaluate Sam. I understood that hospice care equated to comfort, and Sam's quality of life was of utmost importance. I could plan the parties, but I needed assistance from hospice to keep him safe. As I kept planning our social calendar, hospice would work to adjust Sam's care. The hospice team was such a wonderful gift to our family. After Sam's passing, it was hard to imagine that, just a few years earlier, these wonderful people were strangers to us. The team always had the answers to questions I sometimes did not even know to ask.
In my quest to make beautiful memories out of a difficult situation, I decided to create our own special version of Thanksgiving. One year, we decided on an Asian-themed Thanksgiving. We replaced turkey with Peking duck, and mashed potatoes with fried rice. I brought in Japanese, Chinese, Thai and Vietnamese food for everyone. The only rule to this festive holiday gathering was that participants had to attend wearing pajamas or sweat clothing, allowing Sam to fit in with the guests and feel comfortable. I know this was the right decision because our two sons, now age 20 and 22, still talk about that particular holiday, when we all gave our own thanks.
After two years of living at home with us, we were encouraged to move Sam into a hospice setting. It was not an easy decision, but ultimately it was the safest choice for Sam. The night before he moved in to the nursing home, a handful of good friends went into his room and decorated the walls with family photographs and mementos everywhere – one could only walk into the room and smile. I had received permission to continue throwing themed parties at the center and did so. One particular party was an island-themed party, so Sam would feel as if he was away on vacation.
My husband Sam passed away on June 12, 2007 – I miss my best friend so much. Joshua is now in his first year of Law School at Quinnipiac University and Jonathan is a junior at Brown University. Early in Sam's illness, we made the decision to embrace and enjoy life as a family and this turned out to be the right choice for us.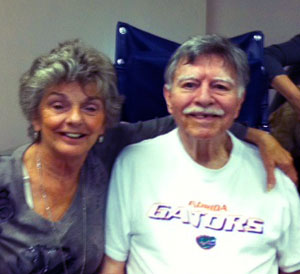 Leslie Riopel
The doctor uttered the words, "He has PSP", and those words would forever change our lives. What in the world is PSP? We left the doctor's office in shock. We had waited years for a diagnosis, now what? My father, who is now nearing the end of his journey with PSP, is not able to enjoy his retirement anymore.
My mother tells me she misses the little things: the secret looks, the touch of his hand, a hug, spending time together, the connection in other words. My mother has documented parts of her journey on a personal blog:
http://livingwithpsp-deej.blogspot.com/
My father is a graduate of the University of Florida in Gainesville, with a B.S. in Electrical Engineering. He is kind, intelligent, loved to travel, and spent four years in the Navy during the Korean War, but was first and foremost a family man. After the balance problems started, he began to do a little shuffle with his feet – we would ask him what this new little dance was and he would simply say, "I don't know". The slow downward spiral had begun; we just didn't know it.
It is important that you don't give up hope, because sometimes hope is all you have. Diseases like PSP are not well known, and often misdiagnosed. The most frustrating part for us is the slow decline of everything my father held dear. Every day is a struggle, and this disease has devastated my family, mentally, spiritually and financially. We never expected to have to pay for months in a care center, at $6,000 – $10,000 per month, and there doesn't seem to be anyone out there who can help, and that's sad. My father spent four years serving his country, but all we get is the run around with the VA. Where is all the help I wonder? My wish is to make this disease better known, so my father won't have suffered in vain. My mother told me:
"My husband is trying so hard to try and make things easier for me, but it is a losing battle. Everyday we see a change. He is now losing the use of his right hand and arm and his speech is getting hard to understand. But I love him with all my heart, and will be there for him always, no matter what."
We are grateful for every little moment we have. That is the blessing. I can still tell my father I love him, even if he has trouble telling me back. My parents were able to celebrate their 55th anniversary recently, although not in the way they expected. To put it in my mother's words:
"Happy 55th Anniversary to my husband Lyle, who has been in the care center for the past 6 months. We made it this far even though we are not doing what we intended to. I love you – Donna."
For now, it will have to be enough.
Cynthia MacDonald
"Why are you shuffling, mother?" I asked that question eight years ago. That slight drag in her right leg started a progression of doctor visits and tests.
I am the older of her two daughters. My younger sister, Terri, and her family live in mother's hometown in Michigan; John and I live in Naples, Florida. Our journey follows the similar pattern of so many victims and their families.
Mother's story is a bit more unique as she is now 84 and has battled PSP for about ten years. I was told because of her late-in-life onset of the disease, it would be a slower deterioration. Our beautiful mother who was always our strength, guidance, and rock is now slowly being stripped of her ability to walk, talk, and live. She retired as a secretary/bookkeeper after the unexpected death of our father in 1982. Her strong independent German nature still prevails, in spite of her PSP.
It was so true when one of mother's nursing assistants told me, "You are the mother now." My heart breaks for her as she relies on me and others to take her to the bathroom, dress her, and even comb her hair. All of her independence has been taken away. On her good days, I look into her brown eyes and see mother's comprehension of what is happening to her.
After five years of being misdiagnosed and treated for "non-tremor Parkinson's," we tried one more evaluation from a Naples neurologist. After watching mother walk, combined with several eye tests, it took him less than 30 minutes to diagnose PSP. After I told mother's original neurologist from Michigan that she was diagnosed with PSP, it angered me when he said "I've never heard of it." How many others are being misdiagnosed and treated for Parkinson's and not correctly diagnosed with PSP?
I never felt comfortable that mother's symptoms fit Parkinson's criteria. After reading the symptoms of PSP, it all fit and answers were found. Sinimet treatment was stopped. It was like a light came on in mother's brain, and we got our mother back. She greatly improved mentally! We have journeyed through fall alert monitors, ramps, her bed elevated in our home, thickened liquids, pureed foods, and daytime caregivers as John and I both work full-time jobs. She has had one VitalStim treatment which improved her swallowing and speech temporarily.
We were able to keep mother with us at home for about two years. This would not have been possible without John's help. He even now drives her to appointments, has taken her into bathrooms, picked her up after a fall, and has unselfishly sacrificed to give her as much priority, dignity and quality of life as possible.
A care facility is where mother now resides. I thank God we found this facility only eight miles from our home. After a broken arm and staples to close a gash in her head from a fall, we realized we could no longer keep mother safe and she would require twenty-four hour care.
Educating not only the care facility and anyone who will listen about PSP has become a normal part of my life. I have also discovered that most hospital personnel have never heard of PSP, therefore I must also educate them about this disease.
It was three years ago this past January that John excitedly showed me a newspaper article in our local paper titled "Naples PSP Awareness Walk." We also saw a local TV station air a promotion for the walk-a-thon and an awareness segment on PSP. It was the first PSP walk in Naples and we took mother, then using her walker, to the event. This year was our third participation with mother now in her wheelchair. I thank God for meeting Joan Reifler, the local walk-a-thon chairperson, the wonderful families and friends of PSP victims, and the kindness and support from the Foundation for PSP and its staff.
I couldn't finish reading Patricia Richardson's beautiful piece about her father; the tears in my eyes hit too close to home as mother is getting closer to her journey's end.
Mother is our priority and focus. I go everyday after work to take her outside for a walk in her wheelchair. We sit and visit, and work on her speech therapy. She rarely, if ever, speaks complete sentences now, nor has she ever complained. Her smile lights all around her. I can still bring her home for the day on Sundays, but I know in my heart that soon this will also not be possible. She has shown courage and strength and acceptance. I am so grateful for her good days when she is not in a "fog" or having problems concentrating on our conversation.
I asked her on her eighty-first birthday if there was anything she wanted. She slowly and softly said, "What I want, you can't give me……..my health back."
To find treatment and even the cure for this brain disease is something mother probably will never see. I will, however, continue to support, educate, and spread the words of awareness about PSP in her honor.
On behalf of all those affected by PSP, and in honor of my mother – Dorothy MacDonald, I thank you for your support.
Mary Wissink
My dad's journey may be different from others with this dreadful disease. He was diagnosed with PSP when he was about 78 years old. At the time of writing this, he is 87 years old, so he has had the disease approximately 9 years.
My dad, Al Wissink, grew up on a farm during the Depression and, like so many of his generation, fought in World War II. Dad was a gunner in the ball turret of a B-17 bomber. The ball turret was a plexiglass sphere attached to the underside of the airplane. Once the gunner slipped into the turret, it rotated so that the gunner sat upside down in the little sphere with two side-by-side .50 caliber machine guns. The ball turret was completely exposed. Dad said it was either the best view or the worst view depending upon the mission! When I tell him he is a hero, he says he was just doing his duty.
After the war, dad returned to Spokane, Washington. He began studying to become a Jesuit Priest when he met and married my mom – a beautiful and charismatic girl named Martha Barovich. She came from Bear Creek, Montana to attend Kinman Business University in Spokane. She was Serbian Orthodox and was deeply committed to her family and her religion. They had two children – my brother Dave and I. I was named "Mary Martha" after my mom. True partners for life, my parents owned and operated an appliance repair business named ALMAR Appliance Service (Al & Martha – hence ALMAR) for over 30 years. Dad did all of the repair work while mom handled the business side. Mom passed away unexpectedly in 2003. This year they would have been married 60 years. I was a single mother of 4 children. Mom and dad were always there for my children and I.
Every morning, dad drove over to my house to take the children to school. He picked them up again after school, prepared after-school snacks, and helped them with their homework. His dedication allowed me to work so that I could provide for my children. He was always involved. Even though he was at least 20 years older than any of the other dads, he was the first to play softball at the parents' day softball game – he was pretty good, too!
In addition to helping me raise his four grandchildren, dad repaired anything that needed to be repaired. He could fix everything. When the faucet leaked or dishwasher wouldn't drain or when the washing machine wouldn't work, Dad was there with his toolbox! When my house needed to be painted, dad painted it. Of course he fixed the bikes and repaired the broken toys. He wiped away the tears and dressed the skinned knee. He was there to take care of the kids when they were sick, yet he still had time when my friends called to fix their appliances. Dad always enjoyed helping people in need. He expected little in return.
In 2004, dad fell and broke his hip. After his release from the nursing home, he came to live with me. He wanted to move back to his house, but he couldn't realistically live alone. Dad treasured his independence and feared being a burden. He always was the one helping others. He couldn't possibly be a burden! Shortly before he broke his hip, his doctor misdiagnosed him with Parkinson's disease – a fairly common scenario.
Since 2004, dad's condition has degenerated to the point where he cannot walk without much assistance. Over the years, we have had more trips to the emergency room for falls than I care to think about, including a devastating fall off the porch where he suffered a skull fracture and another fall when he suffered a collapsed lung. In a peculiar way, it's easier now that dad is not as mobile. Despite all of this, he has never once complained, and he has always been more concerned about me and how I was inconvenienced. "Inconvenienced" – can you imagine that? A Depression survivor, belly gunner on a B-17, and a surrogate father for my children, worrying about being an inconvenience?
In April 2007, dad's neurologist called and told me that he thought dad had "PSP." I had never heard of Progressive Supranuclear Palsy! The devastation set in when I learned that it was a progressive disease for which there was no cure. Neither dad nor I could fix this one. After I had a good cry and had come to my senses, I had an "aha" moment. I realized that this life-changing situation marked the point where I had the opportunity to take care of my dad. I finally had the opportunity to show him a measure of gratitude for what he had done for me and my children all those years. I'll never be able to repay him, but maybe I could show him gratitude.
In October 2007, dad and I went to UCLA Medical Center to participate in a PSP study. On the way, dad told me that this was just part of life's journey and that death was not the end for him. What courage! What faith! Dad wasn't going to let this cruel disease define him. His has not been separated from his Lord. His body has weakened, but his spirit is strengthened. His suffering without complaint and his display of love for life, his family and God exists without limit.
Dad continues to amaze me with his strength and resolve. He doesn't give up! He can no longer speak in full sentences, but we work on his speech – he always tries. On Sunday, dad is at the door in his wheel chair ready to go as I am invariably running late. He exercises in his chair and is an avid sports fan. His smile still lights the room, and his attitude is infectious. He is a "hit" everywhere we go. He demonstrates strength to face this disease and he has the courage to accept it and maintain his dignity.
I thank God every day for the opportunity to be with my father. He continues to teach me life's lessons as he approaches the end of life's journey. Dad will not see a cure to PSP in his lifetime, but he is an inspiration to the victims of PSP and to their families. I will continue to support, educate and spread the word of awareness about PSP. Thank you for letting me share my story of my dad, Al Wissink – my hero.
Noelle Hays
We had always said that dad wasn't a ballerina. From a young age, I always knew that he was a little clumsy.
When dad started falling more and more, we became concerned. At 64, my dad started to develop some health problems but nothing too serious. However, over the next few years, my family and I started to notice a difference in his personality. At times, he would become withdrawn, have bouts of uncontrollable laughter, and would fall more frequently. After several years of numerous doctors and incorrect diagnoses, my father was diagnosed with PSP. Even though the diagnosis was not good, at least we had some direction on how to deal with and manage his disease.
With the diagnosis of PSP, dad was taken off many different medications that were originally prescribed for him. These meds made him disoriented and "out of it" most of the time. As we started to research the disease more, we realized how much everything fit into place. At the same time, our worst fears were met when we realized that dad would be going down a long road with a terrible illness. The part that upset me most was that dad also knew what he was in for.
In the beginning of 2005, when dad's symptoms worsened, I decided to move in with my parents. As a family of five kids, we were very close knit. I was especially close with my dad and we were always laughing and joking around. Some of my favorite traits about him were the funny and crazy things he'd say to make me laugh. As you know, one of the symptoms of PSP is either uncontrollable crying or laughter; fortunately my dad's was the latter.
Our family had always been a group of fighters and PSP was something that wouldn't get us down. As a runner, I've participated in many marathons. Both my parents always enjoyed attending such events. They liked figuring out the route and the different points during the race where they could see me running. Since dad had PSP, I decided that I would raise money for CurePSP by participating in the New Jersey Shore Marathon in the spring of 2006. I sent letters about my dad to everyone I knew, and many of them passed on the letters to others that knew either dad or myself. I couldn't believe it, but we were able to raise over $6,000!
The day of the marathon was great, especially with my family coming out to support me and cheer me on. The best part of the race was on mile 18, when I felt very tired and exhausted. I came around the corner and I saw my mom, with a camera taking pictures. As I ran another 20 feet, I saw my dad sitting on his walker. At this point, his vision was not very good, so I started calling to him. When he heard me, he jumped up from his chair and held up a sign that said, "Go Noelle." At that point, I realized if my dad could do that, I could finish the race.
During the marathon, I wore a shirt that said, "Ask me about PSP." A lot of racers asked me questions – they had never heard of PSP so I really felt like I was enlightening a lot people. It made me realize that my dad's disease was such an unknown illness. Therefore, if I had helped at least one person become more aware of PSP, I felt like I had accomplished something.
In the summer of 2006, my dad had a really bad fall and ended up with a crushed vertebra. After his hospital stay and a long month of rehabilitation, dad ended up spending most of his time in a wheelchair. He used a walker to go out to the car and to the bathroom. His speech had also deteriorated a lot. Dad did get some speech therapy and was given VitalStim treatment, which really helped. Unfortunately, his insurance didn't cover speech therapy or VitalStim therapy and both ended up being unaffordable without such coverage. Dad also liked to talk so his biggest fear was losing that ability. In addition, dad's swallowing became much worse. We used thickeners for all of his drinks, and his food was cut into small pieces.
My mom was dad's sole caregiver. Her full time job was taking care of him. Mom had always been a wonderful and caring person and we learned firsthand of how strong she had become in this situation. I think our biggest concern was is my father's falls. Dad has never been a patient person and he never understood that he had to be patient and extra careful. He would try to get up when we weren't ready so we'd have to watch him a lot.
At 70 and 66 years old, my parents were both very young to have endured such a process. Mom was in great shape and I didn't know what we would have done without her. My siblings and I tried to help her as much as possible. We also tried to keep dad active and take turns with"daddy duty." This gave our mom at least one day a week to get out of the house by herself. It also gave us a break from our busy schedules to spend time with dad.
PSP is a horrible disease. My siblings and I always talk how much we miss our dad. He is not the person we remember so we try to talk to him about the "old days" as much as possible. We all know how lucky we have been to have such great parents. All we can do now is take care of dad and mom as much as possible. I know my dad is in for worse days ahead. I will continue to do everything in my power to help more people understand what PSP is and the impact it has on our loved ones.
Gale Chapple
Bernie's Story
"What's happening to me," my mom queried one day after falling down a flight of stairs. Dad had found her at the bottom of the stairs, her head gashed open and several bones in her hand broken from the fall. She hadn't felt dizzy, she had no warning, she just lost her balance.
This was the beginning of fall, after fall, after fall. It was always the same story, no dizziness, no warning, just repeatedly losing her balance. This was also the beginning of our perplexing journey to find the root of what was causing our mom to fall so often.
Our visits to many doctors offices, including neurologists and gerontology specialists, in Buffalo, New York, resulted in a diagnosis of Parkinson's Disease. But it just didn't seem to fit, and any medications prescribed never helped.
Then, my sister Kim came across an article in a Caring Today – a magazine for caregivers. As she read it to me, we both concurred that we finally had our answer. This little known disorder perfectly described our mom's symptoms. Unfortunately, it meant she could have a serious neurological disease called Progressive Supranuclear Palsy (PSP). She had every symptom – frequent falls, vision problems, slurred speech, and difficulty swallowing foods. We noticed major slowing down and a shuffling gait, something we came to affectionately refer to as the "Bernie shuffle."
We tried to bring some levity to the increasing limitations upon her, but as we returned to the doctors with our new found insight, we were met with an unhearing audience. These specialists were not familiar with PSP. Our frustrations mounted as her condition became worse, and her still active mind became increasingly encumbered in her body that no longer wanted to work.
We watched mom's life and freedom being stripped away. She had always been vibrant and active. She did all the right things to keep herself healthy. Mom ate healthy foods, took nutritional supplements, exercised, walked, and didn't abuse her body with unhealthy habits. She had always been there for all of us, whatever our need. Mom was our solid rock; one on whom we could depend.
Now, the roles were becoming reversed and mom was dependent on us for everything. She fell many more times, breaking her neck and a hip. She endured multiple surgeries and weeks of rehab in nursing facilities. Her life narrowed and she was confined to a lift chair and a hospital bed, as we struggled to keep her safe.
Finally, after three frustrating years, my sister Kim decided that we should take mom to the Cleveland Clinic for an evaluation. We made the appointment, booked our hotel, and planned on being there for three days of testing. To our amazement, the neurologist did a "doorway diagnosis," and mom, dad, Kim, and I were out of there in 40 minutes! The neurologist recognized PSP and referred us to the Foundation for PSP | CBD and Related Brain Diseases (also known as CurePSP) in Maryland for much needed information. They have been a huge blessing to us with booklets, newsletters, education, and support. What a relief to finally have the name for this horrible illness, and answers to so many questions!
We learned about getting hospice in to help, a ChatterVox to amplify mom's weakened voice (dysarthria), a thickening agent to make swallowing easier, and many ideas to keep mom safe. Dad became mom's main caregiver, as she increasingly needed 24/7 care. We all helped out as we were able so he wouldn't end up in caregiver burnout. Their home began to look more and more like a nursing facility as the disease progressed.
Despite it all, dad and mom never complained. They were an example to everyone of suffering well. They endured PSP with dignity, with faith in God, and with graciousness of spirit, as PSP deteriorated mom's body, dulled her emotions, and slowed her mind.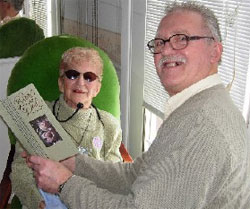 In many ways, we grieved the loss of our precious mom while she was still alive. We also honored her while she was still alive. Rather than waiting to honor her in a eulogy at her funeral, (which we also did), we wrote and spoke our tributes to mom on significant occasions in her life. On her 78th birthday, as the whole family gathered around, we expressed our gratitude and appreciation to her and blessed her for all she had sown into our lives.
At times, we laughed hysterically together. At other times, we cried and openly shared with mom the realities and expectations of her illness. We knew she would have wanted it that way.
We cared for mom, in her home with the help of hospice, until her death. The final two weeks we kept a constant vigil with mom as all the family, relatives, and friends came and went. We took turns spending the night, singing, praying, holding, and having wonderful times of closure with her.
We are grateful to CurePSP, the Cleveland Clinic, and Hospice of Buffalo, for meeting us at our point of need. We so wished we had known earlier what it was our beloved mom was struggling with. Much pain and suffering could have been spared. Now our passion is to increase awareness of PSP, so that others can be spared the anguish of not knowing what's happening to their loved one.
Mom was a giver and had a servant's heart toward others, and her legacy of living continues after her recent death. She was an organ donor, and also donated her brain for research to the CurePSP Brain Bank, known as the Eloise H. Troxel Memorial Brain Bank at the Mayo Clinic in Jacksonville, Florida. They recently confirmed the diagnosis of PSP for us.
One of the ways my mom's legacy continues to be life-giving happened on February 16, 2008. Seven bands gathered in Tonawanda, New York to belt out the blues for twelve hours straight to benefit CurePSP and the American Cancer Society in support of one of my friends who lost their mother to cancer.
We all celebrated mom's 80th birthday – her last – this past summer. It had been five years since that first major fall that forever altered our lives. Her death was as much filled with love as her life was, and her homecoming was a celebration of a life well lived!
Suzanne Brent
"Something Is Wrong with Daddy"
When people ask me about my dad, Carroll Brent, I feel I stand a bit taller and smile a bit wider. This is a story not only about my dad's life and his battle with PSP, but a story about my family and how we loved, lived, learned, and lost.
My dad, like most dads, was often heard saying "clean your room, wash the car, do your homework, turn off the lights, money doesn't grow on trees." Dad was a huge Kentucky Wildcat fan, he loved his family, his cars, the garden; he was a self-proclaimed carpenter and fence builder. Dad loved being outdoors; spring and summer were by far his favorite seasons.
My parents have four children and I am the youngest. My siblings were already in college and starting their careers by the time I started middle school. Dad owned and operated a car leasing company. Our mom, a nurse by profession, was required to travel several times a month by her job. Therefore, Dad and I spent quite a bit of time together. As a teenager and parent, there was arguing, but we generally enjoyed our time together.
I suppose it was only natural that I began to notice the small changes in Dad because I was with him so much. I remember saying to my mom and siblings, "something is wrong with Daddy." In the beginning, the changes were so small that most people would not notice, but our family did. Dad began to get angry about the smallest things and it was never the same thing twice. It was like walking around on pins and needles; we never knew what would upset him. Dad began to lose interest in the things he loved the most and began to withdraw from family and friends. He would tell us he did not feel right but could never say exactly what it was that was bothering him.
Doctors told our family that Dad was depressed, so they tried antidepressants, which did not work. Doctors suggested in-patient treatment and shock therapy. As his family, we would do anything to help him feel better, so we followed the doctors' suggestions. Those two weeks that Dad was in the psychiatric ward in the hospital were torture for all of us, leaving him there was horrible; even more so when the treatment did not make him better.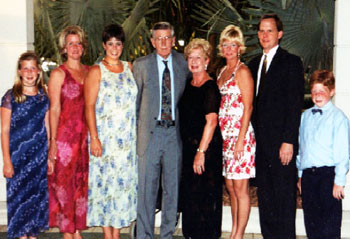 My Mom made a call to her primary care physician and told her, "my husband is going away, I need help." Dad's hands began to tremble and his gait was off. This time, the doctors said it was Parkinson's. Again, the prescribed treatments did not work. The doctors were wrong and Dad's condition was getting worse. Mom recalls a time when Dad threw her crystal vase in the dumpster, yet laid the dead flowers on the bench in the garage. He no longer had his business and could not hold a job. He began having small fender benders and, at one point, forgot where he had dropped one of the family cars for servicing. We never saw the car again. Then came another diagnosis – Alzheimer's disease. "That's what is wrong with your husband/dad," they said. But we knew the Alzheimer's diagnosis did not explain his balance problems and his tendency to fall backwards. Then there was that stare he had, as if he was looking right through you, instead of at you.
God watches out for us even when we feel he is breaking our hearts. Mom was offered a job in Orlando, Florida in 1998. It was hard to see my parents move away, and later we learned that the move was the blessing we had been looking for, but also the curse we had been afraid of hearing. Mom and Dad saw a neurologist at the University of Florida in 1999. Dad's downward eye movement and balance problem told the doctor all he needed to know. PSP was the diagnosis. There was no known cause, treatment, or cure.
We all did our research. Mom asked all the questions any of us could think of, but we had to figure out the bottom line as it came. The symptoms developed faster than any of us expected; the father and husband our family knew was leaving us right before our eyes. There were so many times I asked God, "why us, why my Daddy?"
On November 4, 2001, Dad fell trying to get around by himself. His head had hit a doorknob on the way down, which fractured his scull, severed his eyelid, and gave him other cuts and bruises. Dad spent six weeks in the hospital, with Mom staying right by his side. We sent cards and letters encouraging Dad to get better so that he could come back to Kentucky for Christmas. My mom has to be the strongest woman I know. She took care of Dad every day, protecting all of us from the truth that was becoming our father. Mom was able to bring Dad to Kentucky for Christmas that year and although he spent most of his time in bed, we all got our Christmas wish: Mom and Dad home for the holidays.
We said goodbye to them in the security line at the airport. I took Dad's winter coat; he would not need it in Florida. I hugged my mom, thanked her for being so strong. Then I walked over to my dad, who was sitting in his wheelchair. I hugged him, kissed him, and told him I loved him. I clung to my brother and cried as we left the terminal. I walked away that day knowing I would never see him again.
Six weeks after that tearful goodbye, Dad lost his battle with PSP. Carroll L. Brent, husband, father, "Pop," uncle, brother, and friend died Friday morning, February 8, 2002.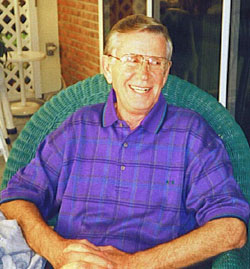 When people ask me about my dad, I stand tall and feel extremely proud and I smile wider. I once asked God, "why us, why my daddy?" I now know the answer. My dad's PSP gave our family the opportunity to help others by educating, supporting, and assisting in fundraising efforts. I promised my dad the night before he died that I would make sure that people heard his story; and I that I would help others learn about PSP and how it affects families – families just like ours.
Thank you for helping me keep the promise I made to my dad. Thank you for helping me keep him alive in our hearts by allowing me to tell his story. If our family's story of PSP can help one other family, or help to raise even one dollar for the vital programs of CurePSP, then I know that my daddy did not die in vain.
Debbie Erwin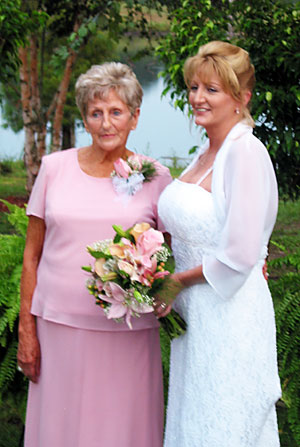 Debbie Erwin
My Mother, Susan
My mother started falling four years ago. After several falls, several hospital visits, some requiring surgery to repair broken bones and extensive physical therapy, she was finally diagnosed in June 2011 with PSP. The previous doctor visits would leave us frustrated because no one had an answer as to what her illness was or a solution as to what treatment was available. After being diagnosed with PSP, this disease seems to fit all of her symptoms.
I am the middle daughter of six children. My younger sister, Beverly, and I have been her main caregivers. Other family members live out of town and come to visit her when they can, but Beverly and I have been here from the start and have witnessed it all first hand. She started off falling for no reason (most of them backwards). Her personality changed almost overnight and she became withdrawn, never wanting to participate in family gatherings or go on any kind of outing. Her speech became slurred and she quit watching television because she claimed the programs made no sense. Her appetite was almost nonexistent.
We tried to keep mother in her own home as long as possible, but eventually we had to make the decision to place her in an assisted living facility so that she could receive 24/7 care. It has been a big adjustment for her because, like so many people that suffer from this terrible disease, there is no warning. Your life style seems to change in the blink of an eye. She went from being an independent person, making all of her own decisions, a regular church member, living an active lifestyle, to one who now walks with a walker or gets about with the use of a wheelchair and is totally dependent on others to care for her. Needless to say, it has been a nightmare.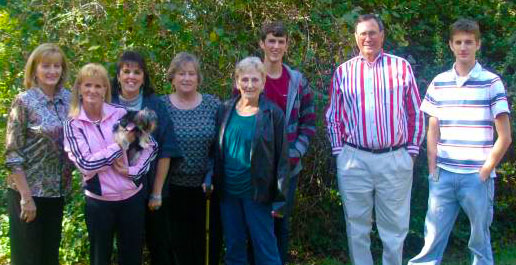 My mother is 81 and was always active. She tried to eat the right foods, walked every day, and never developed any bad habits that would harm her body. She was always our "rock". I guess that's why it's so hard to see what this disease has done to her. A simple trip to the bathroom now requires assistance. Mother was always the one taking care of others. Preparing meals for friends who were sick and running errands for neighbors that didn't drive a car. She has many friends and has touched many lives in one way or another. Her church friends have been a great comfort to her.
In reading some of the stories on this website I have found that there is something in each story that I can easily relate to. My sister and I have also experienced much of the same. We try to keep positive and try to keep our mother focused on getting better, but each daily visit we witness her slowly slipping away.
Talking to friends and co-workers has helped me and they have all been very supportive, but unless you have lived this, you can't possibly understand what it's like. A cure for this disease, or at least a treatment that could help people live with it, has got to be in the near future. I have faith in that. My sister and I do not plan on giving up and we encourage our sweet mother to continue to fight with us. I pray for strength in our fight and I pray for strength to all of the other families that have a loved one suffering from PSP.
I know that one day our mother will no longer have to suffer and will one day be at peace. She is the most precious person in the world to us and will always be in our hearts.
Susan Chidakel
"What's Wrong with Ed?"
So many people asked me the question, "What's wrong with Ed," that I could no longer ignore my nagging concerns – we needed to know what was really wrong. For a long time, my husband's diagnoses didn't seem quite right. In January of 2005, a neurologist diagnosed Ed with Parkinson's disease at the mere age of 55. After a year of receiving treatments that yielded no results, we happened to attend a presentation on Parkinson's disease at Georgetown University, where we found out about the variants. We learned about PSP and recognized that those symptoms were the ones that Ed had been experiencing. The speaker told us we could learn more by going to the CurePSP website. That was where we found out what the future had in store for us. Later, our neurologist confirmed the PSP diagnosis.
Ed was able to work for only another 2 years. By that point, he'd been falling frequently, was no longer driving, and speech was becoming more difficult. Ed had already had swallowing issues and we were using thickener in his liquids. Soon after Ed quit working, we had a consultation with a specialist who confirmed that there was no cure or treatment – all we could do was keep him safe. Ed started using a walker after that – our goal was for him to not fall.
We took our final real vacation to Hawaii that year. It was a cruise around the Hawaiian islands, leaving from Oahu and then extending on the island for a few extra days. Ed was still functioning enough for us to do some bus excursions and, with the help of a wheelchair, we pulled it off. It was a lot of work on my part, but Ed enjoyed it so much; it was really worth it all.
In 2008, our son left for a 2 year commitment in Africa with the Peace Corps. We were eager for him to continue with his life's aspirations and only hoped that he would be able to complete his time there. Back at home, Ed encountered more setbacks. In May, he fell and fractured a bone in his cheek – my our first 911 call. It healed without surgery but we were on the alert. Ed was provided with rehab services and we were told how to make adjustments to our house, making it safer for him. We stopped sleeping upstairs. Ed slept in a lift chair in the family room while I spent my nights on the couch. We'd only go upstairs once a week for a complete shower; otherwise it was sponge baths in the powder room.
July of that year brought another fall resulting in a broken bone in Ed's hand and a subsequent cast for 6 weeks. At that time, we enrolled him in the county-run adult day care program, which he attended 3 days a week. Amazingly, he loved going there, but his participation in the program only lasted 7 months. Ed's needs had grown too large with feeding taking hours to complete – the county wasn't staffed for that. We enrolled him in another day care program at a nearby nursing home. A feeding tube was then put in, followed by a 3 week stay at a rehabilitation center. When Ed came home from that procedure, we hired an aide to help out 2 days a week, and also had nursing home day care for 2 days a week. I was working full time for a most understanding employer, just half a mile from home and fortunately, was able to do some work at home.
In December of 2009, Ed suffered a throat infection and was kept in the ICU for 10 days. He had to undergo a tracheostomy, which hospitalized him for another 3 weeks. Ed then went to another rehab for about a month. However, he was able to get that removed before he came home. For the next 13 months, we had him home with our aide coming 3 days a week, me working at home or going back and forth 2 days a week, and support from hospice, family, and good friends. I cannot say enough about how valuable the help from hospice was with his care.
In March of 2011, hospice had scheduled a respite stay for Ed at their inpatient facility to give me a short break. I was relieved that he was going to be there since that week had been particularly difficult for him and his need for suctioning was becoming more constant. However, at hospice we were told that his feedings, as limited as they were, were not digesting and suctioning was not helping. The doctor suggested that the time had come to end the feedings. After much resistance by both my son and I, we were forced to face the inevitable, and stopped the feedings. Four days later, Ed finally succumbed. He had already stopped being responsive beforehand, so I do believe that the ending was peaceful for him.
My husband had always had the most positive outlook on life with a tremendous amount of patience and perseverance – I believe that's why he lived with the disease for so long. When he received his diagnosis, he dealt with it in the most positive manner possible for him, which was contrary in many ways to the stubborn 'can do' way he had always lived his life. He never complained, always remained positive, and continued to laugh at silly things happening around him. Our son came home, stepped up, and cared for the person who always had cared for him. That was an amazing transformation for me to see and possibly the most positive aspect of this ordeal.
We will always treasure and miss our beloved Ed.

Carla Jennings,
Our PSP Journey
Ken was a strong, healthy, intelligent (Indiana University grad), and a good looking widower when I met him in 1999. Ken lost his first wife, Karen of 30 years in June of 1999. I was also recently widowed at the age of 54 from my husband Paul of 19 years. Ken was full of life and vigor. He had always prided himself on his independence and ability to overcome any obstacle. Ken put himself through college in the evenings, with a young family at home, and became the first of his siblings to graduate from college. He went on to become a successful business executive and entrepreneur. Ken always put his family first, but was also always available to help a friend in need.
We enjoyed spending time with friends on the lake, playing cards, following NASCAR racing, and Indiana University basketball games. When Ken and I met and discussed the mutual loss of our spouses at young ages, he said, "you play the cards you are dealt." This has been Ken's philosophy on life, and on battling PSP. We were married in June of 2002, cruising around the lake on a ferry boat with our family and friends there to support us.
Soon after we were married Ken started having problems with his driving. He would get confused on directions, he had a few minor accidents, not to mention the close calls, and his perception of distance and closeness to the center line became very dangerous.
About the same time, he started losing his balance and falling with no warning and he would also fall asleep while driving. This is when he started having problems at work. Ken was manager of customer satisfaction and due for a substantial promotion. The head of Human Resources asked him to be tested for sleep apnea. After Ken went through the necessary testing, he was diagnosed with this disorder. The information we read on sleep apnea confirmed a lot of the symptoms Ken was having from loss of sleep. He wore the CPAP machine to sleep and changed his sleeping pattern, but his balance continued to get worse.
Ken was then referred to a psychologist, a neurologist and an ear, nose, and throat doctor. After more than a year of numerous tests and medications with no real results, the neurologist suggested we take Ken to the Mayo Clinic. Ken was diagnosed with PSP strictly from the symptoms, which included falling due to loss of balance, slowed movement due to shuffling his feet, and most of all, the slowed eye movement. Ken was forced to retire in December 2004 because his speech started to slur and his thinking slowed. We lived on a lake and Ken was home alone near the pier, the boat, and the water. I could not chance the risk of Ken falling into the water, so I took a leave from my job. We started reading every article we found on the internet and eventually contacted the Society for PSP, now CurePSP.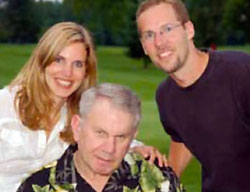 Ken was then referred to a psychologist, a neurologist and an ear, nose, and throat doctor. After more than a year of numerous tests and medications with no real results, the neurologist suggested we take Ken to the Mayo Clinic. Ken was diagnosed with PSP strictly from the symptoms, which included falling due to loss of balance, slowed movement due to shuffling his feet, and most of all, the slowed eye movement. Ken was forced to retire in December 2004 because his speech started to slur and his thinking slowed. We lived on a lake and Ken was home alone near the pier, the boat, and the water. I could not chance the risk of Ken falling into the water, so I took a leave from my job. We started reading every article we found on the internet and eventually contacted the Society for PSP, now CurePSP.
May of 2005 was the turning point in our lives. It was Memorial Day weekend and I decided it was a good day to clean out the gutters on the house. Ken was outside with me and he wanted to help. I kept telling him that he couldn't get on the ladder so he held the ladder for me and handed me the hose to help. I went inside the house for just a few minutes and when I looked out, he was on the top of the ladder. Just as I went out the door, he lost his balance and fell backwards flat on his back onto the driveway. He fractured the vertebrae in his back, which required back surgery and a six week stay in the hospital along with rehab. Needless to say, I felt so much guilt and there was nothing I could do to make it better. Ken came home from the hospital and continued rehab. At this point he needed someone with him at all times so I ended up quitting my job to take care of him. That made our decision for us. We were moving!
In October of 2005 we moved into the retirement community where we live now. Moving here before Ken needed the additional healthcare, gave him an advantage when he needed to make the transition to the nursing home. He would be automatically at the top of the list. We were able to stay together at home until April 2007. I remember the first day we walked into the health care unit. We both cried when we left. But I just could not lift him anymore and my patience and compassion were getting thin. The family sensed my stress and they (brothers and sisters included) were encouraging me to consider admitting Ken to the health care facility.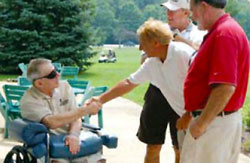 Ken receives physical, occupational and speech therapy at the health care facility. Due to his difficulty eating solid foods, his meals are pureed. Ken also had difficulty swallowing his meds and he refused to take them. Therefore, a G-tube was inserted to help with this process. His appetite has improved and he no longer has much discomfort in his back now that he is receiving the full dosage of medication. I feel so fortunate that financially I am able to be with Ken every day. My motto is "Seize the day." No one knows when life on earth may end. I want to share every minute I can with Ken. I miss him so much. I keep busy in the mornings with housework and getting ready to go over to see him. However, in the evenings when I come home about 10:30 p.m. – that's when I get lonely and really miss Ken!
As we all know, very few people have heard about PSP; doctors and nurses included. That's why Ken's family started the Ken Jennings Putt for PSP Golf Outing. Ken taught and encouraged his daughter and son to play golf when they were quite young, and the family often played golf together. Due to Ken's love of golf, his children thought this would be a great way to raise awareness and money to help find a cure for PSP. The money that is raised every year is donated to CurePSP. Our 3rd golf outing was held this past July 2008. It is a great time for Ken to get together with some of his friends, family and golf buddies, whom he doesn't get to see very often. Even though Ken's speech is at the point where we can't understand much of what he says anymore, we know that he very much enjoys this time. We are already planning the next golf outing for 2009. When I wear my CurePSP pin, I want people to ask me about PSP so I can continue to create awareness about this disease and help others affected by PSP.
People say to me that they admire me for spending every day with Ken. I just tell them, "you would do the same for your husband wouldn't you?" On days his family or I struggle with the helplessness of this debilitating disease, we find comfort in the words that Ken lives by and, "we play the cards we are dealt."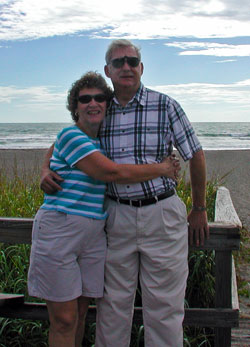 Sandra Magnus
My Father – One Last Lesson
Dad passed away three years ago on Easter but the lessons he taught me, not just about living, but also about dying, are still strong and vivid. Nine years ago, Dad was diagnosed with PSP. Mom, who had been trained as a nurse and had the perfect background to deal with the situation, filled the family (my two sisters, brother, and I) in on the details once the exact diagnosis was confirmed. We sat there, stunned, as we learned and absorbed the reality that Dad had somewhere between 5-15 years to live and that, over that time frame, his body and mind would slowly decay. This was new territory for all of us – how to say goodbye or even imagine having to say goodbye to a parent.
From the beginning, Mom and Dad faced the problem head on and with a positive attitude. They determined that they were going to live life to the fullest. The plan was to deal with symptoms and a deterioration of Dad's condition as they appeared. In the meantime the visits to the grandkids, the participation in the Grange, local family visits, exercise walks in the mall, and anything else my energetic Mother could come up with, would continue.
Dad's eyesight was the first thing to start failing, so he had to give up driving. He used to joke that it probably was better that he couldn't bear witness to Mom's "lead foot" driving. Sometimes, in the process of standing up or sitting down, Dad's balance would fail him and he would fall, landing on the floor in a heap. My father, a fairly quiet man who never liked being the center of attention, was undoubtedly embarrassed when these episodes occurred, especially in public. Everyone in the vicinity would turn to look at him, perhaps speculating that he had too much to drink. But he had a wonderful sense of humor and we started treating his falls like a scored Olympic event, giving him 10's for good, stylish falls and 2's for the not so graceful ones. We even discussed techniques required to achieve a top score and emphasized, in the end, it was "all about style." It was the way all of us, Dad included, were able to cope – using humor to deal with the situation.
Dad was not a saint and did complain from time to time about his failing eyes. He maintained an impish sense of humor, taking advantage of his situation from time to time when he thought he could earn sympathy. Once, I came into the living room where Dad was watching a soccer match, and he made a comment about how hard it was to watch TV. After sitting companionably with him for several moments, I asked him what the score was and he told me. The score was posted in small numbers up in the left hand corner of the screen. I said, "Dad, how can you know what the score is if you can't see the TV?" He knew I had caught him out and we both started laughing.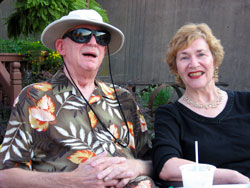 As Dad's eyes deteriorated further, so did his balance problem. No longer was just getting up or sitting down a problem, but walking became difficult. He eventually needed a cane, graduated to a walker, and for the last year or so, used a wheelchair. Though it was harder for Dad to get around, my parents continued a fairly active lifestyle. Babysitting the grandkids in St. Louis remained a high priority, even when Dad was more or less confined to the couch. A common game that they played with the grandkids was "ambulance." Dad would sit on the couch and my Mom and the kids would get bandages and wrap him up, as if they were EMTs. As they wrapped his arms and legs Dad tried to reach out and tickle them. The other grandchildren were in Chicago which, as far as my Mom was concerned, could have been just down the block instead of a five hour drive north. A drive to Chicago may have been an insurmountable concept for many, especially with my Dad's condition, but for my parents it was of a moment to pack the wheelchair, walker, or whatever other support equipment my father required, get in the van and on the road and head up to my sister's house on the outskirts of Chicago. They even drove to Texas a few times, mainly to visit my other sister who lived in Dallas, but once coming as far south as Houston to visit me. It was this way that my parents tried to normalize the disease so the rest of us could deal with it. My parents were determined that their grandchildren should develop some strong memories of their grandfather.
As the disease progressed further, affecting Dad's throat muscles, he started to loose his ability to speak. At first, he just spoke softer and slower, but his voice continued to decline to a mere whisper. In the end, only certain sounds and syllables were possible. Once at a family gathering, I was filling my father in on the things happening in my life, when he asked me a question that I didn't understand. I put my ear to his mouth, plugged my other ear with my hand to hear better, and asked him to repeat his question. After a couple of tries, I still did not understand what he was saying. I got down on my knees in front of him and told him that I was going to go through the alphabet and that he was to stop me when I got the letter of the first word he was trying to say. I got all the way through the alphabet and he had not responded. I tried again – no luck. I finally said in a teasing tone, "Dad, I have gone through twice. Surely I have said the first letter of the word you are trying to say. Are you speaking in Russian or German? (He knew some of each of those languages) I know it has to be one of those letters." It was hard to get an answer from him because he had started laughing. In the end, we were both laughing so hard, because it was so ridiculous trying to communicate this way. We eventually gave up because the laughter was interfering with his ability to say "yes" or "no" when I did come across the right letter. These are some of the most precious memories I have of this time period – my Dad and I laughing together as we shared some of the weird quirks of the disease that had captured him. For both of us, frustration turned to humor as a tool to cope. It was hard, after all, to watch your father slowly dying, bit by bit.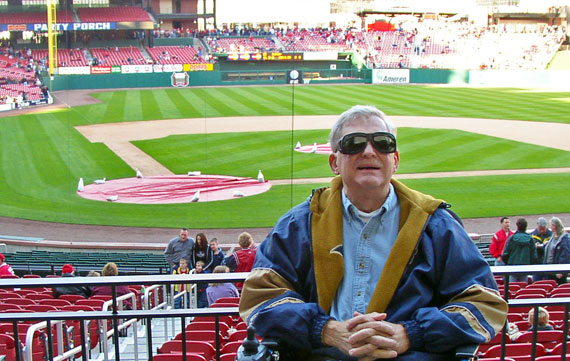 As the disease worsened, my father, a fiercely independent man, became more and more dependent on my mother. They had devised a strategy for how to deal with it. My parents moved to a house that was designed for the handicapped and had wheelchair access. It was also a place my Mom could live comfortably after Dad passed. Mom bought a special lift chair that helped Dad move between sitting and standing positions. In addition, Dad used arm weights while sitting to help increase his strength and maintain some degree of mobility. My parents continued to devise ways to keep Dad mobile, succeeding almost until the end. Dad only became housebound within the last four months of his life. Through it all they were partners, Dad helping Mom to care for him as much as he could. He was determined to fight to the end but had decided that no artificial means would be used to keep him alive.
Thus, finally, his body could handle no more. His throat muscles deteriorated to the point where he could no longer eat. After that it was just a matter of time until he wasted away. We were there that last week, all of us, at home with him and Mom. Weak as he was, he got up and came to the living room all but the last three days. The last three days, as his body shut down due to lack of nutrition, he could not summon enough energy to get out of bed. At this point he had lost all ability to talk but we had devised a system of communication where we would ask him questions with a yes or no answer and he would answer with his fingers; one finger meant no and two meant yes. His body finally quit on him early in the morning of Easter Sunday, after a 6 year battle. The disease may have taken away his control of his body, but never did dampen his spirit or destroy his dignity and humor.
The lesson that he and my mother taught all of us was about how to face adversity and maintain a positive attitude, even in the face of death – a lesson I will never forget. How easy would it have been to sit and bemoan his fate, complain all of the time, or not accept the reality of what was happening to him to the point that he became a burden on my mother? Dad never succumbed to that. He was an active partner with my mother in managing the disease and fought the progression as much as he could. He maintained a sense of humor and whatever internal frustrations and anger he had were kept out of our sight. For his children, he had one last lesson to teach.
Jeff Veltman
My Mother, Ilene
How do you say goodbye to your mom?
On May 16, 2007, I had to say goodbye to mine. Ilene Veltman was only 71 years old. I am her youngest child and I was the last person to say goodbye to her on her final day. When we look back at photos we see early signs of the disease around 1999, with a noticeable difference in her eyes, which we later found out is called 'sun setting'. It is possible that she may have had PSP even earlier, which means she lived with this disease for about 10-15% of her life. For the majority of her life, however, she was a healthy, happy, independent, optimistic, and vibrant woman. To witness the degenerative effects of PSP on someone of her nature was undoubtedly the most challenging thing I have ever had to experience. In her final days, she was unable to feed herself, go to the bathroom alone, talk, or even move. In the very end, she couldn't even get out of bed.
I admit it is challenging to see the "glass half full" with PSP. However, we were fortunate in some regards. One thing about PSP is you are afforded many chances to say your goodbyes. Another thing about witnessing this disease, as it was when my wife had cancer, is that it puts things into perspective. Daily life has a way of taking your eye off the ball, causing you to miss the things that are most important. For me, it is those I love; my family and friends. It's all too easy to get wrapped up in life's daily problems – making sure you can pay your bills, keeping a business afloat, dealing with an irrational three year old child, among other challenges. It's these daily complications that make us forget how important it is to take that giant step back and look at the big picture, instead of stressing out. I know this is easier said than done, but when we're confronted with an illness like PSP, it gives you that wake up call you need. We get way too comfortable in our lives and tend to forget how good we have it. I should also mention that we were very fortunate to have had superb, in-house nursing care. In the end, my mom had around-the-clock care, with even two nurses per shift on certain days. In addition, we had a very caring and helpful staff from the hospice center. Lastly, my mom had regular visits from a massage therapist who practiced a progressive style of Asian message therapy. I know this is not something everyone can afford; we do consider ourselves very fortunate to have had this type of care.
It took a long time to reach the true diagnosis. At the beginning, the doctors thought it was frontal lobe disorder which is another way of saying they didn't know what the problem was. Then, the doctors said it was a Parkinsonian-like disease. When they finally diagnosed my mom with PSP, it was (to some extent) a relief to have a name for my mom's illness, even though there wasn't a cure. At one point, my mom underwent surgery to relieve pressure on her spinal chord. After the surgery, for a single day, there was a noticeable difference. She was talking like she used to and she said her head felt "clearer". It was a wonderful feeling as if we were awakening from a nightmare. Unfortunately, it only lasted one day.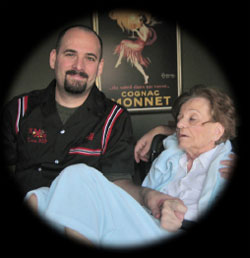 There were many symptoms we noticed in the early days of this illness that, at first, we couldn't explain. At the time, my mom was overly agitated when it came to making plans. She called us on the phone a lot. We thought it was because our grandfather was dying of cancer. Her father also noticed something was different about her but we all just thought it was stress. She also began to have problems with her balance and started to fall backwards. It was around this time that my folks decided to move out of the house I grew up in since it had two floors. They moved into a ranch-style apartment which made it much easier for her to get around. Over time, it became increasingly challenging for Mom to communicate. For a while, she was 'parroting' everything we said. Towards the end, Mom merely made guttural, moan-like sounds, which we'd soon become accustomed to. From time to time, she would use single words so the nurses would know what she needed. One of the more difficult aspects of PSP was that my mom clearly understood what was going on around her; she just couldn't express herself. Every now and again she would laugh at a joke. Granted, her humor became debased and she found toilet humor to be the funniest, but we didn't care; it was always nice to have a good laugh. My mom's inability to communicate was something that deeply troubled me. I would lay awake at night thinking about how hard it must be for her to lose her speech. It took me a while, but I finally came up with something that was really quite simple and effective. It was a binary method of communication, similar to how computers 'talk'. We would simply ask her a 'yes' or 'no' question. If the answer was 'yes' then she would squeeze our finger once. If the answer was 'no', then she wouldn't squeeze. This actually worked quite well for a little while.
Now that my mom is gone, there are two things that plague me, both of which have solutions. One is that I find myself asking if there was more I should have done. I visited her every Friday afternoon with our three year old son and also every Sunday with the family. Recently, a very good friend of ours lost his step-father to Parkinson's disease. We both agreed that we couldn't tear ourselves up by asking these questions. We did as much as we could and had to leave it at that. Another thing I find disturbing is that the general public is unaware of PSP; even some physicians are unaware of this disease and many cases are diagnosed as Parkinson's disease. More funding is needed for research to help find the cause, treatment, and cure of PSP. In addition, we need to educate the general public about this disease so that they can become pro-active about finding the correct diagnosis for their loved ones, particularly when the traditional treatments for a misdiagnosed disease are not effective.
With so few people in the United States having PSP, you can imagine our surprise to find out that the mother of one of my oldest friends was also diagnosed with the disease. She's only had it for two years, at this point. My friend and I grew up only six blocks from one another. I have often wondered if there is something locally in the environment that may have contributed to their shared illness. The last thing I'd like to say before I end this letter is how my family shares a common feeling about my mom's passing. Many of us have conflicted emotions now that she is gone. On one hand, we are relieved that she is no longer suffering from this debilitating illness, but we also feel guilty about feeling this way. We sorely miss her, as anyone would when you lose a dear member of your family.
Please join me in supporting the programs and services of CurePSP. With your help, we can continue to educate communities about progressive supranuclear palsy, support those affected by this disease and find the cause, treatment, and cure for PSP.
Thank you for letting me share my story with you in memory of my mother – Ilene Veltman.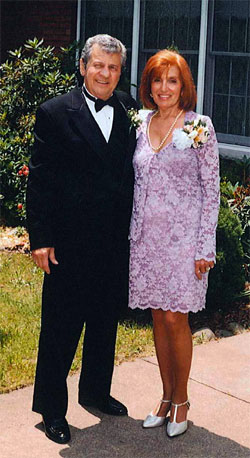 Karen Bordo,
Behind the Mask
My dad enjoyed life to the fullest. He was the sharp dressed man – when he was going somewhere special, he always presented himself in the best light – nice suit, cufflinks, cologne, etc. Dad was a handsome man with a full head of curly hair, and a pleasure to be around. He'd often be told that he looked like Tony Bennett.
Dad worked hard manual labor as a cement mason for his entire life. He built the house that my parents call home, although Dad is now in a nursing home, where he has resided for almost three years.
Dad enjoyed Italian food, wine, and beer. He loved my mom's cooking, especially her Italian spaghetti sauce and meatballs. He loved to go to Atlantic City and play blackjack; he went so often that he got great treatment by the casinos. He also always enjoyed watching all of the mafia movies, such as The Godfather, Goodfellas, and A Bronx Tale. Dad loved all kinds of animals and would feed strays when he was living at home – he took in several stray cats and would even feed hungry skunks. He also misses his dog, Snoopie, dearly.
Dad's problems started with falls. At first, they were rare. He'd take Snoopie for walks and fall a couple times. They were totally unexplained – he couldn't say what had made him fall or why. Then, the falls became more frequent. He started falling around the house and even when getting out of bed. Bruises began showing up on his face. The doctors could not explain the falls. They thought maybe it was neuropathy in his feet, secondary to adjunct chemotherapy, which he endured for colon cancer years before. The real irony is that my dad beat both colon and prostate cancer, which can be far more sinister and immediate, but he won't be able to beat PSP.
Dad and I were extremely close all of my life. He'd call me every morning when I was at work and we would also talk several times throughout the day. The calls started to become less frequent, and then nonexistent, as this mysterious disease starting taking over. Even when I would go to my parent's house to visit, he would say little and always seemed to just sort of repeat himself. He'd ask how my dogs were doing. Then he'd get nervous and yell for my mother to return to the room. He could not explain what was going on, and when he was prodded, he would get agitated and sometimes yell or even be mean. We later realized that this was attributed to the behavioral changes that come from PSP.
We would always refer to Dad jokingly as having OCD. "A place for everything, and everything in its place," is one of the things he always said. He kept everything organized and clean, and kept every check he'd ever written neatly filed away. His desk in the spare bedroom, where he kept all of the bills, was arranged meticulously. I will never forget that day when I walked into that room and saw all of the bills strewn about in haphazard piles on the desk. Dad's immaculate desk was in disarray for the first time in history. It hit me hard. My eyes welled up with tears.
Dad began having trouble writing. In the beginning, we didn't know that some of these things were happening, or why. We thought maybe he was depressed. He had stopped showering and grooming himself. This was not the father I knew. Looking back, he was probably afraid that he'd fall trying to do some of these things, or that he wouldn't be able to do them at all. He let everything go to hell, which was in direct contrast to the organized person he used to be.
Once, he even fell outside in the snow and was out there for almost four hours, before my mother found him on the side of the house. He was hospitalized with hypothermia. The falling was so mysterious to us then. I have e-mails dating back six or seven years that were sent to his primary care physician at the time asking about these falls.
Everything came full circle in February 2011, when he was diagnosed by a neurologist at a nearby medical center. When I heard this diagnosis, I immediately started doing research and learned the truth about this rare and debilitating disease. It was terrible to learn of what this disease had in store for us, but we were also relieved to finally know what had transformed my father.
The more I read about PSP, the more all the puzzle pieces fit together. I printed out information from the CurePSP website for all of our family to read. I also gave the information to Dad's caregivers, as not everyone has heard of PSP.
It is so incredibly hard to see my father this way. The title of this story, Behind the Mask, comes from Dad's current appearance. His face has such a mask-like appearance – it shows no expression. His eyes don't focus. The most difficult thing is to know that Dad is still just as sharp mentally as he was before the illness. He still knows and remembers everything. It must be so incredibly frustrating to him to be trapped in that shell of a body and not be able to even feed himself or say what he wants. He is confined to a wheelchair, as well. Never did I envision myself having to feed my dad, but now I do. The first time was so hard. He knows what he wants to say but cannot get it out. It is absolutely heartbreaking. I do take some comfort in knowing that he is not in pain – whenever asked he gives a "no". However, PSP ensures one's demise in many other ways. Dad is no doubt in mental anguish.
I treasure the time I have with him and, once in a while, something will happen that will trigger laughter from both of us, like old times, the way we would laugh at something that others may not find funny. So, once in a while, we still get to have those special moments.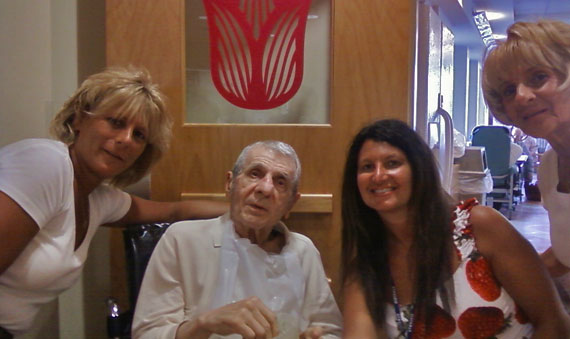 I am so glad that I found CurePSP's website and was able to read all the other stories of others going through the same ordeal. I would like to try to spread the word about PSP as much as possible. God bless you all and thank you all for sharing your stories, as well.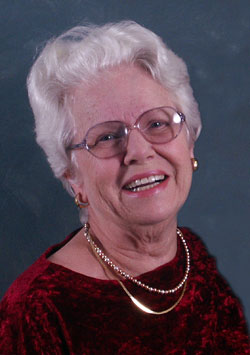 Phillip Myers
My Wife, Jackie
She was born Jacqueline Raelene Araujo in Honolulu, Hawaii, in 1938. A true "island girl" and an artist from a young age, Jackie enjoyed painting, with much of her work in oils and pastels, drawing inspiration from Hawaii's beautiful flowers, beaches and seascapes.
She attended the University of Hawaii and embarked on a career as a medical secretary/artist during which she sketched and colorized surgical procedures with intricate detail that could not be captured by the color photography of the time.
While working as an executive secretary in the early days of the computer industry, she met Phil, her "Midwestern sweetheart." We fell in love, married, and raised our young family on Oahu until a job relocation prompted us to move to California's Silicon Valley in 1974.
A loving wife and mother, Jackie devoted herself to her husband, her children, and her church, where she actively contributed her time, energy, and creative talents at Saint Anthony's Parish in Kailua, Hawaii; Saint Victor's Parish in San Jose, California; and Saint Thomas More Catholic Community in Paradise, California.
Jackie continually nurtured her creative spirit as an avid crafter and Cub Scout den mother, as well as in her love of baking and her passion for travel. Together we visited many historic and religious sites around the world.
Once the children were of school age, Jackie returned to the workforce and enjoyed 12 years as office manager at Vinci Park School in San Jose. We retired in 2002, moving to Paradise, California, and subsequently, Lakeport, California.
Her involvement with progressive supranuclear palsy (PSP) began in late 2003 / early 2004. It started with fidgeting, frustration, balance problems, and falls, but we had no indication that it was serious. However, a major fall later in 2004 brought our attention to what we began to realize was a significant issue. During 2004 and 2005, we worked with our primary care physician and neurologist, but become increasingly frustrated with negative test results that piled up without a real diagnosis. Jackie's fine motor movements were affected, but despite this, she continued her artistic endeavors by making an Easter banner for church, among other things. Her eyesight deteriorated (fuzzy and some double vision) although we had not yet connected that to her disease. Double cataract surgery did not solve the problem and, in retrospect, was unnecessary as PSP was the true cause.
The local neurologist finally indicated an inability to diagnose her and referred us to a major clinic (Mayo, Scottsdale). Several visits and many more tests throughout 2007 resulted in no firm diagnosis, while her symptoms continued to worsen. We pushed for another opinion from a nationally recognized expert. In the fall of 2007, Dr. Jay Nutt, Director of the Movement Disorders Department of the Oregon Health and Science University (OHSU), finally gave us the firm diagnosis of PSP. While it was "bad" news, for the first time, we really knew what we were dealing with.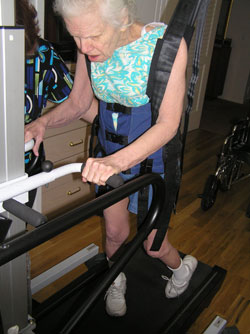 During the next few years, Jackie progressed from a cane to a walker (never worked well) to a wheelchair. Since exercise was important, we obtained a body weight support treadmill. Her physical therapist was able to get her on it multiple times a week, therefore keeping her heart and blood flow very active. We have been told by Dr. Nutt and others that this extended her life another year.
Throughout all of this, she continued attending church at Saint Mary Immaculate Parish in Lakeport, California, showing her strength and commitment to her God.
She wanted to (and we continued to) try to keep life as normal as possible, going to concerts, having family get togethers, getting out on the lake, traveling to see family and friends as well as the visits to doctors. This included a big family trip to Los Angeles in October 2010 to see our youngest daughter perform in "Singin' in the Rain" and another to Oregon to see the OHSU doctors in December 2010.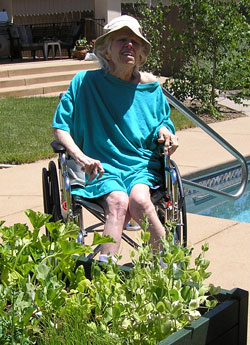 In early January 2011, the muscles that allowed her to swallow quit working but, per her documented wish, she did not want to be maintained with a feeding tube or respiratory equipment. As a longtime fan of the Green Bay Packers, she listened to them win the NFC Championship and secure a place in the Super Bowl, and then left us 10 minutes afterward. On January 23, 2011 at home with her family around, she passed over to be with her God.
We did opt for brain donation to the Mayo Clinic in Jacksonville, Florida. We had kept copies of all the medical records from the various doctors we saw and provided them to Mayo. A month later, we received the confirmation that it was PSP with Argyrophilic Grain Disease (AGD). According to the Mayo Clinic, AGD co-occurs with PSP in about 30% of PSP cases.
Support from our family, our church, the Bay Area PSP/CBD/MSA Support Group, the Lake County Hospice organization, friends, neighbors, OHSU, her physical therapist, her health aides, and the CurePSP organization all helped us make it through the rough patches. Thank you! We couldn't imagine going through this without this constant love and support. Their warmth kept Jackie's determination going, as well as our family's. We extend our deepest gratitude.
Memorial contributions may be made to CurePSP, in order to fund research for a cure for progressive supranuclear palsy (PSP), as well as physician education and caregiver support, by visiting give.curepsp.org and identifying the donation "in memory of The Jackie Myers Family Fund."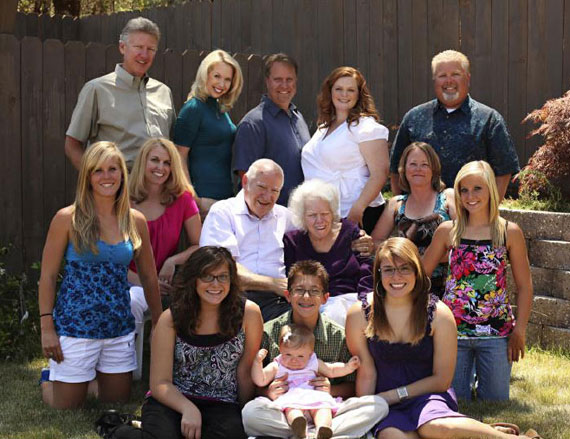 Our family learned many important things from this experience that we want to share, in hope that it will help others.
1. Get second (or third) opinions early, especially for unexplained symptoms.
2. Push to get to a top neurologist and don't accept an unconfirmed or non-specific diagnosis. We did for over a year and I regret it now.
3. Make decisions early, while it can be a fully conscious and in-depth discussion on feeding tubes (Jackie did not want one), Do-Not-Resuscitate orders (she wanted DNR), hospitalization or die-at-home (she wanted to die at home), and discuss these with the whole family and the doctors, so everybody knows the plan. Also, reduce the plan to writing.
4. Continue exercise as long as possible, as it extends life.
5. Work with doctors, hospice, and others to try to make life as normal as possible. This should include travel and visiting others as much as possible. Keeping the mind active delays the disease's progression.
6. Check out available clinical trials. Jackie participated in one and I know it helped her. One of them will eventually work and it would be better to be a participant than learn about it afterward. I believe science will be able to stop the advancement of the disease shortly.
7. As the caregiver or patient, be proactive, participate in support groups, go to presentations on the disease, and perform online research. The disease you know is better than the one you don't know. Yes, the future can be bad and disappointing, but knowing what to expect does make it easier.
8. Keep a "binder" or file with notes on each medical visit and copies of all test results from the various doctors / hospitals. You (the caregiver) are responsible for making sure that each doctor knows what the others are doing and coordinating all of the care. This is invaluable.
Jean-Paul Richard,
My Wife, Mary
When did it all start? Was it when Mary tripped on the sidewalk and didn't reach out to break her fall? She did that twice, years ago, bruising her face each time. Was it when she seemed to have a TIA while shopping with the granddaughters for a prom gown? She scoffed at that and her doctor found nothing in an MRI. Or was it the time she fell into her closet that evening while changing into her pajamas, breaking her hip?
There were other incidents in the ensuing months. Mary started talking more slowly, often excusing herself publicly by saying, "I used to be such a fast talker," which would always prompt a few smiles and chuckles. She fell in exercise class, losing her balance. The instructor sadly told her she couldn't continue in the class. That was quite a blow, but we found a "one on one" program that she began immediately and still participates in.
We consulted with her regular doctors, who referred us to neurologists and other specialists. All were sympathetic, yet not willing to give a definite diagnosis. If it was a puzzle to the specialists, one can easily imagine how much more difficult it was for our family!
Mary was 68 when the early symptoms first began, but we only received the diagnosis of corticobasal degeneration (CBD) just a year ago. Mary is now 75 years old.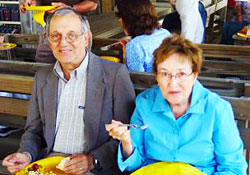 Mary began having trouble reading and eventually had to drop out of the book club that she enjoyed so much. She even found it impossible to do her daily Sudoku puzzle when her eyes refused to focus and her fingers couldn't form the numbers anymore.
She found she couldn't paint anymore – a talent she had nurtured all her life. Her fine paintings hanging from the walls of our families' homes serve as a testament to her skill. We even framed her last incomplete work and hung it in our living room. It was that good, even unfinished.
It became difficult for Mary to climb the stairs, so we added another handrail to ease the process. Eventually, we installed a stair climber for her. Even then, she went from being able to activate it herself to eventually requiring someone else to remotely move it up and down the stairs. She could no longer manipulate the switch on the armrest.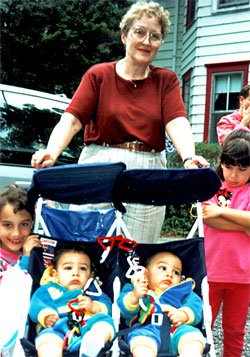 Then we acquired a voice board when she could no longer speak, to let her communicate by pressing images on the screen and having it speak for her. Even that is now difficult as she seems to be unable to reach the icons on the screen.
Lately, she had been unable to brush her teeth, even with an electric toothbrush, so it has become two person job. The same is true for her eating habits, which have progressed from using large utensils, to putting her food on a plate with a lip on the edge to push the food against, to feeding her blended foods because she is now unable to swallow whole foods.
Yes, we have adapted and changed the way we face each day's challenges. The mobility and the loss of speech are probably the hardest to deal with though. It is like she is locked into her own body, unable to communicate with others. Yet I know she knows us, understands what happening around her, and wants to be part of our gatherings. Her eyes follow the grandchildren when she is with them. She was alert for her 75th birthday party. When we are alone, she sleeps much of the time now, as she isn't agitated with frustration.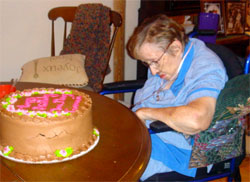 Is this a chronicle of despair? Hardly. Rather, it is a testament to how much the human condition can adapt when the need arises. Neither of us expected to be doing all that we now have to do to maintain a somewhat normal life for Mary. Nor did our four children expect to see their mother this way, but they are getting through it with kindness and concern. But by taking one day at a time, asking for help and seeking advice from those in the know, we are meeting each day successfully. We both know where it will all end, though. Unfortunately, we can't talk about it together anymore.
The long drawn out character of corticobasal degeneration (CBD) means that we are actually going through the grieving process over an extended period of time. That has its advantages and disadvantages. We went through the denial early on, the anger that follows, and the realization soon after that the condition is serious and will only get worse. The bargaining with oneself is mixed with the recurring depression that one has to keep fighting off, if only to help Mary every day. Finally, the acceptance comes that it's important to make each day count, and that we should start planning for her departure before it comes to pass.
Am I there? Yes.
Is she there? If only she could tell me!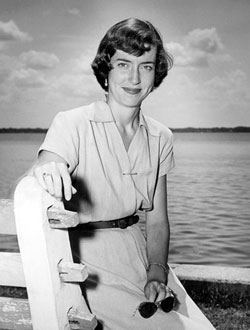 Rita Clagett
My Mother, Ali
My mother, Ali Clagett, was my best friend, and I was hers. Six years after she died of PSP at the age of seventy-six, I still miss her every day. My home is filled with her art, drawings of cats, pastels of landscapes where we traveled together, portraits of her great aunt Gretchen and of my cats Magic and Dia, oil paintings of flowers. For a time, she threw pots. I am lucky to have a kitchen filled with bowls she made by hand, and to fill her vases with flowers from my garden in summer.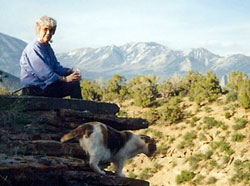 She was a prolific artist until her last few years when her double vision and some other symptoms, including, I think, an inability to focus, distracted her from doing much creatively. Three years before she was correctly diagnosed with PSP, Ali was misdiagnosed with Parkinson's. That summer, we took a trip to Alaska, to fulfill her dream of a cruise down the Inside Passage. We had already taken several trips together, a road trip through the canyon country of southern Utah, a trip to Yellowstone. We loved seeing the world together, she through my adventurous eyes, and I through her artistic perspective.
She'd already fallen once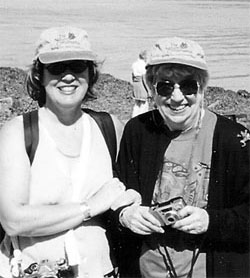 or twice by the Alaska trip, but nobody thought anything of it: You get old, you fall. She fell on a shore walk in Ketchikan. She was bruised and sore afterwards, yet undaunted. In the end, we were so glad we'd gone to Alaska when we did. She knew at the time it would be her last trip. She began to fall more often. On one of my visits, she terrified me by driving the car with one eye closed. "Double vision," she explained. If I close one eye, I only see one." I took the wheel the next time we went out.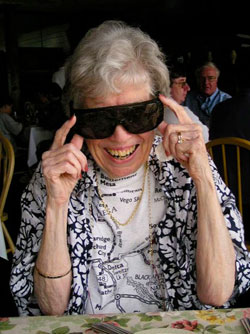 Eventually, she was correctly diagnosed with PSP at Johns Hopkins University Hospital, and shortly after that I moved back east to take care of her the last eight months of her life. As a family, we were fortunate that my disabled father had the means to hire part-time aides, and to support me while I left my home and job to help. She never needed to spend a moment alone if she didn't want to, once we knew the name of her disease and her prognosis. Ali was an extraordinarily beautiful woman, a talented artist, and a devoted mother and wife. Until the very end, she kept caring for her beautiful skin, she kept her witty sense of humor, and she kept a ferocious will to live.
She is deeply mis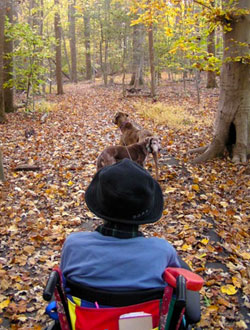 sed by me, by her sister, her husband, and her brother. Discussions on the PSP forum, a friend I met there whose mother also had PSP, and Hospice, helped us to give her the best possible life until she chose to leave it. Accepting the concept of "the new normal" helped us adjust to each decline and plateau as it arrived. Spending those last months with my mother Ali were an incredible gift for me, and I promised I would tell her story so that her suffering would not have been in vain.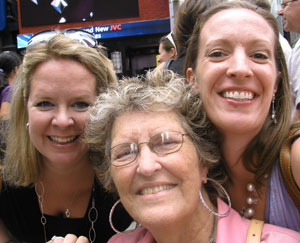 Karry Forsythe
My Mother, Sandra
My mom, Sandra Nentwig, is a loving mother, wife, grandma, and so much more. She is the most creative and artsy crafter I have ever known. Mom was 63 years old when we first started noticing the changes that marked the beginning of our journey. Mom started making small changes in the bows she makes for her Christmas presents. Her beautiful cursive handwriting became large and loopy. We encouraged her to see a doctor, as the changes continued to grow. Mom started losing her train of thought and became less mobile.
We finally got Mom to start seeing doctors in the months after her 65th birthday. After many weeks of seeing multiple doctors, enduring lots of tests for everything under the sun, and seeing several specialists, we received the diagnosis – corticobasal ganglionic degeneration (CBGD).
Initially, we were glad to finally know what she had. But only after I did the research and discovered the horrors of this disease did I realize what was in store for our family. We soon began noticing many more changes – Mom's handwriting became illegible loops, she stopped cooking entirely, no longer drove her car, and began falling more and more often over the following year.
Mom is still functioning, speaking, and mobile for the time being, so we are hoping she'll be able to participate in an upcoming clinical trial. My mother is enjoying everything she has and doing the most she can do. On the other hand, Dad is taking this really hard. He's trying to learn how to do what needs to be done to keep their lives moving in the right direction.
If you are a caregiver, I encourage you to research the disease and try anything to help your family member or friend. Some of the things that have helped my mom include water aerobics and motor skill therapy.
Our family hopes that current research will find something to help the victims of this horrible disease. Please support CurePSP and Rare Disease Day to help find a cure for these rare diseases that mean so much to those who have to witness them first hand.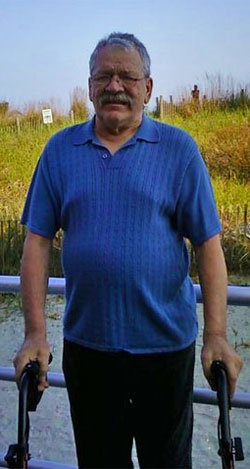 Cynthia Oravits,
My Husband, George
Our story begins and ends with my husband George, father to Olivia and Elyse Oravits.
George was diagnosed with progressive supranuclear palsy (PSP) in April 2009 at age 65, after seeing his neurologist because we thought was a stroke. All previous symptoms were overlooked because we figured he was just a grumpy, depressed man. He complained about his sight and all I remember is telling him, "make an appointment to see an eye doctor."
After his diagnosis, I read up on PSP and discovered that he must have had this disease for several years. Others in our family described him as acting "punch drunk" – his personality changed dramatically. He always coughed, and of course, we blamed it on his smoking.
We attended seminars at Robert Wood Johnson Hospital in New Brunswick, New Jersey, where we saw and met others who, at the time, seemed much worse than George did. When we began going, he was able to walk in, sit down, and join in on the discussion with his own opinions.
Within a year he got much worse, and by the summer of 2010, he was in a wheelchair and always seemed to be in a "fog" – I couldn't tell if he actually understood what was going or not. He began falling all the time and his coughing was constant. His primary care doctor kept prescribing Mucinex and nasal spray. Needless to say, we didn't realize the coughing was actually him choking on whatever he ate.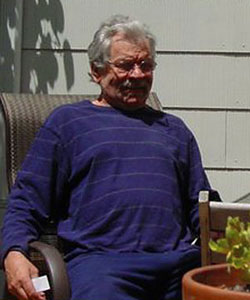 George's trips to the hospital for his falls were the most frustrating. None of the medical staff at the hospital (nurses and doctors) had any idea what was wrong with him, even after I'd explain that it was PSP.
On January 5, 2011, he was admitted to the hospital with a very high fever – I believe it was pneumonia although the hospital staff never said that. He could not swallow at all without choking. A stomach tube was inserted, pulled out (by him) and reinserted, and on January 21, 2011, he passed away – his death certificate indicated "sepsis" as his cause of death.
To this day, I am dismayed to see that the doctors and hospitals are still ignorant to what this disease is and how fast it can take someone. However, we are grateful that it took him so quickly because he had absolutely no quality of life left.
We live today believing he is in a much better place and no longer suffering. He must be or else he would have figured out a way to come back.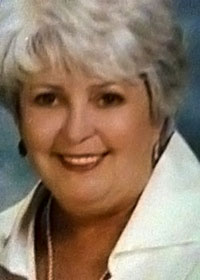 Allison Aultman
My Mother, Nancy
First of all, let me tell you a little about my mom, Nancy Tate, before she got sick. She was a single mother of two who worked as a vice president at an advertising agency. She was as independent as one can be. She was not an affectionate person, but you knew where you stood with her. If she got mad, well, she would let you know it. Don't get me wrong, I'm certainly not bashing my mom, only trying to describe her. Even though we would butt heads on occasion, I loved her dearly.
About six years ago, my mom started having these weird falls. She would unexplainably lose her balance. She broke her wrist, ankle, and bruised many bones. A short time later, we noticed that her speech was a bit off. At first, only those closest to her noticed. A few months later, we went to my sister-in-law's baby shower. Everyone thought she had been drinking because her balance was off and she began strongly slurring her words.
When it became apparent that she could no longer live alone, she moved into my brother's house, as he had converted his basement into a nice apartment for her. All she had left was a few of her personal belongings, clothes, and her beloved dog, Harley. Even with the help of a rolling walker, Mom continued to fall. Her speech got worse and we noticed something strange about her gaze – she would seem like she was staring at something but was actually trying to adjust her line of vision. She was having many bathroom accidents and had to start wearing adult diapers. Mom was unable to cook for herself unless it was to heat something in the microwave. I would come to visit, go grocery shopping for her, clean her apartment, and other things. There were only so many food items that I could buy for her because she was only able to use the microwave and even then, she might cook it so long that it would burn or dry up.
Mom got to the point where she was having bathroom accidents, despite wearing pull-up diapers. My brother would do what he could to clean her clothes, and I would help bathe her and wash her hair. It got to the point where I couldn't take her to the salon anymore because she would inevitably have an accident and we'd have to come straight back home. Due to her not being able to fix many meals for herself, I checked around and found a social service that would deliver meals several times a day and would send someone out to visit with her, as both my brother and I worked regularly. Mom refused to have anyone come by, would get very agitated or would laugh at inappropriate times. I took my youngest daughter, Mollie, and a friend to the beach for spring break and decided to take Mom along so she could visit with her sister, Betty. Mom had several falls, many accidents and the slurring seemed to get worse overnight. My aunt and I were so worried about her and thought perhaps she was having a series of mini-strokes. Mom knew everything that was happening to her, and as I packed her suitcase to come home, I found dirty underwear that she had hidden in a side pocket of her suitcase.
This was not something my mom would do and I knew that she was trying to hide it from me. I told her that we would find out what was wrong and gave her a big hug. Please remember that my mom was not an affectionate person nor had she ever been. Mom preferred to demonstrate her love by buying expensive gifts – I do not remember getting many hugs, kisses or "I love you's" from her while I was growing up, but that was just the way she was.
When we returned from our trip, I decided that it was time to find a doctor who could tell us what was wrong. After finding a neurologist at a local hospital, I made an appointment for Mom. The doctor gave her a battery of tests. One was having her write her name and showed me how her letters started out normal size but then almost disappeared. Another was having her walk unattended. Afterward, the neurologist would point out that when she lost her balance, she would fall backwards instead of forward or sideways. I remember at that appointment she was laying on the exam table, reached out her hand and said, "Allison, I'm scared." It broke my heart but I told her that everything was going to be just fine. The doctor came back in and informed us that she had Parkinson's disease. He prescribed several medications for her to start taking.
After a few months of no improvement, we took her to see a new neurologist that had been recommended. He spent about 15 minutes with her and announced that she had progressive supranuclear palsy (PSP). He told her that all of the symptoms she was experiencing would get worse. He also told her that she could not die from the disease itself, but from the complications that arise, such as pneumonia, choking, or the inability to swallow.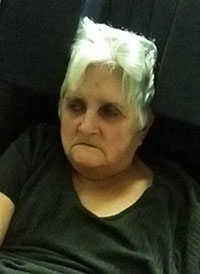 After a few months and one bad fall later, Mom was admitted to the hospital. My brother and I knew that she could no longer stay by herself and needed to be in a nursing home where she could be taken care of by professionals. At this point, she was wheelchair-bound. She reacted the way we expected – she cried uncontrollably. This truly broke our hearts, but we knew we had to do what was best for her, given the disease. This also meant that she have to give up her beloved dog. My sister-in-law, who is a veterinarian, found him a good home.
My brother gave her a cell phone so she could reach us anytime. In the first few months, Mom called us constantly, cried a lot, and became very angry towards us. I thought at the time that it because we had put her in the nursing home, but now I understand that it was the disease that caused the outbursts of anger and agitation. After a while, she started to adjust and would even tell anyone who would listen about PSP – that is if they could understand her. At the nursing home, Mom went to activities, church, and even the "beauty parlor" for a while. She was in a normal wheelchair and could get from point A to point B on her own. She was eating a normal diet, as well, but that didn't last long. She started having swallowing problems that forced her to switch to a "soft mechanical diet." After a while, coughing would no longer clear her throat. The doctor explained that the muscles in her diaphragm were starting to deteriorate. In less than four months, she had to switch to a reclining wheelchair, her speech had deteriorated further, and her diet had changed to puréed meat.
It was at this time that I brought my pastor with me to talk to her and witness her wishes on her "advance directive." She stated that when the time came she did not want artificial life support. She said, "When the Lord calls me home, it's time for me to go." However, when we asked her about artificial feeding she stated that she did want a feeding tube. She said that she wanted the one that goes into your stomach and not one that goes up your nose. She was adamant about this. The only other request was to be given oxygen and any medications that might help. I knew she meant that she wanted these things when she was losing the ability to breathe. It was so hard to hear these things but these were her wishes and they had to be honored.
About 8 months ago, Mom started hallucinating – the only two things that she would hallucinate about was marriage and pregnancy. It first started when my oldest daughter, Ashley, went to visit. Mom told Ashley that it was her wedding day and she needed Ashley to get her wedding gown out of the closet as she had so much to do (hair and makeup, to name a few) before "Don" came back for the wedding. She got furious when Ash told her that there wasn't a wedding gown in the closet. During a different visit, she told us that she had just been proposed to by "Don" and they were going to have a baby, as she was 5 months pregnant. When I asked her where "Don" was, she said that I had just missed him and that he would be back later. We knew that Don did not exist. I excused myself from the room and told her that I needed to talk to the doctor. A few minutes later, I returned with a pregnancy test and told her that if it came back negative, she wasn't pregnant after all. She was very upset, but after a while she seemed to forget about it.
In the past 8 months she has lost more than 60 pounds, with half of that number in the past month and a half. I've watched her go from a "healthy" size to 138 pounds, and her weight continues to drop. We use to be able to understand most of what she said, but now we can only understand the phrase "I love you, too," which she has to hum in order for us to understand. I took a tip from Vicky Ennis and told her to lift one finger for "yes" and two for "no", which has worked so far. Her meals are completely puréed and she only eats about 25% of them. She drinks out of children's "sippy cups" and can only drink liquids that have a consistency of honey. The nurses have to put a thickening agent in all of her drinks so she won't aspirate. She is completely limited to her bed and reclining wheelchair, and must have a foam head support when she is in her wheelchair so her head won't fall over. When in bed, she must have her head raised to a 45 degree angle so she won't choke on her own saliva. She is 100% dependent on others for her care.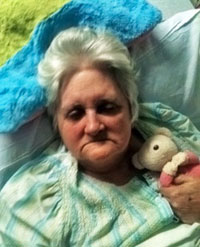 About two weeks ago, the nursing home called me to tell me that they had performed a chest x-ray which showed pneumonia. She was put on Levaquin and seems to be doing a bit better, with the exception of the phlegm she cannot cough up. My friend, Ann Raynor, told me to have the nurses use a tube to suction it out of the back of her throat. I'm getting some resistance from the nurses but I feel sure they will do it, especially if I keep on them. The last time I spoke to her doctor, he said Mom had about 6 months. With her not eating as much as she needs to, we are considering the insertion of a feeding tube. We are going to ask her again if this is what she truly wants. We want to respect her wishes first and foremost, but after so many changes she may have changed her mind. We will have to rely on her "Yes"/"No" finger gestures. If she indicates that she no longer wants it who knows how long she will have left? This is one of the many things I worry about constantly, but then I remember Mom's words: "When the Lord calls me home, it is time for me to go."
If anything positive has come out of this awful disease it is her complete reversal on affection. She loves affection and loves to give it. Her hugs are wonderful and it feels so great to hear, "I love you, too," even if she has to hum it. I feel so very close to her and don't know what I'll do when she is gone. Another wonderful thing to come out of this is that I've met and become great friends with so many lovely people on CurePSP's Facebook page. The love, support and friendship that I've received is overwhelming. My new friends have gotten me through some tough times and have given me some wonderful advice. I can only hope I've done the same for them.
I'm so very proud of my mom and how she has handled having this disease. She has shown strength that I didn't know she had. The only time she has ever complained was when she was put in the nursing home (who wouldn't?!). She always has a smile for you when she sees you – that crooked little smile and those beautiful brown eyes. That is how I want to remember her.
This is one of the most awful diseases that I've ever seen or heard of. I never knew it existed until my mom was diagnosed. There is very little information on it other than what I found on CurePSP's website. Since it is a rare and little-known disease, very few people are talking about it and few organizations are trying to raise money for research.
We must get this disease out in the public eye – so many people are being misdiagnosed with everything from Parkinson's to depression. Let's start by telling our loved ones' stories to anyone that will listen – there's nothing more powerful than word of mouth. Let's write our local television stations and political representatives. We need help with fundraisers so we can contribute to the research. I pray that, one day soon, there will be a cure or at least a medication that will control the symptoms and allow patients to live with PSP. Look at how far modern day research has come with other diseases – PSP could be next, but not without your help. Please join me in taking those first steps…

Dawn Straub-Poley
One Man's Heroic Journey
This is dedicated to my Dad, Richard Straub, who was a great man. Dad was always a hero to me, even when I was a young girl. I once left my doll on a rock pile on the beach in Michigan – Dad saved her for me. When I was a married woman, he tried to find a small diamond that fell out of my engagement ring in our yard. Dad was always there. He served as a driver whenever needed. He and my mother sat beside me while I was in the hospital waiting to have my son. He was, at times, a hard father, but loved all of us kids unconditionally.
His heroism didn't stop before the disease – it continued on in the final years of his life during his journey with PSP. Though the diagnosis didn't come until the Spring of 2010, the journey began long before that.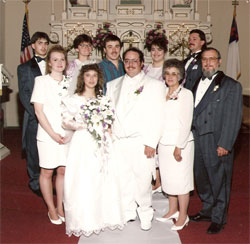 Shortly after returning from a trip to Africa with my mom in March of 2005, he began having dizzy spells. After countless trips to various doctors and having many tests, they said he had calcium crystals in his ears and did different exercises for that. This dizziness kept progressing and he was falling down regularly. He began using a cane and, in the Summer of 2005, he decided stop driving. Dad had always been a hard working, active man and would be seen working in his yard, splitting wood and hauling junk to the scrap yard; so the decision not to drive was a difficult one, despite being necessary.
After more trips to various doctors and having more tests run, he was diagnosed with Parkinsonism in 2007. He was put on medicine to remedy those symptoms, which helped for a while, but kept needing the dosage increased. At this time, he started using a walker.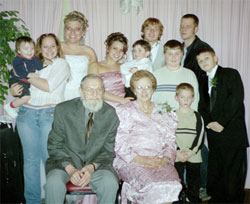 In July of 2009, he fell so hard and often that he had to receive staples and stitches in his head five times. By July of 2009, he was wearing a bicycle helmet to prevent head injuries. This helped, but he still fell often and ended up bruising his hip (he never broke any bones). It was so badly bruised that he was having a hard time walking and moving around. In August of 2009, I asked if he wanted use his wheelchair so his hip could heal (which we kept in the van for places requiring a lot of walking). Dad said yes, and never went back to the walker.
Eventually, the doctors said that he was progressing too fast for it to be Parkinson's disease, so Dad was sent to another doctor who, in the Spring of 2010, delivered a diagnosis of PSP. This was difficult news to hear; but at least we would now have an idea of what we're all dealing with.
After that, the progression became unbelievable.
Dad leaned drastically to the right and eventually had to have a belt around him in his wheelchair so he didn't fall out of it.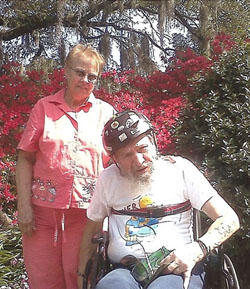 His vision was also greatly affected and he had trouble focusing. His eyelids weren't closing properly and his eye doctor suggested that he may need to have his eyelids sewn partially shut, as he was having trouble with his eyes drying out, which would lead to increased vision loss.
His swallowing became affected and he had several choking episodes. In October of 2010, he developed aspiration pneumonia and was hospitalized for a week. He then had to have a thickening agent added to his beverages and was confined to eating very soft foods.
We knew that the time for a feeding tube would be coming. Dad and Mom decided to go to Florida for another winter and would move forward with the feeding tube in the Spring of 2011.
Dad required a great deal of help and assistance and Mom was by far the best caregiver for him. Dad's ability to do things for himself diminished considerably. He couldn't feed himself and needed help getting dressed and bathed. Dad would always just want Mom to help him with his bathing and dressing needs, but in September of 2010 he began allowing me to help him. He didn't like that his daughter was helping him, but he did accept it with open arms and a smile.
Dad's speech was affected badly and, as the stages progressed, it was very difficult to understand what he was saying – his thought process slowed way down. Each stage of the disease gave him a new set of frustrations. Dad wasn't afraid to show his frustration – it was difficult to get him to accept that things couldn't be done the way he would normally like them to be. Dad also got very frustrated when people couldn't understand what he was trying to say.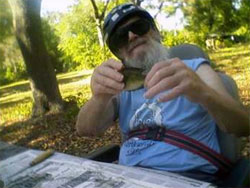 On his 70th Birthday (April 14, 2011), and he and Mom started back from their winter in Florida and stopped in Alabama for the night. After dinner he began choking. Mom tried doing the Heimlich, but it didn't work. My Uncle tried chest compressions and was able to get him breathing again. Dad had lost consciousness and went into cardiac arrest in the ambulance and was put on a respirator. He was taken to the hospital in Huntsville, Alabama. Mom called me right away and kept me posted throughout the night. I felt so helpless with them being so far away, I would always be there for my parents in a heartbeat and this night I couldn't. The next day, my husband, my siblings and I decided to make the grueling 10 hour drive. Tests were performed but Dad wasn't responding or regaining consciousness – the EEG showed extensive brain damage. Two days later, on April 16, 2011, we agreed to take Dad off the respirator – he passed away that evening at 7:15pm.
His journey and battle had finally come to an end and he was finally cured from this horrible disease. Dad fought a good fight against PSP, as he did with any illness or disease that he encountered in his life. Losing my dad has been the worst thing that I've ever been through, and not a day goes by that I don't think of him and miss him terribly. After watching him fight his battle with PSP, I'm thankful that Dad no longer has to suffer.
I pray that there will eventually be a cure for PSP so that the patient doesn't have to suffer – so that they can live their life with dignity while maintaining a sense of self-worth – so the families don't have to watch them go through so much suffering.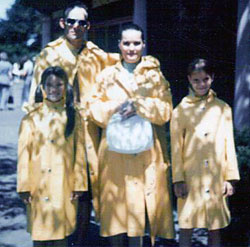 Tina Moyer
Dedicated to My Dad
My father, Robert Chiappini, became sick a few years prior to his diagnosis. He was approximately 58 when his symptoms began. Dad was a roofer who began having falls, developed a festinating gait, and generally did not feel well. Our first thought was that he had Parkinson's disease.
In 1997, doctors said my dad had ALS, and for a year, we thought that was what it was. I lived 2 hours away from Dad, so it was very hard having him sick and so far away, but I managed to find an ALS support group for him to attend. He loved it. Even though it was a very sad time for him, Dad was able to make new friends there. Unfortunately, his best support group friend passed away – I think that really had an impact on him.
In 1998, Dad was transferred to a different neurologist in Danville, Pennsylvania. When we first met the new neurologist, he immediately questioned the ALS diagnosis. He put my dad in the hospital for a week to administer tests and told us that he would have a diagnosis by the end of the week. Since Dad was only going to be 30 minutes from where I lived, I took a medical leave of absence so that I could be with him each day.
The tests were hard on him – spinal taps, x-rays, CT scans, MRIs, mental tests, and loads of blood work. He endured pretty much every test that you can imagine, but proved to be quite the trooper. I don't know how he did it but I shed tears for him every day that he had to endure another test. By the end week, he was ready to go home.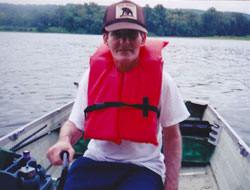 By the end of the week, we had been given the diagnosis – progressive supranuclear palsy (PSP). The only question Dad had for the neurologist was, "how long?" I remember how my heart immediately hurt. The doctor could not provide the answer. He said it could be a year or a couple of years, but that those numbers were just guesses. The doctor recommended that my dad go to a care facility, but that was not a realistic option for us. My mother was his primary caregiver and she still continued to work, as well. Dad had a nurse who came and helped him bathe, took him for walks and fixed lunch for him.
That same night, I got on the internet and found CurePSP. They were so helpful and even had a place on the website to meet other people with PSP and their caregivers. Knowing that my father would see his gait worsen, have more trouble eating, and eventually leave us, was devastating to us. As I had done quite a bit of research of PSP, I gave all of the information that I found to my family and they were, expectedly, very upset by it. I believe it may have just been too hard for them to come to terms with at that point.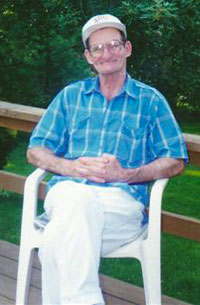 In 1999, CurePSP suggested that its constituents attempt to get their loved one on one of the local TV stations in an effort to help raise awareness about the disease. After a lot of hard work, my dad was a star for the day and was able to tell his story of being diagnosed with PSP – he loved the fact that he would be on TV. At that time, PSP was relatively unknown, barely even heard of and had no cure. Dad's doctor even spoke to the TV station about PSP and its effects. Dad's TV appearance happened to coincide with Dudley Moore's interview with Barbara Walters, where he discussed his battle with PSP. It was one of the best things that I did for my dad, even though some members of my family were not supportive of it. The day dad went on television, he gave me his fishing tackle box. He knew his time was limited. To this day, I cherish every one of those lures.
There was no PSP support group in Scranton, Pennsylvania at that time, so everything I learned I would relay to my parents. If dad asked, I did not lie – I always told him the truth of what I had learned about the disease. I would call Dad weekly and he would get so excited when I would tell him about my fishing experiences. He would begin telling me of his own fishing trips and laughing about some of them until the laughter overwhelmed him. Those calls made his day and to hear him talk about his fishing experiences were the best part of my day, as well. That is what I miss the most – hearing my dad's voice. Daddy loved both hunting and fishing. It is an honor remembering the times that I took him on my boat and helped him fish in his last years. It was a very emotional experience for me as well, as he needed help to cast and hold his rod.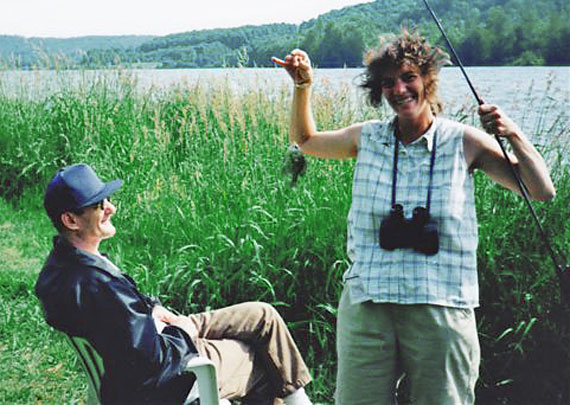 Before Father's Day, in June of 2000, Dad was admitted to the hospital for a hoarse cough and aspiration pneumonia. The next week he was put on the hospice floor and on June 10th, 2000, my daddy turned 61. I got to spend a few nights at the hospital with him.
On June 28th, I got a phone call that Dad had taken a turn for the worst so I headed back up to the hospital. The next day, one day before my birthday, Dad took his last breath. June 2012 will be 12 years since he has passed. Every June feels to me like it is being replayed – I miss celebrating our birthdays together and being his little girl.
One thing that I have learned from this experience is that, when someone you love is affected by a disease with no cure, the best things that you can give them are your compassion, understanding, and utmost respect. They did not ask for their disease.
I would have loved for my Dad to grow old and see how his family has grown. My wish is that a cure will be found and PSP will no longer take more lives. It didn't happen in my dad's time but hopefully someday it will.
Now I am experiencing firsthand what living with a chronic illness is like – I have COPD (emphysema). I know in my heart that Dad would tell me, "don't ever give up and always have hope in your heart."
Susan Tannenbaum
Our Roller Coaster Ride from Hell
For the past four years I've been under house arrest, a prisoner of a disease that has taken over our home, my husband's mind and body, and my life.
A recent article about caregiving for a spouse was titled The Roller Coaster Ride from Hell. I knew some of the people mentioned in this article and agreed with the title.
The first signs showed themselves just after 9/11. This would be in 2001, about eleven years ago. My husband Doug, aged 60, worked in the World Trade Center. He was late for work after an early morning meeting on Sept. 11th; he arrived just as the first tower fell. I worked in New Jersey just across the river, where I could see the whole thing from the upper floors of my building, but could not get into Manhattan, as all bridges and tunnels were soon closed. There was no telephone contact for much of that first day.
After the event, Doug became cloudy. That's the best word I can think of to describe the process in its early stages. His handling of our business affairs, including the management of our building (a hundred year old brownstone) became more slovenly, his spreadsheets began looking pretty spotty, he was unable to answer a question directly, he neglected paying the mortgage, and he began falling.
He fell while standing, while sitting, while walking. He fell off chairs. He fell and fell and fell. In a short period of time, much of our furniture was reduced to splinters. He dropped dishes, he dropped food while eating, he dropped cell phones, remotes and eyeglasses. I bought him dozens of reading glasses. I took away his cell phone. I hid his car keys. I put plastic plates in the kitchen cupboard and removed all china and breakables from his reach.
All the while he denied everything. He would not hear of seeing a neurologist.
I confess that in the beginning it was easier for me to work around the increasing disability and pretend that this was just part of the ageing process.
The event that brought us into reality was a fall. Four years ago, Doug was walking home from a wine tasting one evening and fell on the sidewalk. He sustained a skull fracture and bleeding into his brain. In the hospital in a medically-induced sleep, he was finally in a position to be evaluated by a team of physicians, and I was finally able to speak with them about his condition. Denial was officially over.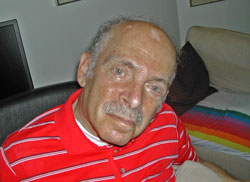 As is often the case with PSP, the first diagnosis was incorrect. He had suffered a cerebellar stroke, said the neurologists, and would need rehabilitation after this hospital admission. After two months in hospital and rehabilitation, he came home and I found myself looking down into the familiar chasm: our lives are changed forever. Now what?
I will not describe the false starts, disinformation, uncaring doctors, avaricious agencies, my blind panic and attempt to hold my job during this process. I will say that my family was tremendously supportive and understanding. What I wanted during those bleak days was someone to put me to sleep for about ten years and simply take over my life. Of course, this was not to be. To attempt escape is futile. I learned to manage our real estate and to manage the illness. I began to work part-time. I relied on long talks with family members living far away.
We were able, after a few false starts, to get an accurate neurological diagnosis and to find a team of caring doctors to treat Doug's many symptoms. Looking backward, of course he had PSP all along. Isn't it easy in retrospect?
Over time, we have adapted. I got rid of the uncaring agency and hired three aides who are wonderful with Doug, bathing him, dealing with his incontinence, watching sports with him on TV, preparing his meals, and generally treating him with dignity and concern. I've joined a support group where everyone's a caregiver and "gets it". We have become family, visiting one another, helping out with wheelchair loans, referrals to various professionals, general love and support. Doug and I have become grandparents and are expecting another grandchild as I write this. From our congregation we have a corps of visitors who come to read and chat with Doug several times a week. He is now a regular at our local senior center. One friend calls often and reads to Doug over the phone.
Retired now, I have more time to be with Doug. Since travel is no longer a possibility, I've decided to grow an ambitious backyard garden, and regularly post photos of roses, snow peas, tomatoes, and herbs on my Facebook page. House arrest can become a viable lifestyle—no, not preferable, but certainly tolerable.
All I can say is this: take courage and stay connected at all costs.
Steve Mueller
My Gin
My name is Steve Mueller and I would have been married to my lifelong sweetheart, Virginia (Ginny) for 42 years on Feb 22, 2012, had it not been for this awful, awful disease called PSP that permanently interrupted our lives together. After reading other stories online, I've decided to share our experience of PSP. If my story will help just one person the way those other stories have helped me, then it is worth it.
Our story began in our senior year of high school. Ginny and I had known each other for years through school and church youth group, but only as good friends. On that Sunday, October 13, 1964, we kissed for the first time and never stopped until January 11, 2012. It was the beginning of a lifelong love affair which included graduation from high school, Ginny attending college, and I entering the Army. After those three years apart, we were reunited until the end. Along the way we had a wonderful, full life together, having two sons that are incredible in their own ways – different but very similar at the same time. Ginny and I loved our boys – more than anything else in the world.
Both of our parents moved to Fort Lauderdale, Florida in the early 1950's. Ginny and I grew up there, went to school there, and married on February 22, 1967 at the age 19. By the time I was out of the Army, we had our first son, Steve ll, so our busy lives were off and running. About two and a half years later, we had our second son, Scott. Ginny did not take a job until the boys were in high school so she could be home with them and raise them correctly, which she certainly did! Before we knew it, the boys were married and had families of their own. Steve married a woman named Pam and they had two sons, Stephen lll and Brandon, who are currently 18 and 16 years old. Scott married a woman named Brooke and they had four children, Bailey who is 6, Tyler who is 4, and twin girls, Alaina and Brenna, who are 2.5 years old.
After living in Fort Lauderdale for over 42 years, Ginny and I moved to North Carolina where we could see mountains from our back deck. Ginny loved the mountains – this was home. We both had good jobs and very active lives with our families and church.
Looking back on it, I'm able to realize that things began to change as early as 2006. Ginny's first symptoms were fatigue and slowness of movement. At the time, I thought she was just working too hard, etc. – the usual things. As she began to worsen during the latter part of 2007 and into 2008, her work began to suffer and she could not keep up with normal day-to-day routines. Looking back at the time, we thought it was just the effects of working too hard and getting older. By April 2008, Ginny's hand movements began to get a little shaky and her words became slurred. Ginny worked as an administrator in a family practice doctor's office – her boss finally called her into the office and told her something was wrong. Her boss had her see another doctor that afternoon, who sent Ginny directly to a neurologist for a checkup. That was her last day of work, in late April 2008 – our lives had now changed forever. The neurologist ran several tests, concluded that Ginny had Parkinson's disease, and referred her to a big name neurologist, saying that if anyone could help her, this new neurologist could. We made an appointment to see the big name neurologist. He ran several tests and concluded that Ginny had multiple sclerosis (MS). We were totally confused and frustrated. We didn't know what to do but knew that Ginny was not getting any better. The doctor started Ginny on a daily shot program and exercise routine that were supposed to slow down the progression of her symptoms, but as many of us now know, nothing slows down progressive supranuclear palsy (PSP).
We continued down this path for approximately 8 months with no results. Ginny's fatigue worsened and she had to resort to using a walker to get around. We decided to get a second opinion at Duke University. Two visits and a great deal of expense later, the Duke neurologist called her a "mystery woman." He had no idea what she had and actually told her she was nothing but a "lump" – no activity. I should have punched him out. We left with more frustration and no answers.
We continued with the MS treatments but our two daughter-in-laws knew something wasn't right. By exploring internet resources, they came to suspect that Ginny had the symptoms of PSP. The more we read about PSP online, the more everything fit together. Armed with this new information, we went back to the neurologists we were seeing. One of them called in an associate who was an expert on PSP. He determined Ginny had both PSP and MS! All this took months to get done so you can imagine our frustration and anger over this doctor's incorrect diagnosis. This doctor gave us some fresh information, but of course, it wasn't good news. While one can continue living with MS, PSP is always fatal. At the time, I could not comprehend this, but now I know and realize what was happening.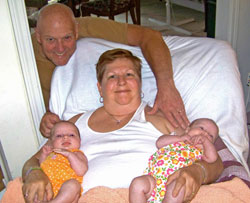 Eventually, Ginny needed a full-time person to be with her to help prevent any falls and I was still trying to work a full-time job, so the Lord sent us a gift from heaven in the form of neighbors who lived across the street – Laurie, a retired radiation therapist having much experience in handling handicapped people, and her husband, Greg, a physician's assistant at a local family practice. They were such a blessing – Laurie took over Ginny's care and all but moved in while I worked so we could maintain our home.
It was very difficult for me to accept help from anyone – I wanted to take care of Ginny myself and thought I could do it all, but I finally realized that my family, friends (like Laurie), and church family had a need themselves to help us and so it all grew together to one common goal – caring for Ginny. Praise the Lord for family, friends like Laurie and Greg, other neighbors, and church family.
By late 2010, I had to retire so I could stay home and take full-time care of Ginny. She could not talk clearly and her hand motions were quickly degrading. She could not walk and was permanently confined to a wheelchair.
Ginny had always loved to fish, so I took her fishing in her wheelchair at a local pond that had a wooden pier she could sit at. It soon became very apparent that she could not even hold a rod and reel, much less catch a fish – our frustration was humiliating. That was the end of Ginny's fishing career.
We decided to take her to the University of Louisville in Kentucky, where PSP is often researched. In June of 2011, Pam, one of our daughter-in-laws, Laurie, and I took Ginny on a road trip to Kentucky. What a trip! We had already sent all her medical records to them so they were expecting us. After a day's worth of tests and observation, they told us that Ginny definitely had severe PSP and never had MS. Wow – what a revelation, but at least after 3-4 years, we finally knew for sure. They asked us if we would consider donating Ginny's brain to research – it would be harvested at the funeral home. This realization was a lot to handle for all of us. Ginny agreed – she wanted to donate all her organs but only her brain was deemed suitable, due to the specifics of the disease.
At the time of the trip to Kentucky, Ginny's bladder was not working and was causing her to urinate about every 30 minutes, so she wore a Foley catheter bag. After the trip we went to see the urologist and talked about a permanent Foley catheter. When the nurse first told me that I was going to have to manage this, I freaked out. For me to insert this "thing" into my wife's "private parts" was over the top. I had worked in an industrial warehouse for the last 45 years – what did I know about catheters?! But you know, I did it and got pretty good at it, by God's grace.
By the last half of 2011, Ginny was failing fast. Her mobility was almost all but gone. She could not talk or even use her hands at all. Our living room became her hospital room so we could take care of her around the clock. Hospice was called into our home in October 2011 and that was a huge help. Having doctors, nurses, and CNAs there to assist was a huge help.
We made it to Christmas 2011. The day after, I was trying to get her from her wheelchair to the toilet and her knees gave out. I knew that once this happened, I was no longer able to take care of her at home. The thought of this was heart wrenching – I wanted to take care of Ginny at home. I guess I had not really accepted the fact that she was going to die soon, but I had to. The next day, they transported Ginny to the hospice hospital, where she lingered 15 days and passed away from pneumonia and heart failure. PSP itself does not kill – it is the symptoms that do.
Now that the one year anniversary has passed, I feel I am well on my way to whatever a new life may bring. I can only do this because I know "my Gin" is in the arms of Jesus. If there is anything positive I can say about PSP, it would be that does not linger for many years like some other diseases. When we were in the thick of it, time seems to go on forever, but looking back she suffered for only 2 to 3 years. Ginny really had no pain – just a total loss of all motor skills and bodily functions. Every day of the last 2-3 years seemed to drag on forever due to the frustrations, anger, and just not knowing what was really going to happen. Hopefully, through this story and others like it, people may find extra help and more insight into this terrible disease.
Pat Adams
My Sister's Letters
My sister Nancy's identifiable symptoms began in 2006. She passed away on October 25, 2012. She was in Tennessee and I was in Virginia so our communication was increasingly done via mail, as it became difficult for her to talk. She was diagnosed at first with a stroke, then with Alzheimer's/dementia. She went through all the classic symptoms and was finally diagnosed quite a few years later at the University of Tennessee with PSP. Her family told me she was falling a lot and sent pictures of her bruised face. My first indication that something was drastically wrong was her handwriting. She had beautiful handwriting and it became less and less readable, to the point that I would send her address labels to put on the envelope. She began typing on the word processor and gradually it became almost unreadable and finally the letters stopped.
These are excerpts from her letters.
March 2006:

It's interesting that even this early she seemed to know something wasn't right with her brain and secondly, her eyesight. She may have been using the prisms here.
This was sent sometime around 2008 after the disease had progressed. I had been encouraging her to print rather than write, hoping that she would have better control of her hand.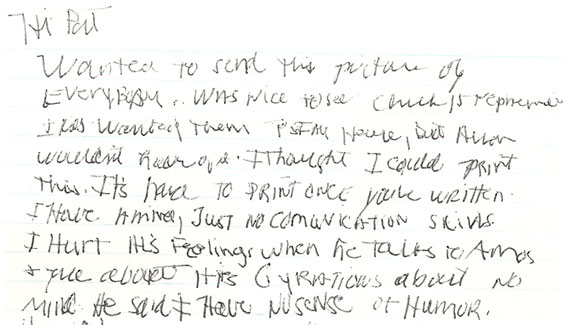 As time went on, she gave up trying to print and went to the word processor. She did really well with that for a while. It became clear to me through her letters that she was not suffering from Alzheimer's. I was stumped. She came and stayed with me for a few days and we played scrabble, we talked, I asked her questions about our childhood – her memory was clearer than mine. She was having trouble with balance and talking at that point. We practiced her printing but it just didn't seem to work so I encouraged her at that time to use the word processor as she wasn't comfortable with the computer. I ended up writing her doctor a letter and explained my concerns and doubts about her diagnosis. I have no idea if that influenced him or not, but she was eventually referred to U.T. Research on brain diseases.
My reason for writing this is to help people understand the symptoms of the disease and how their reactions can affect the person with the disease. It is so harmful to them because the loved ones just don't understand.
December 2008: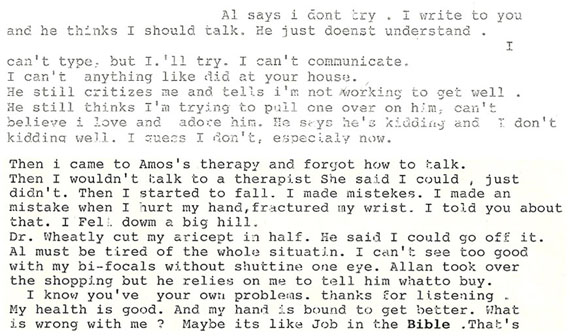 This illustrates the frustration of dealing with health care providers who are totally unfamiliar with PSP. For a period of time, the medications she was on made her condition worse. Along with the Aricept, she was taking an anti-depressant – both seemed to make her drowsy and also make her balance even worse than it would have been without the drugs. This last note was one I received shortly before she stopped writing me.

There is a danger in sharing these letters because I never want my brother-in-law to think that I judge him. He did a wonderful thing taking care of her for all those years, and especially as she got worse, and he eventually understood that she could not and would not get better.
The big issue with this disease is that the person fully understands what's going on around them, but cannot express their feelings. Of course, life goes on around the person with the illness and it sometimes makes things even more difficult. During the early stages, their son-in-law had a brain aneurism and had very severe surgery which left him disabled. My sister fell and messed up her shoulder and had to have surgery and eventually the arm became frozen and unusable. Her many falls may have made things worse. There was a wedding, babies were born. Nancy was always there in the middle of the family activities up until the day she died. Near the end, she could still muster a giggle and definitely could recognize people. She received love and affection and was under Hospice care when she passed. The family was very blessed to have good in-home help and lots of relatives and friends to give them support.
I could go on with the notes and letters – some would tear your heart out. The important thing to take from this is folks need to be made aware. I discovered that a man right here in my neighborhood had PSP. My sister-in-law works in the local nursing home, and I'm convinced there are people there with PSP and are aware of what goes on around them even though the employees don't have a clue. The first line of defense should be with the family doctor, the nurses in the hospitals and the people who observe the symptoms but have never heard of the disease.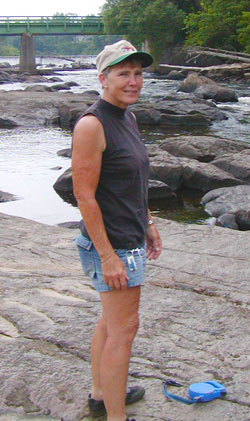 David Butler
My Gail
Gail has always been an active, outdoors person. She loved hiking, camping, hunting, fishing, skiing, gardening and working outside. We joined the gym after we retired and worked out 3 days a week for almost 10 years. When her balance on the machines got to be a major concern we gave up that part of our life. Giving up driving was also traumatic for Gail. It was giving up her independence after all of these years.
We first noticed problems about 7 years ago, in 2006, when Gail started to have a hesitation in her speech. Gail was 62 years old at the time. The neurologist didn't have a clue as to the problem. The speech pathologist that we were referred to said he'd seen similar symptoms with patients that had a small aneurysm in the brain stem. Having no other answers, we accepted that as a diagnosis. We needed something to tell our family and friends to explain Gail's problem.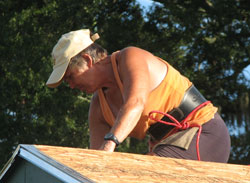 About 3 years ago the balance problems started. When Gail was helping put a roof on one of our out-buildings we tied a rope around her waist to prevent any serious falls. From then on, there were a lot of serious falls; broken collar bone, fractured orbital socket, stitches, sprains and bruises. All of the x-rays, MRIs and scans didn't provide any answers.
Sight became a problem around the same time. She didn't want to go to the store because she said she couldn't see anything. We went to the eye doctor who made her a pair of glasses that did no good. I wasn't smart enough to figure out that glasses wouldn't help. Her ability to see up and down was the real problem. She can still see straight ahead if she's not moving, the object she is looking at is not moving and she has her glasses on. Otherwise things are blurred. Her left side continues to contract and she has little coordination in her left arm and leg. The combination of the poor eye sight and the contraction of the left side make it difficult for her to walk without assistance from another person.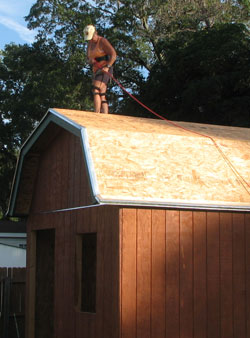 The swallowing and choking problems started shortly after the other problems. I wonder sometimes in the middle of the night if she is going to make it through the gasping and choking session she is having. So far she has.
We are now being assisted by hospice in Gail's care. I am her caregiver and I have the satisfaction in knowing that if something happens to me, she will continue to have care. The CurePSP website has given me a lot of information and answers. The DVDs and pamphlets have been very helpful in understanding the disease. I have printed off the "Some Answers" publication a number of times to hand out to doctors, nurses, aides and friends.
About 2 years ago, Gail knew she was going to die even though everyone told her she wasn't. She started writing all her memories down, from as far back in early childhood as she could remember. By last spring, she had gotten up to 1993 before she lost the ability to put her thoughts together. This Spring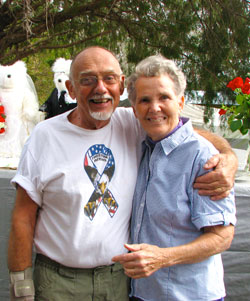 , her sister had all those memories made into a hardcover book for her. It is in Gail's words and also includes some pictures from her childhood and later years. No matter how rough it was for Gail, she cared enough for our daughter and I to leave a part of herself for us.
Last July, after all of these years, a visit to the neurologist finally gave us the answers we were looking for – PSP. The terrible news made Gail happy and relieved. It wasn't all her imagination. She actually had something to blame all of those years of misery on.
Her speech continues to worsen. She can still write some and even though she leaves a lot of words out we are able to communicate. We also use flash cards for common requests.
Most days Gail knows who I am. I tell her every morning who she is and who I am. I'm sure sometimes it doesn't register but only for a short time. We quietly celebrated our 51st wedding anniversary this month. We know there probably won't be any more, but she will continue to live in my heart.
Levin/Freeman Family
In Honor of Herbert Levin
CBGD…A Cause Binding a Grandfather's Descendants. Since no one can pronounce nor understand the name of this disease, let's give it new meaning.
* * *
Eric Freeman, Herb's grandson
My Grandpa Herb won't be at my Bar Mitzvah. He was diagnosed with CBGD (Cortical Basal Ganglionic Degeneration; also known as CBD – Corticobasal Degeneration) when I was eight and I've seen his condition get progressively worse. Now he is in a wheelchair most of the time and does not eat or drink like he used to. Sometimes he doesn't remember who I am or why my brother and I are visiting him. He also takes many pills each day which is sort of scary.
My Mom, aunts and uncles visit every weekend to help out my Grandma Sandy and when we get together to celebrate a holiday we meet at their house. I remember when I was little and we'd get together to celebrate Hanukkah, he always brought us the latest Hess trucks. He would make sure the batteries were in, show us how to open up the truck to reveal the smaller vehicles inside and then push the switch to turn on the lights and sounds. They were the coolest trucks and I always looked forward to getting them.
It is sad seeing him this way, unable to move much or do things for himself. I see this disease impacting him more and more and I fear that he may not be with us much longer. That is why for my Mitzvah project I chose to team up with CurePSP.org. My goal is to raise awareness so more people know about this disease and spread the word to their loved ones who may not be getting properly diagnosed. I am also raising money and donating a portion of my Bar Mitzvah gifts to fund research into the cause(s) and treatment(s) of CBGD. I hope that by working together, we can soon find a cure.
* * *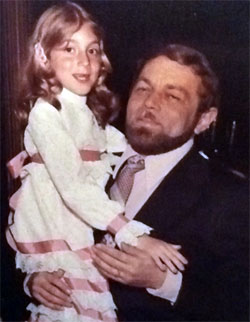 Jeri Freeman, Herb's daughter
I always thought of my Dad as the strong, silent type. Standing 6'4", he was an imposing figure to those who didn't know him but a gentle giant to those that did. He rarely raised his voice but when he did, he meant it. He was hardworking and dedicated to his family; rising early to commute into New York City and always home for dinner by 6pm. My Dad's life was fairly ordinary: he married his high school sweetheart, served in the army and had three kids before he was 30. He graduated from the College of Aeronautics, was fascinated by flying planes and built replicas when he no longer flew. He always enjoyed working with his hands and today still moves his fingers as if he's putting something together. When I was around eleven years old, I remember helping him finish our basement and marveling at how meticulously he worked. By then our family had expanded and we needed to build another bedroom in the basement. You see, my natural mother passed away just before her 33rd birthday, my Dad was only 35 and had three kids under the age of ten. He eventually began dating and ultimately met and married a woman who had two children of her own. We were known around the neighborhood as the "Brady Bunch" although we were only five children spanning just six years from youngest to oldest.
As you might imagine, life was pretty hectic in our household but my Dad was pretty relaxed and easygoing. I can't recall him ever complaining about much except he wished we turned the lights off more and got 100's on tests instead of 99's. He'd always wonder where the extra point was. Whenever we asked him what he wanted for a gift, whether it was for his birthday, anniversary, Father's Day or Hanukkah, he always gave the same response: "good children". We would tell him he already had that but his response never changed. It couldn't have been easy providing for us all of those years but you would never know it from his demeanor. We called him our "Bearded Leader" as he calmly and efficiently presided over our family of seven.
Now he no longer has a beard. It was shaved off in the hospital over a year ago and is apparently too hard for the aides to maintain. Ever since then, he hasn't seemed like my Dad. While he was diagnosed with CBGD in July 2008, we knew something was going on for at least a year or two prior. My Mom left no stone unturned, dragging him around for all sorts of tests and making appointments with all sorts of specialists until the diagnosis of CBGD was reached. Fortunately my Mom is a very persistent and determined woman who would not rest until the diagnosis made sense. Now she is my Dad's primary caretaker, ensuring he keeps moving as much as possible, he eats healthy meals and is safe. It is a full time job even with a live-in aide, 24 hours a day, 7 days a week. Now when our family gets together it is always at their house as it is too disruptive to take my Dad anywhere besides doctors' appointments. He gets disoriented and confused, plus due to his size and strength, it's hard to physically get him places as his balance and coordination are limited.
This disease is the worst of all worlds, slowly stealing his abilities one at a time from thinking and remembering, to conversing and moving. It is extremely hard to watch someone you love struggle with the simplest of tasks we take for granted every day. I can't even imagine what it's like to be that person. We no longer know what he's thinking or feeling because he can't tell us.
He still speaks at times but his words are often jumbled or referring to events in the past. He is basically trapped in a body he is losing control over. For now, my family is keeping him comfortable and safe and taking one day at a time because you never know what tomorrow will bring.
My hope is that Eric's contribution to CurePSP.org will help other families in the future by becoming aware of this disease and the research that they support will either find a cure or treatment for this horrible disease. Please join us in spreading the word and sharing our story with everyone you know. Thank you so very much.
* * *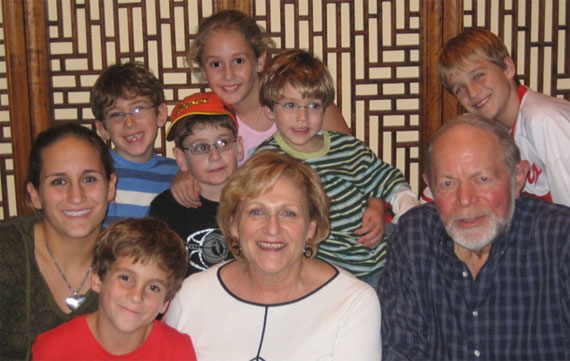 Sandra Levin, Herb's wife
Having my beloved husband, Herb, diagnosed with such a devastating illness left me completely numb. At first, I didn't realize what the diagnosis really meant but, in time, the reality began to sink in.
Here is our story.
In 2007, I began to notice subtle changes in Herb's personality and physical abilities. His coordination was off and he could no longer do little tasks, which was very odd because he was always very handy around the house. He began to find it difficult to pay the bills and handle our finances which he had always done with ease. He also stumbled and fell occasionally. He became much quieter and lacked interest in activities. I discussed this with my primary care physician and he said Herb was just bored because he was no longer working. He added that Herb was a quiet man and didn't think there was any reason to be concerned.
In 2008, I took matters into my own hands and had him evaluated at the Neurological Institute at Columbia University Hospital – Division of Aging and Dementia. At that point, it was noticeable that his cognitive abilities were starting to diminish. After extensive testing, two neurologists came up with two different diagnoses: Alzheimer's and CBGD. We had never heard of CBGD but after further investigation it was clear that CBGD was the correct diagnosis given the physical symptoms that were emerging.
At the end of 2011, he had another fall and was hospitalized. That went very badly because he developed infections and urinary problems, so he ended up staying in the hospital for a month and was then transferred to a rehabilitation facility for another month. When he ultimately came home, he was in very bad shape and needed full time help, 24 hours a day. I am very lucky that we have long term care insurance that helps with the expense of a live-in aide. Medicare was very insufficient in terms of providing long term therapy but I was persistent and got extra services which helped to get him walking again.
When he was first diagnosed, Herb went to adult day care three times a week which was great for both of us. At that time, we were still able to socialize with friends but now we no longer do as the disease has greatly affected his mobility, his memory and his speech (aphasia). It is a progressive disease and to combat the memory loss he was originally given Aricept, now he takes Namenda (medications commonly prescribed for Alzheimer's patients). We think he is aware sometimes but is unable to express himself. Herb's body gets rigid at times, so his doctor prescribed Carbidopa-Levodopa, which is commonly given to those suffering from Parkinson's disease. Sometimes he gets combative, which is so unlike him because he's always been so gentle and easygoing. When that happens, we give him Seroquel to calm him down.
Being Herb's primary caretaker requires me to advocate for him on all levels. Aside from his daily care, I spend much of my time dealing with doctors, insurance companies, Medicare and coordinating his therapy. Since Herb is a veteran, he qualifies for an additional six hours of help each week through the Veterans' Administration. In addition, now that he is home bound, all of his medications come through the VA. I also purchased a supplemental Rx Medication Plan from AARP to cover medications that may be required suddenly.
As the disease has continued to evolve, there have been swallowing issues. At first, all his liquids had to be thickened. Now he has difficulty with secretions that build up in his mouth and he must be aspirated so he doesn't choke. His illness is definitely progressing and at times he can no longer feed himself. He is well cared for with the help of his aide. We have developed a routine which works most days. He is showered daily and sits upright in his wheel chair most of the day. It takes two people to walk him with his walker which we do twice a day. Herb also naps and goes to bed early.
When our family is together I assume he is happy to see everyone but I really don't know what he is aware of. I try to cope with each day as best I can and at times it is more difficult to care for him even with our aide. Herb is still looking physically well but, of course, he is no longer the man he was. It does give me comfort to know he is well taken care of and I can see him every day. My goal is to keep him home until such time we can no longer physically handle him. Only God knows when that will be.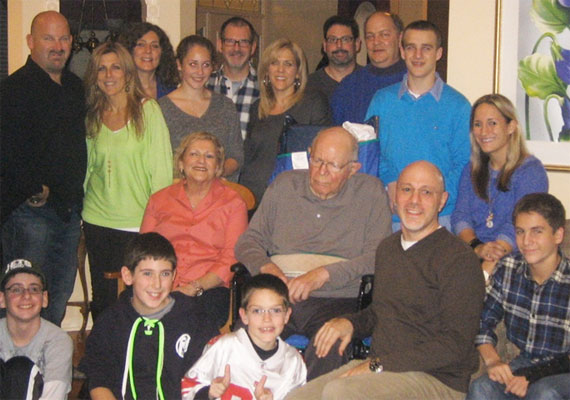 * * *
Brett Freeman, Herb's grandson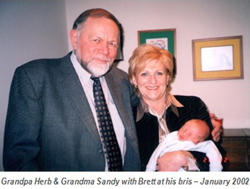 My Grandpa Herb passed away on Superbowl Sunday after a long battle with CBGD (Cortical Basal Ganglionic Degeneration, also known as CBD). I remember how sad my mom got when she told us but she also said he was in a better place and no longer suffering. I felt very sad as it had been a long time since he could go places and interact with us. The last time he was able to visit us, he came to my soccer game and I remember being extra proud whenever I made a good play because he was watching. He always wanted the best for our family and wanted everyone to be happy and healthy.
Watching him get worse and worse was really hard and I don't want others to experience that. That is why I'm raising awareness and funds for CurePSP.org. I don't think many people have ever heard of CBGD and I want people to know the signs so their loved ones can be diagnosed quickly. I also plan to donate a portion of my bar mitzvah gifts to contribute to research to someday find a cure so more grandparents and their families don't have to endure what my grandpa did.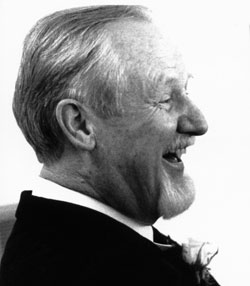 Kari Kuglin
The Strongest Man I've Ever Known
About 9 years ago, my dad, Jon Bolstad, the smartest and strongest man I've ever known, began falling down. It wasn't often, but it happened enough that we started to worry why he was losing his balance so much. At over 6 feet tall, when he'd fall, it was always hard. Over the next couple of years, his speech started to slur. It was bad enough that people sometimes thought he was drunk, even though he never drank alcohol. It took years of doctor visits, online research and eventually a trip to the Mayo Clinic in June 2007 to finally diagnose him with progressive supranuclear palsy (PSP). This rare disease, affecting only five to seven people per 100,000, is a neurodegenerative brain disease that has no known cause, treatment or cure. It affects nerve cells that control walking, balance, mobility, vision, speech, and swallowing.
The past few years brought a steady decline in my dad and it was heartbreaking to watch. His beautiful blue eyes could barely stay open, but continued to sparkle when his grandkids were near. A man who spoke so intellectually that he could hold the attention of NASA eventually could no longer form words that any of us could understand. A man who always cleaned his plate, and often cleaned ours, had a feeding tube for over a year. A man who loved to cross-country ski, hike in the mountains, and take walks had to be hoisted into a wheelchair because he couldn't stand up. A man who loved to travel and worked SO hard his whole life in order to be able to travel the world with my mom, barely got a chance to enjoy retirement. A man who wrote endless letters to editors and long, thought-out emails could no longer even use an iPad to communicate, let alone a computer. He was a physicist who used his vision, dedication and intelligence to run his own company for 20 years, based on his own invention that I'm not even smart enough to explain.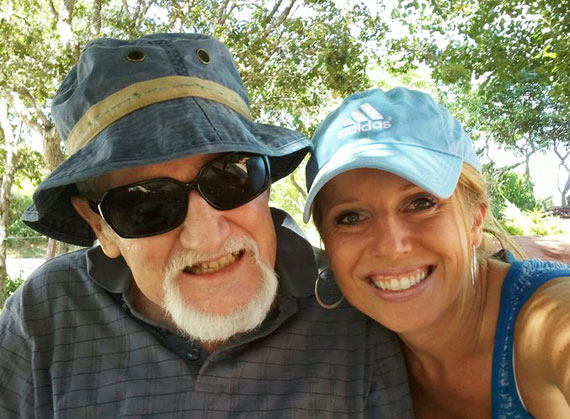 We lost this amazing man last April to PSP. Although I miss him every day, I am relieved that he no longer has to struggle. He stayed so positive through it all, much more so than I think I would. He swallowed his pride and allowed others to take care of his every need. He continued to fight until he couldn't fight anymore. Watching the man that I looked to for advice and strength my whole life wilt away at the end was one of the hardest things I will ever do in my lifetime, but he showed me how to be strong. He showed me how to persevere. He showed me that when it really comes down to it, loved ones and spending time with them mean more than anything.
When he passed, he donated his brain to research to help find a cure for PSP. Last April, two weeks after he had passed, I ran a race in his honor and raised around $8,000 for CurePSP. Our family will continue to do what we can to support those that are currently dealing with this disease and to help find a cure. Although the disease affects many individuals differently, we can all be an amazing support system for one another. Thank you, CurePSP, for being that bond between us all and for your work to find a cure for this rare disease.
Ashley Wu
Bookmarks of Love
By Ashley Nicole Wu, 10 years old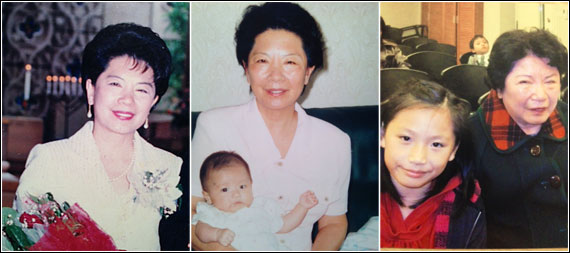 As early as I could remember, my grandmother was always sick. When I was two years old, my grandmother was told by the doctors that she had a rare disease called the progressive supranuclear palsy (PSP). This severe sickness turned my grandmother from an intelligent, curious and hardworking person into a someone that could not take care of herself or even walk on her own. We learned that PSP is a disease that will slowly affect a person's brain. At first, one's hand shakes and one's body does not listen to what the brain wants it to do. But, after a few years, the person's body stiffens and cannot even control its movement. The brain then becomes so infected that practically all memory is lost. Then, all the patient can do is to lie on a bed every day, such as my grandmother.
My grandmother, Ming Chi, was a teacher, so she would always say that I am her top student. When I was 4, she taught me how to hold the pencil and write. When I was 6, she played a duet on the piano with me. But now, all she can do is to look at me while humming constantly and looking at a faraway place. I don't think she even recognizes me anymore.
PSP is a very rare disease, out of 100,000 people, about only 6 people will have it. Even the doctor here in Taiwan does not know how or why my grandmother got this disease. So far, there is no medicine or cure for the sickness. When we first found out my grandma had this disease about 8 years ago, we knew nothing about it. So our family went on the internet and found this website named "CurePSP." They are a foundation in the United States that helps people and their families that are sick with PSP. They gave us a lot of information, support and even mailed us brochures to give to the doctors in Taiwan. CurePSP really wants to help people with this illness.
Two of my favorite hobbies are crafts and reading. So I decided to combine the two hobbies to help donate to CurePSP. I will be making bookmarks by hand and selling them to people that want to help. I will spend time making them during the weekend and winter break. Every bookmark will cost NT50 (about $1.25) – I hope I can raise at least $100 US dollars. I know this may not be a lot of money and it may not make a big difference, but this project means a lot to me. Many people say that I look a lot like my grandmother and we also have a lot of characters in common. I really wish that I could do something for her. Even though it may be small, I wish I could make a difference. Grandma has always taught me to be kind – I know she would be proud of me.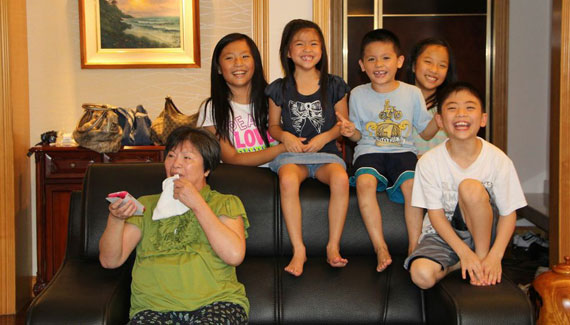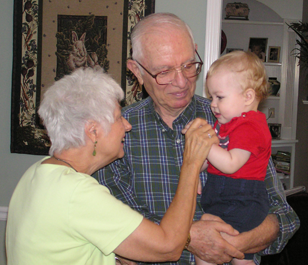 Nancy Poole
My Husband, Truman (Sonny)
By fifteen minutes, my husband Sonny was the older of a set of twins born in Atlanta, Georgia. Sonny spent his childhood in Tifton, Georgia, his teen-age years in Columbus, Georgia, and earned his college degree in business from Auburn University. Sonny spent his working life of more than 32 years at Life of GA Insurance Company (ING). He loved God, family, music, sports and gardening. We have a son, daughter, and four grandchildren ranging from 6 to 20 years in age.
My family and friends have all been impacted by this long, painful journey of PSP that was initially diagnosed as Parkinson's in 2007. I believe it actually began 9 years earlier in 1998 when he began experiencing weight loss, developed a slight tremor, and had some short-term memory loss, among other symptoms, all of which were diagnosed as hyperthyroidism. With medication, his thyroid stayed within a normal range, but the fatigue and muscle weakness remained. In 2006, he began having difficulty with balance – he had trouble rising from a chair, walking, and experienced frequent falls. He suffered "episodes" where his blood pressure seemed to drop, which caused extreme sweating and dizziness. These "episodes" remained frequent throughout his illness. Our primary care doctor sent us to a neurologist in 2007 – the diagnosis given was Parkinson's. From May until December of that year, medication proved ineffective and eventually, we were sent to a neurologist at Emory University. The Emory neurologist administered a memory test which came back inconclusive – possibly Lewy Body was the speculation. Around the time of that first visit to Emory, I read an article in American Parkinson Association newsletter on atypical Parkinsonian disorders, specifically PSP. After reading it, I just knew that was what my husband had – everything seemed to fit. In 2008, we attended our first Parkinson support group in our area. I knew his symptoms were similar to Parkinson's yet different, affecting balance, movement and speech sooner and more. No medication ever helped, which was also another common issue with PSP.
From 2008 to 2010, Sonny progressed from walking with a cane, to a walker, to a walker with someone's assistance, to finally transport chairs. His ability to write, speak, or do anything for himself gradually declined. We had in-home physical therapy, as well as speech therapy. I used a baby monitor and a bell to keep tabs on him when I was out of the room. The best help aid came in the form of a video camera and monitor that I could move from room to room – this helped me rescue Sonny before he would fall. If only I had known about this aid sooner, many falls could have been prevented. On October 3, 2011, while walking with my assistance to the bathroom, he fell. His legs just couldn't move or support him anymore. After that, we began receiving help from a hospice team which remained with us until Sonny passed away on November 16, 2012.
Never again will I take for granted the ability to walk, talk, write, or move around. Earlier in 2012, with my husband's consent, I made plans with CurePSP to donate his brain tissue to research so that hopefully, some day, a cure or at least a treatment will be found for PSP. I think it is very important to be a determined, information-seeking advocate for your loved one.
We are always asked if there were any head injuries – Sonny did suffer a head injury in 1997 where he slipped on a muddy construction site and hit his head on a car. He also endured a viral infection in 1998 that was hard to recover from and preceded the problems with his thyroid, which were eventually followed by PSP.
I encourage others involved with someone diagnosed with PSP to join a support group, if possible – they know what you and your loved one are experiencing. Be involved with the offered webinars at CurePSP.org. CurePSP webinars are wonderful sources of information and help. Don't hesitate to inform your neurologist of your concerns and ask for sources of help regarding therapies. Lastly, seek information—the more you know, the better equipped you will be to help.
Caroline Rigney
A Tribute to My Mum – Bridie
I decided to make special CurePSP jewelry as a tribute to my mum Bridie. She passed away from complications due to PSP on September 7, 2011 at the age of 77.
Looking back, mum started showing symptoms in 1998/1999. Over the years she had been misdiagnosed with so many different illnesses. At one point, she was treated for polymyalgia and was given an aggressive treatment plan of steroids and chemotherapy drips. After numerous diagnoses and specialized consultants, one doctor decided it was all in her head because her lab work always showed that she was a healthy woman. Thankfully, we had a wonderful general practitioner who kept pushing consultants and we finally got the diagnosis of PSP in February 2006.
Mum was always cared for at home by my dad, my sisters and I. Right up to the end, mum walked up the stairs every night for bed (even though it took two of us to help her up)! She always said that, while she had breath in her body, she was sleeping in her own bed upstairs. While dad held her at the side, I held her from behind and we use to joke that if she fell she would be fine as she had me for a cushion (we all laughed and tried to keep a sense of humor)! We showed the physiotherapist how we walked with her – they were always suggesting a wheelchair, as her balance was so compromised, but they changed their minds when they saw how well she was doing. She never had a feeding tube, even when it was suggested, she wanted her dignity to the end, and it was only the last two years of her life that her weight slowly declined. She bought new glasses every six months for years because she couldn't see out of them and we would chuckle when she said that it was the eye doctor's fault! She even had the special diamond cut lenses, but they were useless according to mum.
This horrible disease took my vibrant, full-of-life mum away. Near the end of her life, she became so much quieter, only able to talk one-on-one because group conversations were too fast for her to manage. I was 19 when she first started to get sick. As the youngest of six, it's hard for me to remember her before this horrible thing took her away. I miss her every second.
In 2006, I found the CurePSP Forum and although I didn't write many times, I read other peoples stories and questions every night. It helped answer a lot of questions, and made me feel less alone as a caregiver. We got in touch with a wonderful lady at CurePSP and she sent us a folder full of information for us and also for medical professionals, so we could bring it to hospital appointments. It proved invaluable; we were all so surprised at how many medical professionals had never heard of PSP.
Therefore, these necklaces are to help raise awareness and funds to help other CurePSP families like ours.
If you would like to support CurePSP through Caroline's beautiful necklaces, please visit her website and to place your order today.
Please note that you can also personalize your selection with up to six characters. However, to inquire about additional characters, please complete the contact section on Caroline's website or send an email to crigney79@gmail.com.
CurePSP extends a special thanks to Caroline for her kindness and generosity.
– See more at: http://www.psp.org/support/stories/caroline-rigney.html#sthash.p8ayVNT0.dpuf
Nancy Harvey
Millard "What Do You Mean There Is No Cure?" Bachman
My Dad, Millard Bachman, had an active childhood filled with many activities from inner tubing down rivers to the dismantling many of his mother's appliances to turn them into something else. He was the son of a minister who did not fall far from the tree. He was a good guy with a mischievous side and was a practical joker.
After graduating with a degree in aviation technology, Dad began work in the airline industry – he loved working on airplanes and to him it did not feel like work. He was a by-the-book, dedicated, reliable, solid example of what pride in your work looked like kind of guy. In the spring of 1965, Dad met his future bride who he married and stood by for 47 years. He continued with the job he loved until his retirement in 1996.
Dad started exhibiting signs of neurological changes long before we realized anything was going on. A once highly motivated guy, he had amassed a collection of projects that were started but never finished. This left my parents' house in various states of remodel. Car restoration projects put on hold. We did not question why at the time, we just thought Dad was enjoying his retirement and had slowed to a rate that was more akin to the rest of us.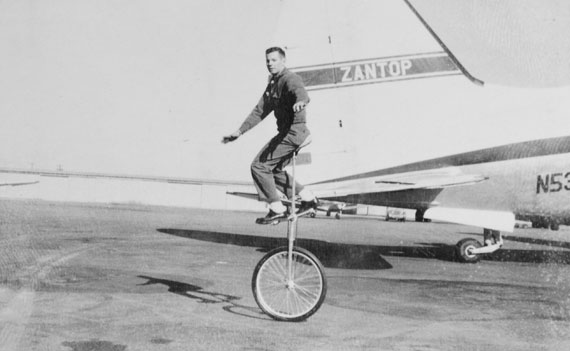 Dad was always physically active and, during this time of early decline, he remained so. He and Mom would walk 3 miles every day and both went to the gym 5-7 days a week for weight training. He was still able to do pull-ups at age 71, even as his symptoms were really starting to become evident.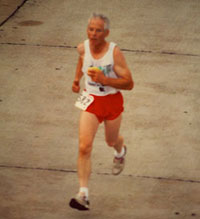 In 2008, the changes in Dad's health were significant enough that we started looking for answers. These changes included cognitive problems, slurred speech, finger dexterity and issues with balance. After an exhaustive two year search, Dad discovered that he had PSP.
The diagnosis was difficult for him to accept because he had a very mechanically inclined way of thinking. He was accustomed to identifying a problem (normally knowing what caused it) and then fixing it. He toiled over wanting to know what in his life he had done to get PSP. With Dad's occupation, he was regularly exposed to all kinds of hazardous chemicals, including large amounts of mercury. He even went through chelation therapy to get rid of the heavy metals in his system thinking that this was linked to his PSP. He became consumed with finding some kind of treatment and a cure.
In an effort to affect some kind of progress, Dad spent his last mobility-capable years participating in clinical trials to better understand the disease and find a cure. He agreed to every test they asked him to participate in. The tests ranged from simple blood work to extensive social, medical and family history discovery to spinal taps and everything in between.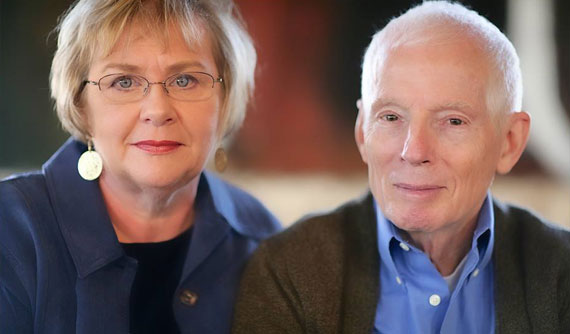 His clinical providers were amazed at how mobile he was able to stay throughout his disease progression and they attributed that to how strong his body, heart and lungs were from his lifetime of staying fit. He was an example of fitness and a role model to many.
Dad gave up driving after a fender bender made it clear that it was no longer a good idea to be on the road. This changed my parents' independence significantly.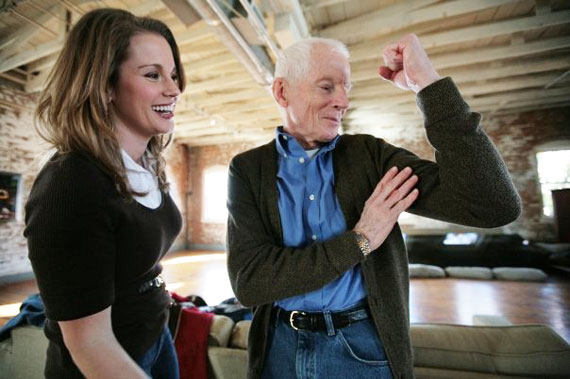 He fought the disease progression every step of the way. Dad still went on walks, but eventually had to shorten them, as walking became more difficult. He continued to visit the gym daily and was followed around by Mom so that he would not fall on the equipment.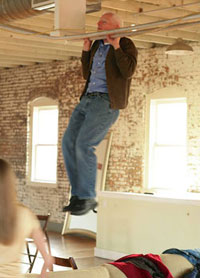 Dad got to a point where he was in so much pain and experiencing such a constant state of wooziness, that he stopped wanting to go anywhere. When we did manage to get him to go somewhere, he never wanted to stay long.
As his PSP progressed, all of the tasks and responsibilities Dad enjoyed began to be delegated. I will never forget the day that he passed the torch on saying the prayer at our family meal. He said that his speech was too slurred and he just couldn't do it anymore. It was hard to accept these changes as they happened one by one, but in retrospect, we were mourning the loss of who he was to our family, little bits at a time.
Mom has always taken great care of our family over the years. The demand on her increased exponentially, as Dad's disease progressed. This drained her mentally and physically. My sister and I helped out as much as we could by coming over to hang out with Dad, so that she could step away for a few hours. That time spent hanging out with Dad is something that I will cherish forever. Because his eyesight had become so poor, we decided to start reading to him. This was a wonderful intimate activity to share together and kept him engaged by reading stories that sparked his interest.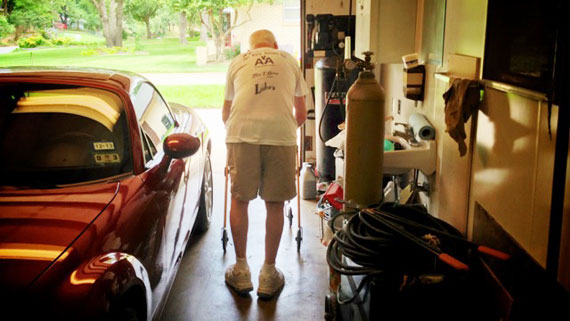 When we were at one of his neurologist visits, we requested some help in the home. After that, he began receiving home health visits that included a regular nurse visit and an aide to bathe him, as well as physical therapy and speech therapy sessions. Dad enjoyed the visitors and both the physical therapist and speech therapist were able to give us good tips on managing his care.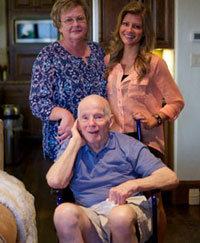 Not long after the home health providers were engaged, they suggested that he begin hospice care. This was a difficult decision because it meant that he would no longer see the neurologist that he was accustomed to visiting. It also had a strange "I give up" feeling to it. Let me tell you, it was awesome when they began to help. Everything from the hospital bed to the medication (comfort meds) management to the in-home provider visits – it all made things so much easier for everyone.
Someone providing care to a patient with a progressive disease has to be really nimble – something that worked yesterday might not work tomorrow. We had to be careful to not beat ourselves up for sometimes being a step behind. There came a time when we had to secure the house because Dad was having hallucinations that would cause him to go outside or take the car out. It seems that, as soon as we figured out how to keep him safe inside, he no longer needed it because the hallucinations stopped and he became far less mobile. We constantly needed to change his diet, due to his difficulty with swallowing.
Our biggest struggle continued to be making sure that Mom was getting enough rest and was able to take care of herself. She gave up everything for Dad during that time and was his angel. All the while, she was losing her lifelong companion who slipped further away from her with every passing day.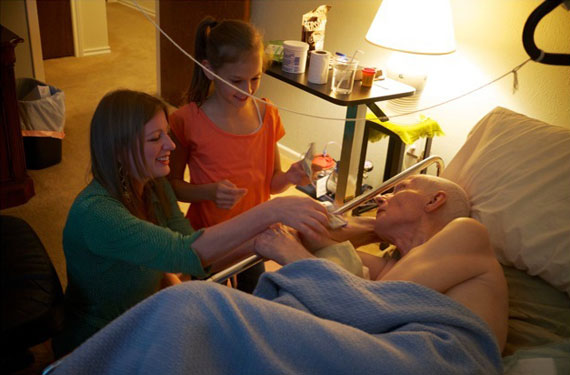 Dad's condition continued to decline, due to his inability to take in enough nutrients. He began going to bed around three in the afternoon and waking up many times in the night. Once he was bedridden, his rate of decline escalated. His nurses did a good job of setting our expectations on how much time he had left, when we would ask. If our family could go back in time, we would have been more liberal with his comfort medications during this time. We would have asked the nursing staff how to better assess his comfort needs based upon non-verbal signs. We were trying too hard to get him to tell us what he needed and we didn't know how to do it better.
Once his passing became imminent, the hospice nurses were staying around the clock. They gave us the ability to just spend time with him instead of being his caregivers. It was such a weight lifted from our shoulders. We continued to read to him and play music for him, even after he became non-responsive. Every day that he was still with us, the nurse marveled at the strength of his heart and lungs. He was still being a role model as he lay non-responsive in bed by motivating his new around-the-clock caregivers to stay fit!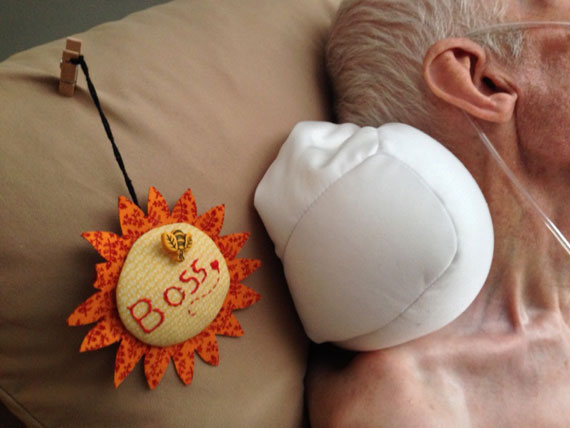 What did we learn through our journey with Dad?
1. If there is something that you want to do in life, do it. Don't wait.
2. Stay healthy and fit. A strong body will conquer better than a weak one any day.
3. Be aware of the services that are available to you. The moment that you think that you or your loved one could benefit from them, ask to receive. Do not delay thinking that service is for someone else. Don't think that it's not bad enough yet. It probably is bad enough and you need help!
4. Attend a local PSP support group.
5. Be a nimble caregiver. Every day is different, so keep an open mind to change. When what worked yesterday no longer does, don't beat yourself up. It is time to figure out what works today.
Seventeen years before his death, Dad had decided that he would donate his body to medical science. He had hopes that something would be learned from the donation. He used to say that the doctors would look at his body and exclaim, "Wow, look how they did it back then." He was referring to various surgeries that he had over the years. Instead the doctors probably said, "Wow, this fellow had PSP!"
Be confident that there are many more people out there than just my Dad who are trying to make a difference. They are working furiously to raise awareness, develop treatments and eventually find a cure.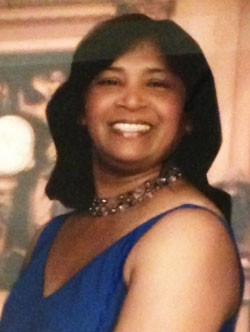 Subramany Family
Our Mother, Shakeela
The death of a loved one, whether it be a parent, child, sibling, general relative, or friend is always tragic. However, my brother, father, and I would contend that the death of a loved one suffering from the debilitating and disabling disorder known as progressive supranuclear palsy (PSP) is one in which no single word can fully describe. Over the last five years, we slowly watched as our mother and wife, Shakeela, a woman who was characterized as selfless, independent, expressive, and "the life of the party," became a prisoner of her own body. Before the onset of PSP, Shakeela spent the majority of her career in the field of magazine publishing and advertising, working for magazines such as Shape, Lucky, Vanity Fair and Playboy. As time elapsed however, and her PSP progressed and worsened, Shakeela was unable to read, recognize, and physically see the magazines that she spent much of her life improving. Sadly, Shakeela Subramany passed away on January 5, 2014.
Our journey with PSP began one day, approximately five years ago, as our mother expressed some concern over a lingering and consistent dizziness. After a routine visit to one of her neurologists, Shakeela was diagnosed with an inner ear infection, a condition that not only explained her dizziness, but a condition for which medication and time would help to alleviate such symptoms. However, as the days and weeks passed, Shakeela continued to report this "dizziness" and soon expressed an inability to read words off of a sheet of paper, whether it was from her monthly New York Times bestseller or her favorite gospel hymn book. Soon, our mother's primary care physician recommended outpatient vestibular therapy from the Rusk Rehabilitation Unit at NYU's Medical Center, in the hopes of strengthening her eye muscles and preventing further decline. During her therapy, we were referred to a neuro-ophthalmologist affiliated with NYU's Medical Center. At her appointment, it was clear that our mother was unable to move her eyes vertically, a condition which we learned was known as vertical gaze palsy. After this appointment, our mother was admitted to NYU Langone Medical Center for further testing, in the hopes of identifying and diagnosing her condition. After a five day stay, in which countless procedures and examinations were performed, Shakeela received a preliminary diagnosis of progressive supranuclear palsy; however, the neurologists on her case were hesitant to confirm the diagnosis until more testing was conducted. During her stay, our mother was levodopa responsive (Parkinson's medication), but that response was short-lived.
Shortly after our mother's first hospital stay ended, we were referred to a movement disorder specialist at NYU who was familiar with our mother's case and interested in testing for an autoimmune disorder based on Shak's lumbar puncture results. After five rounds of IVIG and no visible form of improvement, it was concluded that our mother did not have an autoimmune disorder. Before retreating back to the diagnosis of PSP, which now seemed like a diagnosis of exclusion, we were referred to an epilepsy specialist who was interested in reviewing our mother's case. In March 2011 (our second hospital stay), we spent a full week with our mother as she was examined and tested for epilepsy. Unfortunately, the results indicated that our mother did not have epilepsy.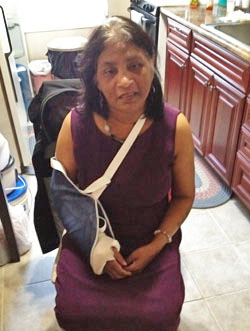 Over the next two years, with diagnosis after diagnosis being eliminated from our list of potential possibilities, we slowly found ourselves reaching a dead end. After bringing our mother and her case to several medical conferences, attended by renowned U.S. neurologists, one fact painfully became clear: our mother had PSP. The epilepsy specialist, who now took charge of our mother's case, ordered a PET scan of our mother's brain, which revealed results consistent to those of other individuals with PSP. Our way forward was to take any necessary steps to ensure our mother had the best quality of life possible. We were fortunate enough to have a renowned team of home health aides and physical and occupational therapists, who assisted our mother with all of her daily tasks, especially as her physical condition worsened. However, in the end there was nothing we could do to halt our mother's PSP progression and her declining physical and mental condition.
As the disorder became more apparent and progressed, our mother began to suffer from balance problems, muscle rigidity, eyelid abnormalities (towards the end she was unable to open her eyes), slurred speech, and swallowing difficulties. She suffered three major falls during her battle with PSP, all of which resulted in stitches and hospital visits. Sadly, the women we once knew as the life of the party or the advocate always looking to express her opinions turned into a quiet, shy introspect who had trouble collecting and expressing her thoughts and lacked the energy to do most daily things for herself. In the end, and looking back, the death of Shakeela is one that cannot be explained in one word, but if we could, we would say it is truly bittersweet – although our family is deeply saddened to have lost our matriarch, centerpiece, and backbone, we have some relief knowing that her physical self is no longer suffering and that her spiritual self is at peace and in a better place.
Our family would like to conclude by saying thank you to Dr. Fouladvand, Dr. Gilbert and Dr. Singh, the amazing neurologists who helped our family during this period, and Ms. Sandra, our guardian angel home health aide who cared for our mother during the majority of her battle with PSP.
The Healing Power of Art!
Bob Pitt's Journey With PSP
Robert Winn "Bob" Pitt knew he wanted to be an artist for as long as he has memory. As a three year old, living in Baltimore, Bob would communicate with his grandfather in Tennessee by mailing pictures that he had drawn. His grandfather, in turn, would send pictures back to Bob by mail. This was Bob's earliest recollection of using art as a form of self-expression.
After leaving high school in Baltimore, Bob's family moved back to his parents' home state of Tennessee. Not wanting to work at a factory like his father before him, Bob served a short stint in the Navy. After his discharge, he received a Bachelor of Fine Arts degree from Memphis Academy of Art. This degree launched his career in advertising. Bob's career as Art Director spanned three decades and took him from Nashville to Miami, then on to Atlanta, where he earned a Master of Visual Arts degree from Georgia State University.
During a successful career in Atlanta, he worked on national accounts that included Delta Airlines and Six Flags Over Georgia. Bob was known in commercial art circles as a respected creative talent, and worked with some of the country's largest advertising agencies, starting in the days recently dramatized by the AMC TV series, "Mad Men." During his tenure as an Art Director, Bob won many awards, including the prestigious CLIO Award. Despite his success in advertising, Bob's true passion has always been self expression through personal art projects. Bob's style of art has evolved and changed over the decades and has covered the spectrum from realism to surrealism and spans all mediums and styles.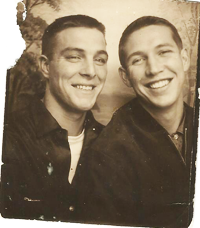 Amy Lardi
Paradise?
My story begins in paradise. I was born in Fort Lauderdale, Florida, we spent many days spent at the beach playing in the sand and sun. My dad, Caleb Blanton, was an ironworker and helped build many of the beautiful buildings you see along the oceanfront to this day. Dad would walk on four inch wide beams on skyscrapers with no difficulty. On his lunch break, he would dawn his snorkeling outfit and search for sharks. We were living in heaven on earth. On Saturdays when he was off work, he would go to the beach with us.  Each day at the beach, when it was time to leave, he would run us out to the water and dunk us to get all the sand off and then carry us to the car so as not to get any in his Volkswagen Bug. We were true Floridians. Ultimately, Dad had to move the family to Illinois for a job that promised a better life.
My dad was born in Harlan County, Kentucky. He was no stranger to the region's sometimes violent past – while pregnant with my father, my grandmother in her 7th month of pregnancy lost her husband to a gunshot meant for someone else.
Dad was a good father figure, providing for us and teaching his children how to change a tire or the oil. He was the kind of dad that you were afraid of, in a good way. I had respect for him and didn't want to disappoint him, so I tried to always do right. This gruff man also drove a Sunday School bus and would make sure the kids, usually unfortunate in their home life, had either candy or ice cream for the ride home. I wouldn't have turned out the same if Dad hadn't been that kind of person.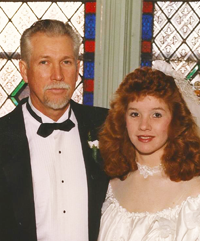 While visiting my brother in California in 2010, we got a call from my brother stating Dad had fallen a few times in the shower.  Afterward, mom starting noticing more falls.  They were never explained but remained nonetheless concerning. I searched the internet looking for a balance clinic, thinking he only needed some therapy. But alas, after our first visit with the doctor we were referred to a neurologist.  So we made an appointment with a neurologist in our area and, after a few tests, dad was referred to a movement disorder clinic in Chicago. After many doctors, we were lead to Rush Presbyterian in Chicago where he was finally diagnosed with progressive supranuclear palsy (PSP). We had never heard of the disease. What was it? And what did it mean for our lives? They gave us CurePSP's website – I remember going home, reading it, and crying, thinking about how awful my dad would have it. A man who had walked four inch beams 250 feet in the air was now being told he would no longer be able to walk without assistance. But Dad has continued to fight. Once an avid boxer in the Navy, he now pushes himself to continue lifting weights, albeit light ones. He has never been a quitter.
Six months after Dad was finally diagnosed with PSP, his wife, my mom, was diagnosed with Alzheimer's disease.  They both were at the same assisted-living facility, as having them both at home was getting to be too much. We had a dad with a mind as sharp as a tack and a broken body, and a mom with no mind and a body that could outdo most 20 year olds. Life became surreal. Even though I had a family of my own with a husband and three great kids, life as I knew it was changing.  I was losing my parents. What had happened?  My kids had grown to become young adults with their own lives. I thought I would have time to spend with Mom and Dad after my kids went their own ways. Over the next year or so, we eventually had to put Dad in the assisted-living apartment because helping him and chasing Mom was becoming too much for me. Dad remained in assisted-living until 2014, when his falls became more frequent. He didn't really want to be there once Mom passed away – it made him too sad. I had always told him he was welcome at our house anytime and he finally took me up on my offer after the staff at the facility stopped responding to his requests for assistance. So, Dad moved in and we hired help, mostly for the night time, so I could get some sleep as Dad gets up a lot. But during the day, it is just he and I. We are currently in the process of finding more morning caregivers to help with his bathing, as he wants to remain as dignified as possible with his daughters. I can't write this story without giving credit to my husband for helping the family through this. He has been an absolute necessary part of this and he does it all without question.
Mom passed away in March 2014. I miss her terribly, as does my dad. He continually says, "Why can't I just go home and be with Mom?" It breaks my heart.  As long as the Lord allows me, I will take care of him to the best of my ability. I love this man in such a way that I get mad at him, annoyed with him, and become his biggest cheerleader all in the same heartbeat. My mom loved this man with all her heart and I know I am doing exactly what she would want. I used to laughingly refer to them as Edith and Archie Bunker.  My story is for those who are still in the fight – giving them encouragement as I need it. Stay strong my friends! We will fight this awful thing together.