Richard Straub
by Dawn Straub-Poley
This is dedicated to my Dad, Richard Straub, who was a great man. Dad was always a hero to me, even when I was a young girl. I once left my doll on a rock pile on the beach in Michigan – Dad saved her for me. When I was a married woman, he tried to find a small diamond that fell out of my engagement ring in our yard. Dad was always there. He served as a driver whenever needed. He and my mother sat beside me while I was in the hospital waiting to have my son. He was, at times, a hard father, but loved all of us kids unconditionally.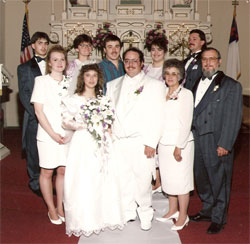 His heroism didn't stop before the disease – it continued on in the final years of his life during his journey with PSP. Though the diagnosis didn't come until the Spring of 2010, the journey began long before that.
Shortly after returning from a trip to Africa with my mom in March of 2005, he began having dizzy spells. After countless trips to various doctors and having many tests, they said he had calcium crystals in his ears and did different exercises for that. This dizziness kept progressing and he was falling down regularly. He began using a cane and, in the Summer of 2005, he decided stop driving. Dad had always been a hard working, active man and would be seen working in his yard, splitting wood and hauling junk to the scrap yard; so the decision not to drive was a difficult one, despite being necessary.
After more trips to various doctors and having more tests run, he was diagnosed with Parkinsonism in 2007. He was put on medicine to remedy those symptoms, which helped for a while, but kept needing the dosage increased. At this time, he started using a walker.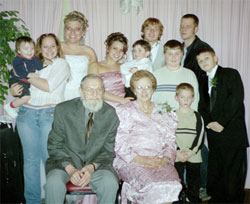 In July of 2009, he fell so hard and often that he had to receive staples and stitches in his head five times. By July of 2009, he was wearing a bicycle helmet to prevent head injuries. This helped, but he still fell often and ended up bruising his hip (he never broke any bones). It was so badly bruised that he was having a hard time walking and moving around. In August of 2009, I asked if he wanted use his wheelchair so his hip could heal (which we kept in the van for places requiring a lot of walking). Dad said yes, and never went back to the walker.
Eventually, the doctors said that he was progressing too fast for it to be Parkinson's disease, so Dad was sent to another doctor who, in the Spring of 2010, delivered a diagnosis of PSP. This was difficult news to hear; but at least we would now have an idea of what we're all dealing with.
After that, the progression became unbelievable.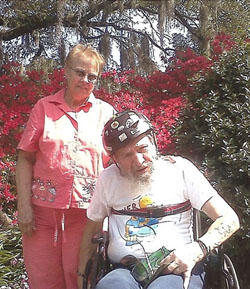 Dad leaned drastically to the right and eventually had to have a belt around him in his wheelchair so he didn't fall out of it.
His vision was also greatly affected and he had trouble focusing. His eyelids weren't closing properly and his eye doctor suggested that he may need to have his eyelids sewn partially shut, as he was having trouble with his eyes drying out, which would lead to increased vision loss.
His swallowing became affected and he had several choking episodes. In October of 2010, he developed aspiration pneumonia and was hospitalized for a week. He then had to have a thickening agent added to his beverages and was confined to eating very soft foods.
We knew that the time for a feeding tube would be coming. Dad and Mom decided to go to Florida for another winter and would move forward with the feeding tube in the Spring of 2011.
Dad required a great deal of help and assistance and Mom was by far the best caregiver for him. Dad's ability to do things for himself diminished considerably. He couldn't feed himself and needed help getting dressed and bathed. Dad would always just want Mom to help him with his bathing and dressing needs, but in September of 2010 he began allowing me to help him. He didn't like that his daughter was helping him, but he did accept it with open arms and a smile.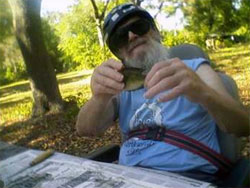 Dad's speech was affected badly and, as the stages progressed, it was very difficult to understand what he was saying – his thought process slowed way down. Each stage of the disease gave him a new set of frustrations. Dad wasn't afraid to show his frustration – it was difficult to get him to accept that things couldn't be done the way he would normally like them to be. Dad also got very frustrated when people couldn't understand what he was trying to say.
On his 70th Birthday (April 14, 2011), and he and Mom started back from their winter in Florida and stopped in Alabama for the night. After dinner he began choking. Mom tried doing the Heimlich, but it didn't work. My Uncle tried chest compressions and was able to get him breathing again. Dad had lost consciousness and went into cardiac arrest in the ambulance and was put on a respirator. He was taken to the hospital in Huntsville, Alabama. Mom called me right away and kept me posted throughout the night. I felt so helpless with them being so far away, I would always be there for my parents in a heartbeat and this night I couldn't. The next day, my husband, my siblings and I decided to make the grueling 10 hour drive. Tests were performed but Dad wasn't responding or regaining consciousness – the EEG showed extensive brain damage. Two days later, on April 16, 2011, we agreed to take Dad off the respirator – he passed away that evening at 7:15pm.

His journey and battle had finally come to an end and he was finally cured from this horrible disease. Dad fought a good fight against PSP, as he did with any illness or disease that he encountered in his life. Losing my dad has been the worst thing that I've ever been through, and not a day goes by that I don't think of him and miss him terribly. After watching him fight his battle with PSP, I'm thankful that Dad no longer has to suffer.
I pray that there will eventually be a cure for PSP so that the patient doesn't have to suffer – so that they can live their life with dignity while maintaining a sense of self-worth – so the families don't have to watch them go through so much suffering.