Inspired by Her Husband's PSP, Loudonville Woman Wins Art Award
By JIM BREWER, Published in the Times-Gazette, July 28, 2017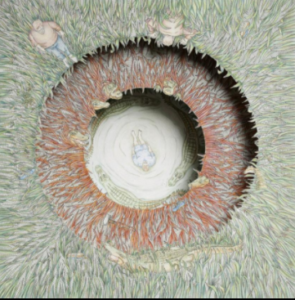 LOUDONVILLE — Just recently, Janet Marsano, of rural Loudonville, received an Award of Excellence for her intricate layered drawing depicting her husband's plight; He suffered from a condition called Progressive Supranuclear Palsy (PSP) that took his life in May 2016.
Marsano teaches grades 8-12 at the Danville Local Schools. Her late husband, Mark Bokenkamp, was an artist blacksmith, whose works included forged iron chandeliers, driveway gates, railings and window and door hardware. His shop is located in a building on the Bokenkamp property, but his work took him all over the country to finish and install. One of his works was a spiral staircase fashioned for a mansion in Carmel-by-the-Sea, California. That career was tragically interrupted in fall 2014, when he inexplicably suffered irregular losses of vision and, even stranger for a person who always had an impeccable sense of balance, began falling down.
Marsano said her husband was ultimately diagnosed with PSP, a rare progressive neurologic disorder that could not be cured, only managed. She noted, "Mark's condition was not much different than the disorder suffered by Jim Lingenfelter, former president of the Farmers and Savings Bank of Loudonville. Their conditions were similar, only Jim's was much rarer," Marsano said.
Mark, because of his condition, was no longer able to work, but tried to live as normal a life as possible. One day Janet came home to find him seated on the couch, obviously disoriented. It turned out he had fallen in the basement and hit his head on the concrete floor. He was able to crawl back upstairs to the couch. She called the emergency squad that took him to MedCentral Mansfield Hospital. He died there three days later, on May 6, 2016.
Marsano has been working on various art works her entire lifetime. Born in Boston, she moved with her family (five siblings) to Crestline at a very young age. After graduating from high school in 1975, she attended The Ohio State University, earning a Bachelor of Fine Arts in 1979. She returned to OSU to pursue a master's degree in jewelry and metalsmithing. As a graduate student Marsano taught classes in the jewelry department. After earning her Master's of Fine Art in jewelry with an emphasis on enameling she taught as a visiting lecturer at OSU.
"To this day I am the only Ohio State student to earn a Masters of Fine Art in those specialties," she said. She was later employed as a goldsmith at The Diamond Cellar and at Jack Seibert's Goldsmith and Jewelers both in Columbus.
Mark came to Ohio from Illinois in the '70s to work as the first blacksmith at the Ohio Historical Village in Columbus. They met several years later when she was a grad student and Mark was teaching a blacksmithing course at OSU. They were married in 1992. Their twin daughters were born in the '90s, and they moved to the Loudonville area after living and working in Powell.
"We had considered moving to Montana," Janet said. "Even made a trip there to look at areas around Bozeman. I did not want to be so far from family if we were going to start our own. Mark said he would live in Ohio if I could find a place as beautiful as Montana. I wanted to come to this area to be close to the girls' grandparents in Crestline, and I found our home, on a hillside overlooking Hanover Township Road 959 that he agreed was as scenic as Montana."
The twins, Annalise and Katherine, graduated from Loudonville High School as co-valedictorians in the class of 2011. Katherine earned a degree in music, voice, from the University of Illinois, there because of Mark's family influence, and now plays in a band in Chicago.
Annalise still is a student, working on a second master's degree, this one in wildlife biology, from the University of Glasgow in Scotland. She plans to continue living in Scotland. She earned her bachelor's degree, as well as learned how to play the bagpipes, perhaps an influence that led her to Scotland, at Macalester College in St. Paul, Minnesota.
Janet began teaching at Danville in 2002, after working, very inconveniently, for several years commuting to Columbus as a jewelry store goldsmith while she had two very young children back in rural Loudonville.
Janet's award-winning piece of art is titled "In the Lake of Very Bad Dreams," and depicts Mark in a lake, surrounded by swarming alligators. In the background are several personal items of Mark's, his forging hammer and the tennis shoes he was wearing the day of the fall that led to his death. The haunting image was intricately drawn with pen and ink and polychrome colored pencils, with several layers, including the lake, the shore around it, and the world around it in the first layer. The alligators are hidden in the grass suggesting potential danger. The drawing was first displayed at the Ohio Craft Museum in Columbus, and is now at The Southern Ohio Museum and Cultural Center in Portsmouth. The traveling exhibit ends in September.