Join Team CurePSP in 2024!
Team CurePSP started in 2023 with five members of our community running the TCS New York City Marathon. We're excited to expand our race offerings in 2024 and give additional supporters the opportunity to be a part of this special initiative! Put meaning to your miles by running for Team CurePSP. All funds raised will go directly towards our mission of raising awareness, building community, improving care and finding a cure for progressive supranuclear palsy (PSP), corticobasal degeneration (CBD) and multiple system atrophy (MSA). As a part of the team, you'll receive fundraising support, a customizable fundraising page, Team CurePSP swag and access to online communities to interact with other team members. 
I'm interested! What do I do next?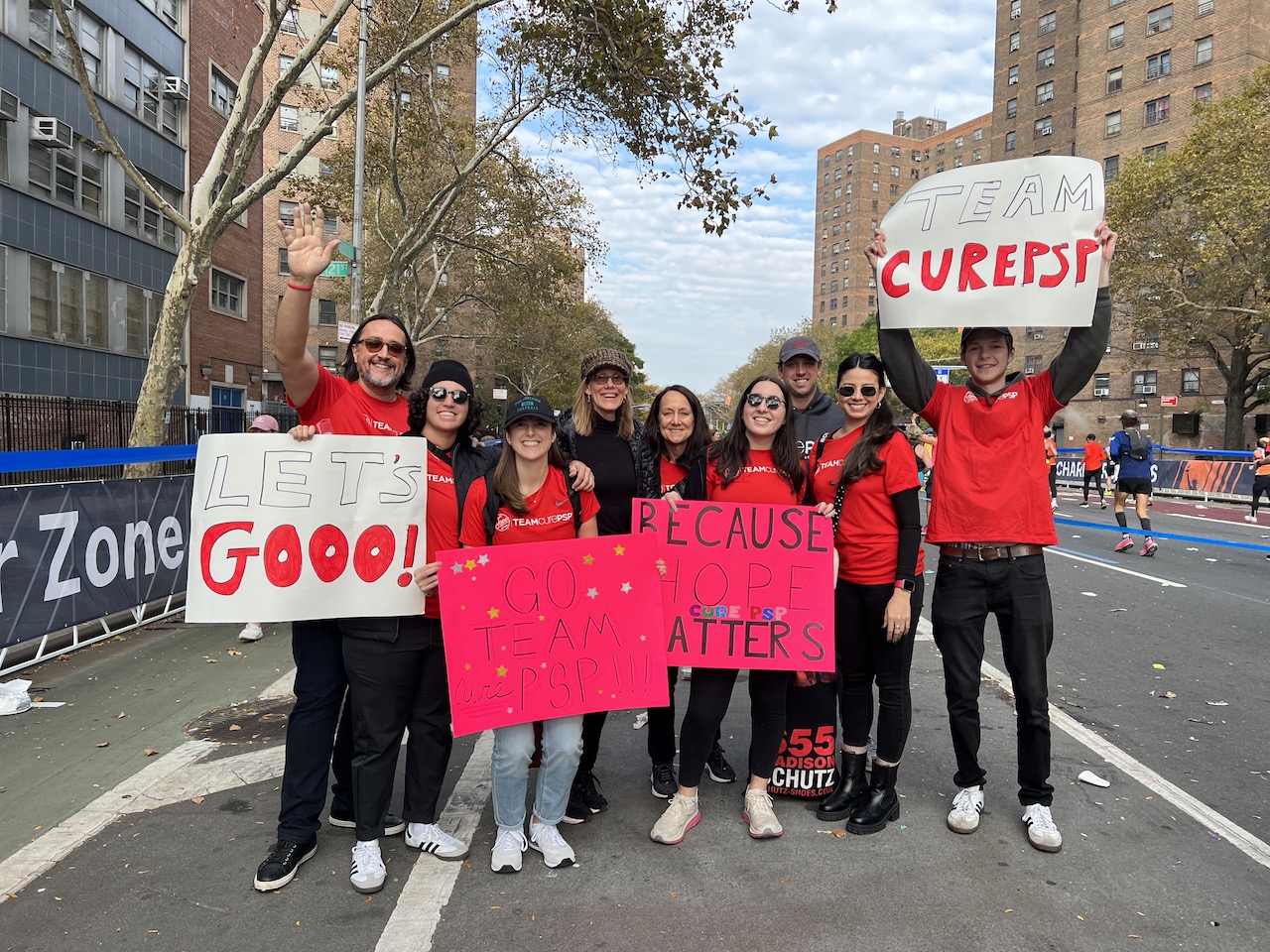 View our full list of race offerings below and review the fundraising requirements and application timelines. Then, either fill out the application for your preferred race or, if the application hasn't opened yet, fill out the interest form to be added to our communications list for our 2024 races! Please note that filling out the interest form does not guarantee you a spot on our team nor exempt you from the application process once it becomes available for your preferred race(s).
Frequently Asked Questions
How much do I have to raise to be a part of Team CurePSP? Our fundraising minimums depend on the race. For the United Airlines NYC Half, the minimum is $2,500 while for the TCS New York City Marathon, the minimum is $4,000. When runners sign their agreement forms, they're guaranteeing that they'll raise at least this amount before the set deadline. If you want to run your own race outside of our offerings, there is no set fundraising minimum. However, you receive additional perks if you raise at least $500!
What if I don't raise the minimum fundraising amount by the deadline? If this happens, you are responsible for covering the remaining amount to hit the fundraising minimum.
Do you cover travel and lodging expenses? No, we only provide the items listed under each race above. You are responsible for coordinating and paying for your own travel and lodging. We also do not provide room blocks.
How do I collect donations? Once you're officially a part of Team CurePSP, you'll receive instructions on how to create your customizable fundraising page using our fundraising platform, Classy. Your supporters will be able to donate on this page to help you reach your goal! As always, we also accept checks that are sent to our New York City office.
What if I can't run the race anymore? The cancellation clauses differ based on the race and whether you've already reached your minimum fundraising amount. For most, you will be able to defer your spot to next year's race as long as you've reached the minimum and have cancelled before the set deadline. Your runner agreement will go over this process in detail.
For additional questions about Team CurePSP, please reach out to Christine Cassimatis at cassimatis@curepsp.org.