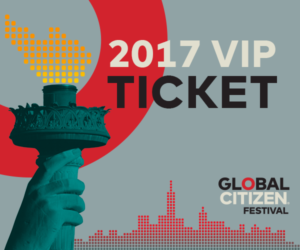 With thanks to Global Citizen, CurePSP has two tickets for sale to the Ultimate VIP section of the Global Citizen Festival, Sept. 23, Great Lawn, Central park.
Headlining the festival is Stevie Wonder, with other acts including The Killers, Green Day, The Lumineers, and more. 
The Ultimate VIP Tickets are available at their regular retail price of $2,500 with 100% of the sale price going to our mission of care, consciousness and cure of prime of life brain disease.
To get your ticket, please call our donations officer, Kelly Saunders, at 443-578-5670.
Ultimate VIP tickets provide the following beneifts to the holder:
– One (1) Ultimate Fast Pass for priority check-in and entrance per ticket
– General Admission into the Ultimate VIP Front Row Admission Area
– Access to the Ultimate Hospitality Tent:
– High-end hors d'oeuvres/dessert selections
– Complimentary wine, beer, assorted soft drink, coffee/tea selections
– Private restroom facilities
– High definition TV screens
– Limited comfortable couch/table seating
– Onsite Ultimate Concierge staff