Family Conferences
Among its various educational activities, CurePSP sponsors and organizes family conferences across the country, providing people with the opportunity to learn more about PSP, CBD and MSA and to develop a sense of community. We recognize that these diseases present daily challenges for patients and families.
The conferences include various speakers with in-the-field expertise - neurologists and movement disorder specialists who work directly with patients and their families. These experts address issues related to day-to-day life including the best ways to manage symptoms, the impact of the diseases on the family, and how to cultivate perspective of meaning and joy despite the struggles of the disease.
In addition to the educational facts learned during the session, patients, caregivers, and families learn that they are not alone. Attendees leave the meeting having forged new friendships in the PSP, CBD and MSA communities.
CurePSP strives to meet the needs of those who attend our conferences and actively seeks feedback to improve future programs. We place great value in identifying the topics or speakers that are of the greatest interest to attendees.
2015 Canadian Family Conference
Saturday, June 13, 2015
The Southway Hotel
Ottawa, Ontario
Our 2015 Canadian Family Conference is geared toward patients, carepartners, and families who are dealing with PSP, CBD and MSA. Presenters will be experts in the field of movement disorders and will speak about all three diseases. There will be updates on the latest research and discussion of the psychological aspects of the diseases. Also, allied healthcare professionals (PT, OT, SLP) will discuss techniques and therapies aimed at improving the quality of day-to-day life. Topics will include:
PSP/CBD/MSA - Understanding the Diseases and Latest Research
Q&A with Movement Disorder Specialists
Practical Management of Symptoms
Cognitive and Psychological Challenges
Maximizing Support Systems

REGISTRATION
Registration is $30.00 per person and includes access to all educational sessions, continental breakfast, lunch buffet, and afternoon snacks. Sign up using our online registration form or contact Kimberly Anderson at 800-457-4777, x5668 or anderson@curepsp.org. Space is limited, so be sure to register today!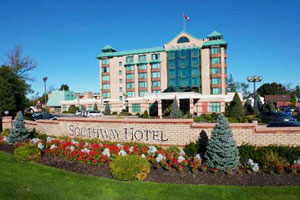 HOTEL INFORMATION
The Southway Hotel
2431 Bank Street
Ottawa, ON
K1V 8R9, Canada
Tel: 613-737-0811
There are a limited amount of rooms reserved at a discounted rate for conference attendees. A small number of handicap-accessible rooms are available, as well. Please be sure to make your accommodations early!



---
Past Event - 2015 Southeastern Family Conference