Family Conferences
Among its various educational activities, CurePSP sponsors and organizes family conferences across the country, providing people with the opportunity to learn more about PSP, CBD and MSA and to develop a sense of community. We recognize that these diseases present daily challenges for patients and families.
The conferences include various speakers with in-the-field expertise - neurologists and movement disorder specialists who work directly with patients and their families. These experts address issues related to day-to-day life including the best ways to manage symptoms, the impact of the diseases on the family, and how to cultivate perspective of meaning and joy despite the struggles of the disease.
In addition to the educational facts learned during the session, patients, caregivers, and families learn that they are not alone. Attendees leave the meeting having forged new friendships in the PSP, CBD and MSA communities.
CurePSP strives to meet the needs of those who attend our conferences and actively seeks feedback to improve future programs. We place great value in identifying the topics or speakers that are of the greatest interest to attendees.
2015 Canadian Family Conference
Saturday, June 13, 2015
8:30am - 4:00pm
The Southway Hotel
Ottawa, Ontario
Our 2015 Canadian Family Conference is geared toward patients, carepartners, and families who are dealing with PSP, CBD and MSA. Presenters will be experts in the field of movement disorders and will speak about all three diseases. There will be updates on the latest research and discussion of the psychological aspects of the diseases. Allied healthcare professionals (PT, OT, SLP) will discuss techniques and therapies aimed at improving the quality of day-to-day life.
Also, there will be a support group meeting the night before the conference, Friday, June 12, 7:00pm-8:30pm, at the Southway Hotel. This is a great opportunity to meet other people, discuss problems, and find solutions. Leaders of the support groups in Ontario will be in attendance, as well as members of the CurePSP Canada Board of Directors.

SPEAKERS

Understanding PSP, CBD and MSA
John Porter, MD, FRCM
Neurology and Pain Consultants
Dr. Porter attended Queens University and graduated with the Lillian Zbar Prize in Medicine. He interned at Toronto Western Hospital and went on to neurological training at the University of Colorado Medical Center, where he received his movement disorder training from Dr. Margaret M. Hoehn, a native of Vancouver and seminal researcher in the field of Parkinson's disease. More than 40 years of experience has made Dr. Porter a highly sought after second opinion clinician in neurology and movement disorders. His clinical interests also extend to multiple sclerosis and migraine.


Directions of Current and Future Research
David Grimes, MD, FRCPC
The Ottawa Hospital
Dr. Grimes is the Director of the Parkinson's Disease and Movement Disorders Clinic at The Ottawa Hospital. He is the Chair and Chief of the Division of Neurology and an Associate Professor of Medicine at the University of Ottawa. His research interests are in the genetics and clinical studies of movement disorders. His clinical focus is in the diagnosis and treatment of a wide variety of movement disorders.



Methods to Improve Everyday Life
Joellyn Fox, DPT
Hospital of the University of Pennsylvania
Ms. Fox is a physical therapist at the Dan Aaron Parkinson's Rehabilitation Center in Philadelphia. She graduated from Lehigh University with a Bachelor's in Biology and Psychology and then earned her DPT from Temple University. Ms. Fox has more than a decade of professional experience within the University of Pennsylvania Health System. Her professional accreditations include: ATTP Clinician Trained, LSVT BIG certification, Parkinson's Wellness and Recovery (PWR!) certification and Rock Steady Boxing certification.


How to Manage Constant Change
Trish Caruana, MSW
CurePSP
Ms. Caruana received her Master's in Social Work at the University of Maryland and worked as a senior clinical manager at the Johns Hopkins Hospital in the Department of Psychiatry and Neurosciences. She has extensive experience in the field of mental health and the effects of chronic illness on patients and their families. As CurePSP's Executive Vice President, she has created new programming and broadened the reach of education and support services to patients, carepartners and healthcare professionals. She is also spearheading the development of CurePSP Canada.

Working with Communication and Swallowing Problems
Agathe Rhéaume, MSc, Reg. CASLPO
University of Ottawa
Ms. Rhéaume works both as a clinician and a part-time professor at the University of Ottawa's Audiology and Speech-Language Pathology Master's Program. In her 23 years of practice, she has worked exclusively with adults who have various neurological disorders. Her focus has been to help her clients and their significant others to deal with changes in both communication and swallowing, while allowing them to maintain dignity and an acceptable level of quality of life.




REGISTRATION
Registration is $30.00 per person and includes access to all educational sessions, continental breakfast, lunch buffet, and afternoon snacks. Sign up using our online registration form or contact Kimberly Anderson at 800-457-4777, x5668 or anderson@curepsp.org. Space is limited, so be sure to register today!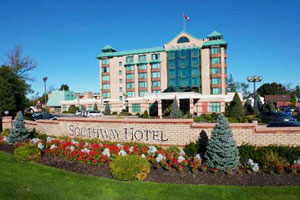 HOTEL INFORMATION
The Southway Hotel
2431 Bank Street
Ottawa, ON
K1V 8R9, Canada
Tel: 613-737-0811
There are a limited amount of rooms reserved at a discounted rate for conference attendees. A small number of handicap-accessible rooms are available, as well. May 1, 2015 Update: The Southway Hotel is at capacity. Here are alternative hotel options for attendees.



---
Past Event - 2015 Southeastern Family Conference