September 9, 2013
FOR IMMEDIATE RELEASE
Contact: Bruce Janele, 800-457-4777
janele@curepsp.org
Patricia Richardson Elected to Three SAG-AFTRA Positions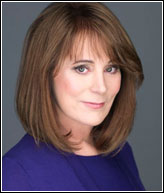 TIMONIUM, Maryland, September 9, 2013 - Actress and CurePSP National Spokesperson Patricia Richardson has been elected to three different positions with the Screen Actors Guild - American Federation of Television and Radio Artists (SAG-AFTRA). Ms. Richardson will serve as a Member of the national Board of Directors, a Member of the local Los Angeles Board of Directors, and a Delegate to the inaugural Convention of the newly-merged organization.
SAG-AFTRA represents more than 165,000 actors, announcers, broadcasters journalists, dancers, DJs, news writers, news editors, program hosts, puppeteers, recording artists, singers, stunt performers, voiceover artists and other media professionals. SAG-AFTRA members are the faces and voices that entertain and inform America and the world.
"I'm very honored to be able to serve SAG-AFTRA," said Ms. Richardson. "I've been a member of SAG for 38 years and it has allowed me to make a living in the business - serving is a way to give back. Production companies used to fly actors to a set and then leave them to find their own way home, there used to be no rules about time off between shifts. Without the work of SAG-AFTRA, entertainers would not have a lot of the same workplace protections that many Americans benefit from," she said. "Today, it is even tougher to make a decent living on acting alone, unless you're a star. I know many younger people who have chosen acting as a profession, including one of my sons who is considering it, and I want to make sure they will have the rights they need to make a decent living."
"Patricia has been a tremendous resource and source of strength and wisdom for our patients and caregivers who have struggled with neurodegenerative brain disease," said Dr. Richard Gordon Zyne, Presient-CEO of CurePSP. "As our National Spokesperson for the past six years, she has conveyed the message of hope to all those suffering with progressive supranuclear palsy, corticobasal degeneration and related disorders. On behalf of the staff and board, I want to congratulate her on being elected to this important position."
# # #
CurePSP is the foremost non-profit organization dedicated to increasing awareness of progressive supranuclear palsy (PSP), corticobasal degeneration (CBD), and other atypical Parkinsonian disorders; funding research toward treatment, cure and prevention; educating healthcare professionals; and providing support, information and hope for affected persons and their families.