OCT 28, 2016 International Research Symposium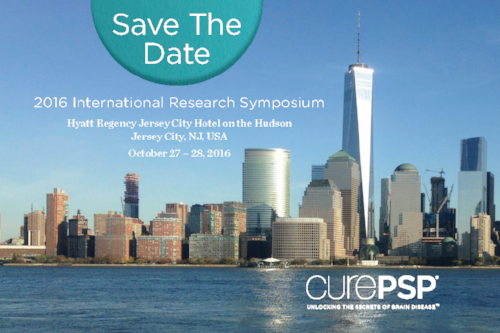 CurePSP conducts an annual International Research Symposium to facilitate dissemination of advances in the fields of PSP, CBD, MSA, and related brain diseases. This symposium highlights research by CurePSP grantees and is open to all researchers interested in clinical and basic studies of PSP, CBD, and related tauopathies. The Research Symposium also assists the Scientific Advisory Board in identifying work of exceptional promise, which may then be considered for additional funding.
Register
Register HERE for the 2016 International Research Symposium.
(Attendance is free).
Reserve A Room
2016 International Research Symposium is being held at:
The Hyatt Regency Jersey City on the Hudson,
2 Exchange Place Jersey City, NJ 07302 
For discounted overnight reservations:  CurePSP at the Hyatt Regency
More information: Hyatt Regency Fact Sheet
Easy access from the New York Waterway Ferry, PATH train, and New Jersey Turnpike.
Preliminary Agenda
Thursday, October 27, 2016
Reception: 7:00 pm - 9:00 pm, Liberty Prime Steakhouse, 111 Montgomery St, Jersey City, NJ 07302
Symposium Agenda
Registration;   7:30am – 8:15am  
Welcome and Introductions;   8:15am – 8:30am   
William R. McFarland; Chair, Board of Directors, CurePSP
Alexander Klein; VP of Scientific Affairs, CurePSP
Jeff Friedman; Managing Director of the PSP Genetics Consortium and CurePSP Board Member (USA)
Keynote;   8:30am – 9:10am
Justin Ichida, University of Southern California, Los Angeles, CA (USA)
CurePSP Grantee;   9:15 - 9:40 am
Characterization of Tau and Its Pathology in Oligodendrocytes Derived from Induced Pluripotent Stem Cells from Patients with PSP-like Phenotype 
Ragnhildur Thora Karadottir & Co-PI Maria Grazia Spillantini, University of Cambridge, London (UK)
CurePSP Grantee;   9:40am - 10:05am
Specific Targeting of PSP Brain-Derived Tau Oligomers
Rakez Kayed, University of Texas at Galveston, Galveston, TX (USA)
Networking Coffee Break;   10:05am - 10:25am
Keynote;   10:25am - 11:10am
Human Stem Cell Studies of Tauopathy 
Sally Temple, Neural Stem Cell Institute, Rensselaer, NY (USA)
CurePSP Grantee;   11:10am- 11:35am
Elucidating PSP Genotype-Phenotype Relationships Using Human Isogenic iPSCs
​John Steele, Humboldt University, Eureka, CA (USA)
FTD Disorders Registry Update;   11:35am - 12:00pm
Dianna Wheaton, Director of FTD Disorders Registry, The Association for Frontotemporal Degeneration (USA)
Networking Lunch;  12:00pm - 1:00pm
PEP- Clinical Trials Update;   1:00pm - 2:00pm
Trish Caruana, President and CEO of Patient Engagement Program – A Service of CurePSP, New York, NY (USA)
New Diagnostic Criteria of PSP;    2:00pm - 2:30pm
Lawrence Golbe, Rutgers University, New Brunswick, NJ (USA)
Keynote;   2:30pm - 3:15pm
Propagation and Clearance: Consequences and Therapeutic Opportunities
Karen Duff, Columbia University, New York, NY (USA)
Networking Coffee Break;   3:15pm - 3:35pm
Brain Bank Update;   3:35pm - 4:00pm
Dennis W. Dickson, Mayo Clinic, Jacksonville, FL (USA)
PSP Genetics Consortium Update;   4:00pm - 5:00pm
Jeffrey Friedman, Managing Director of the PSP Genetics Consortium and CurePSP Board Member (USA)
Gerard D. Schellenberg, University of Pennsylvania, Philadelphia, PA (USA)
CurePSP Grantee;   5:00pm - 5:25pm
Understanding the Relative Contributions of Genetic Risk Factors in PSP
Aimee Kao, University of California San Francisco, San Francisco, CA (USA)
CurePSP Grantee;   5:20pm - 5:50pm
MOBP, STX6 & EIF2AK3 Expression and Distribution in PSP Brains
Rohan de Silva, University College London, London (UK) 
Closing Remarks & Poster Prize;   5:50pm - 6:00pm
David Kemp, President of CurePSP
Poster Session & Cocktail Party;   6:00pm - 8:00pm
Poster Submissions
The poster dimensions should be 3 ft x 5 ft (0.91 meters x 1.52 meters), formatted as a one page Word format (font size Arial 12) with normal margins. Submissions are due by September 15th in order to make it into the program and can be sent to Dr. Alex Klein at Klein@curepsp.org
Sponsorship Opportunities