Research Symposium
CurePSP (Foundation for PSP | CBD and Related Brain Diseases) conducts an annual Research Symposium to facilitate dissemination of advances in the fields of PSP, CBD and related brain diseases. This annual symposium highlights research by CurePSP grantees and will be open to all researchers interested in clinical and basic studies of PSP, CBD, and related tauopathies.
The Symposium also assists the Foundation's Scientific Advisory Board in identifying work of exceptional promise, which may then be considered for additional funding.
2013 International Research Symposium
The following event synopsis was provided by Dr. Lawrence Golbe: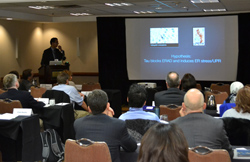 A feeling of progress was in the air as leading research scientists working in PSP and CBD met for a day to report new results, exchange ideas and form new collaborations as CurePSP held its annual Research Symposium in Baltimore on Saturday, November 23, 2013.
Five researchers whose CurePSP-supported projects reached completion over the past year presented their new findings. Ulrich Müller, PhD, a geneticist at University Hospital in Marburg, Germany presented results of his study of epigenetics in PSP, a phenomenon where DNA is altered not by changing the order of its genetic code, but by attaching small chemicals. T. Chris Gamblin, PhD of the University of Kansas showed how the roundworm (Caenorhabditis elegans) and a type of fungus (Aspergillus nidulans) can, after genetic engineering, serve as laboratory models of tau disorders such as PSP. José Santiago, MS of Rosalind Franklin University of Medicine and Science in Philadelphia discussed his progress in using RNA in blood as a diagnostic test for PSP. Michael DeTure, PhD of the Mayo Clinic Jacksonville showed the potential for a PSP vaccine directed against a combination of tau protein fragments and "heat shock protein," which is produced in response to abnormal tau. José Abisambra, PhD of the University of Kentucky showed the relationship between tau protein and PERK, a protein whose gene was recently implicated in the cause of PSP and that is involved in disposing of defective tau.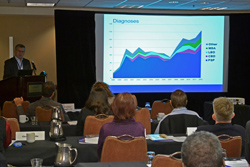 Three invited speakers who were world leaders in their fields discussed their work. The featured keynote speaker was Kurt R. Brunden, PhD of the University of Pennsylvania, who discussed his work in developing a new class of drug for PSP and other tau-based brain disorders. Gerard D. Schellenberg, PhD, a leading neurogeneticist at the University of Pennsylvania, discussed preliminary results of his project to sequence critical regions of the genomes of people with PSP. Dennis W. Dickson, MD of the Mayo Clinic Jacksonville and the director of CurePSP's Eloise Troxel Brain Bank, updated the audience on the many projects that the brain tissue and DNA samples from the Brain Bank have made possible.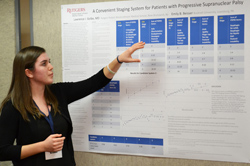 Among the day's highlights were the three presentations of research that had been submitted for presentation as posters. One was presented by Christof Wiessner, PhD, a scientist at Asceneuron, a Swiss biotech firm that is developing inhibitors of an enzyme called "O-linked β-N-acetylglucosaminidase" or "O-GlcNAcase," which breaks down a chemical that enhances abnormal tau activity and may enter human trials in 2015. Another poster, presented by Emily B. Beisser, an undergraduate at Bucknell University, discussed the first validated PSP Staging System, developed with Lawrence I. Golbe, MD of Rutgers Robert Wood Johnson Medical School. The third poster, presented by Naomi Kouri, a graduate student at Mayo Clinic Jacksonville who collaborated with Garret Wilson, Gerard Schellenberg and Dennis Dickson, demonstrated how a new digital microscopic image analyzer can be used to quantify tau abnormalities in brain tissue that can then be correlated with genetic analysis in the same individuals.
In the symposium finale, Dr. Golbe, who directed the symposium, led the attendees in a critical discussion of CurePSP's Research Roadmap. He then announced that next year's symposium, on October 17 and 18, 2014, will be a special two-day celebration of the 50th anniversary of the first description of PSP by Drs. Steele, Richardson and Olszewski of Toronto. We have indeed come far since then, but we surely have more work to do.
Presentation slides are available below:
Epigenetic Analysis of PSP
Ulrich Müller, MD, PhD, University Hospital Giessen & Marburg
Update on PSP/CBD Genetics and Preliminary Results of a Whole-Exome Analysis
Gerard D. Schellenberg, PhD, University of Pennsylvania
Models to Determine the Toxicity of Tau Aggregates
T. Chris Gamblin, PhD, University of Kansas
Risk Markers for PSP
José Santiago, MS (for Judith Potashkin, PhD), Rosalind Franklin University of Medicine and Science
HSP-Peptide Complexes Mediate Immunization in a Mouse Model of Tauopathy
Michael DeTure, PhD, Mayo Clinic
Mechanisms of Tau and ER Stress for Novel PSP and CBD Therapeutics
José F. Abisambra, PhD, University of Kentucky
Development of New Microtubule Stabilizers for Tauopathies (keynote)
Kurt R. Brunden, PhD, University of Pennsylvania
Brain Bank Research Update
Dennis W. Dickson, MD, Mayo Clinic
Interactive CurePSP Research Roadmap Workshop: Are We on the Right Track?
Lawrence Golbe, MD, Rutgers Robert Wood Johnson Medical School