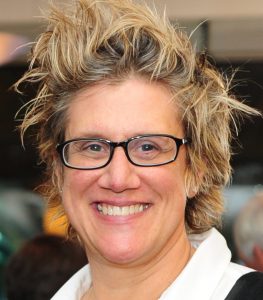 In this article, Trish Caruana, Vice President – Patient and Carepartner Advocacy explains what advocacy is, and the common hurdles people face when considering advocacy.
Care, consciousness and cure are central to the mission of CurePSP, but how we advocate for people with PSP and other prime of life diseases is also important. The lack of understanding in the medical community and the population in general is often a source of pain and frustration to all those affected, but the idea of advocacy, especially when related to rare disease, is also difficult for many people.
Perhaps because advocacy can be a lofty and poorly defined concept – perhaps the idea seems too time consuming and difficult, or maybe we don't feel knowledgeable enough to become an advocate. Not all people are comfortable or confident putting their opinions forward or "fighting the good fight."
Despite these challenges, advocacy is critical to raising awareness about these diseases and advancing policies related to services and benefits for those who are suffering.
What is advocacy?
Advocacy is a way to channel your passion and frustration into action. To become an advocate is to lend your voice for the rights of those who are suffering from the diseases and their loved ones who suffer with them.   There are many ways to get involved, with various levels of commitment. You can work alone from your computer keeping up to date and sharing local, state and national policies that affect the rare disease community, join with others to meet with your political representatives, or any level of activity between the two. We all have talents and ideas and our voices matter.
There is a secondary benefit to becoming an advocate: you will become part of a community with all of those who are suffering with rare diseases and experience the power of creating a united voice. You have an important place at the table and the momentum of the broader rare disease community will inspire you.
Below are some of the primary goals of the Rare Action Network (rarediseases.org):
Build a unified state and local network of rare disease advocates who can take action on issues impacting patients with rare diseases
Increase awareness among local healthcare policy and decision makers of the challenges faced by the rare disease community
Address specific legislation related to access and coverage for essential medical therapies
If you're interested in becoming an advocacy volunteer with CurePSP, or joining a small committee tasked with defining objectives and an action plan, please contact our office manager, Joanna Teters at teters@curepsp.org or 347-294-2871.
Alternatively, you can reach me at caruana@curepsp.org for more information.