Educational Resources
A key part of CurePSP's pillars of care, consciousness and cure is to provide educational information on PSP, CBD and MSA. These resources are for anyone seeking to educate themselves about the symptoms, trajectory, treatments, and management of these diagnoses. 
The CurePSP Guidebook
We are proud to bring you the CurePSP Guidebook. This signature publication features 150 pages of the latest information on PSP, CBD, and MSA and is a comprehensive reference for patients, family, carepartners, and health professionals.
Click here to view a digital version of CurePSP Guidebook
To receive a printed copy of the Guidebook, contact Kelsey Woods at 443-578-5667 or woods@curepsp.org.
Assistive Devices and Adaptive Equipment
CurePSP has collected the following suggestions for assistive devices and adaptive equipment from patients and families experiencing neurodegenerative diseases. While we hope you find these suggestions useful in your journey, none of  CurePSP, its employees, officers or directors, has made any investigation of the suggestions made or products mentioned below.
Brochure Catalogue
Thanks to the support of our donors, these brochures and educational pieces are available upon request, at no cost, and are suitable for public and healthcare professionals. To browse and order our bundle packets, click Information Packets below. Click on the images to find the online version to read, download or print.
Patient and Family Information Packets
Healthcare Professionals Information Packets
Best Practices in the Clinical Management of PSP and CBD
Frontiers in Neurology published a groundbreaking guide to best practices in the clinical management of progressive supranuclear palsy (PSP) and corticobasal syndrome (CBS) created under the auspices of CurePSP by the directors of its 25 Centers of Care and collaborators from their institutions. The guide was drafted by 37 top clinicians supervised by the Centers of Care steering committee.  
Spanish Brochure Catalogue
Funding provided by Mr. & Mrs. Henry G. Cisneros in memory of Pauline Cisneros Polette. These brochures and educational pieces translated by Andres Deik, MD, MSEd, and are available upon request, at no cost, and are suitable for public and healthcare professionals. They can be viewed online and printed at home, or you can request a packet of printed materials to be sent to you in the mail. 
---
Gracias al Sr. y la Sra. Henry G. Cisneros por aportar fondos para estos folletos en memoria de Pauline Cisneros Polette. Estos folletos y piezas educativas traducidas por Andres Deik, MD, MSEd, están disponibles a pedido, sin costo, y son adecuados para el el público y profesionales de la salud. Pueden verlos en línea, imprimir en casa, o pueden solicitar el paquete de materiales por correo.
Clinical Trials
There are a number of clinical trials being undertaken at any given time that may present opportunity for patient participation. CurePSP will endeavor to keep this list as up to date as possible. Please click below to study and learn more about clinical trials and to find out if there are clinical trials currently being undertaken in your area.
Library
CurePSP is proud to present a collection of books written by community members on their experiences living with or caring for someone with a neurodegenerative disease.  Please follow the link below to see the list of books. If you think we are missing some titles or would like to add your title to our collection, please email info@curepsp.org.
Talking with Your Doctor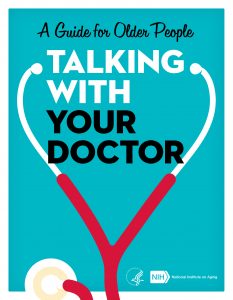 The best doctor-patient relationship is built on clear and open communication. The NIH compiled this informative brochure to help guide you through these conversations. You and your loved one can utilize this tool to help you select the best doctor, prepare for and navigate your appointments, and ensure you're with a team of dependable healthcare professionals.
Click here for Talking with Your Doctor