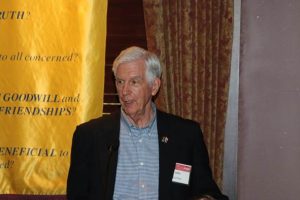 On Friday, April 7, CurePSP Chair Emeritus and long-time neurodegeneration advocate, John Burhoe Sr.,  presented to the Addison rotary Club, Dallas, on progressive supranuclear palsy (PSP) and related brain diseases. His talk encompassed the pathology of PSP, and how research into a cure for PSP potentially means treatment and cure for other brain diseases such as Alzheimer's, due to its nature of being a pure tauopathy. 
He reinforced the vital role CurePSP is playing in bringing attention to prime of life neurodegeneration, and how important it is to fund research to prevent further generations going through the same devastating journey. After his presentation, he received this letter from an attendee:
"Hi John!
I just wanted to say it was a pleasure meeting you this morning at the Addison Rotary.  I truly appreciated the message you spoke about and your speech was wonderful!  It was funny,  touching, and delivered a clear message.   I had never heard of PSP before and I enjoyed learning that it may be the key to curing other diseases AND it is an ideal disease to study to understand the entire spectrum of neurodegenerative conditions.  I wish you and CurePSP all the luck in the world and will do whatever I can to help in the future!
It is inspiring to meet someone with such a fantastic sense of humor and positivity, even after such adversity!  I look forward to seeing you in the Dallas area again sometime.
Thank You,
Anna"